If there is one kind of food that I can never resist, it is satay. Just toss me a plate of satay and watch me polish the meat off the skewers. Even after a sumptuous meal, I'll still gladly down a few more sticks. Yes, I guess it suffices to say that I love satay.
Having satay without a decent peanut gravy would be incomplete. I can never understand why some people would choose to eat it without a dip. It's like eating barbecued stingray without the sambal!
Some satay sellers even go the extra mile of adding a dash of pineapple sauce to the peanut gravy! Very few sellers do this though; I've only had it at Old Punggol Satay before. But recently I came across another stall – dong li cooked food at the recently reopened Chinatown Complex Market – that does the gravy the same way!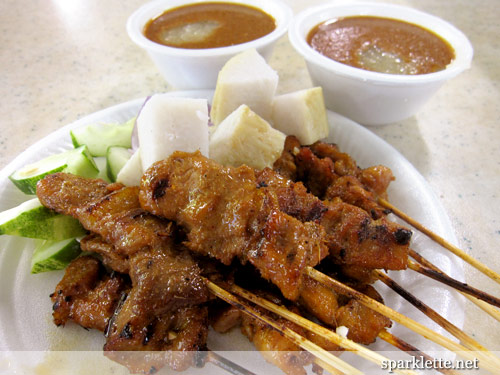 Satay (pork/chicken/mutton)
S$0.50 a stick
Rating:





Some may argue that satay gravy should be eaten the way it is, without the fusion with pineapple sauce. But that little bit of pineapple really spices things up, or should I say, zests things up! It adds a whole new layer of flavour to your usual sweet peanut gravy.
The peanuts here are ground extra fine, so the gravy is extremely smooth (but certainly not watered down) and slides down the throat easily.
The satay – pork, chicken or mutton – costs 50 cents a stick and a minimum order of ten sticks is required. (remember the good old times when satay cost just 30 or 40 cents?) top it up with the lontong (rice cakes) if you wish, also at 50 cents each.
I was so impressed when the satay came within 5 minutes. That has got to be the shortest time anyone took to deliver my satay! Having said that, I found the meat to be slightly tough. But the excellent gravy and quick service really cannot be faulted.
So the food isn't halal. But to my Muslim readers, fret not. I sure know where you can treat yourself to the best halal satay in town!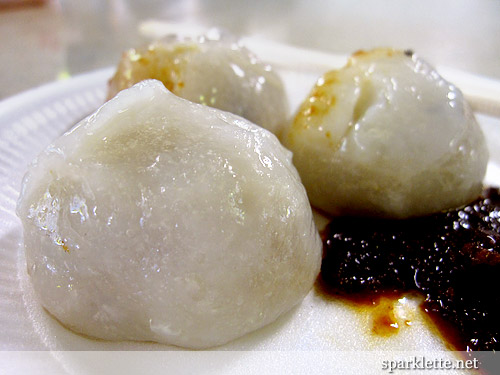 Shui Jing Bao (crystal dumpling)
3 for $2
Rating:





In addition to satay, the other item that the stall sells is the shui jing bao (crystal dumplings). The vegetable filling is delicious, and goes great with the sweet-tasting sambal chilli.
My only gripe is that the dumpling skin is rather thick. So you somewhat get the feeling that you are eating more of the skin than the filling. The sambal chilli is really awesome, but a delicate translucent skin like how they do it at tiong Bahru lien fa shui jing bao would have made it perfect.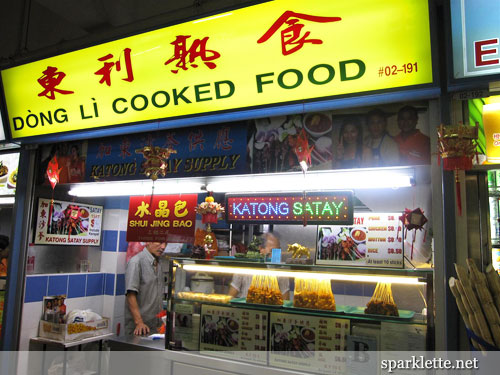 In any case, the food here is great-tasting and service is lightning fast. Whether you're looking for a full meal or just some nice after-meal snacks, dong li cooked food is well worth checking out.
Dong Li Cooked Food
Chinatown Complex Market
335 Smith Street #02-191
Singapore 050335
Bus services: 2, 12, 33, 54, 61, 63, 80, 124, 145, 166, 143, 147, 190, 197, 851, 961, 970, 961C
Nearest MRT: Chinatown
Opening hours: 11am – 9pm (Closed on alternate Thursdays)