Show Mom how much you care with a delicious cake that she loves. We have tasted loads of cakes around town, and whittled down the list to these 16 beautiful cakes. Whether she likes chocolate cake, strawberry shortcake or one stuffed with fruits, you will be able to find the perfect treat for her this Mother's Day.
Abundant Love & Pink of Roses from PrimaDéli
Some of the most gorgeous cakes we see every holiday come from PrimaDéli. And we're delighted to see that they have lived up to expectations again with not one but two lovely numbers this Mother's Day.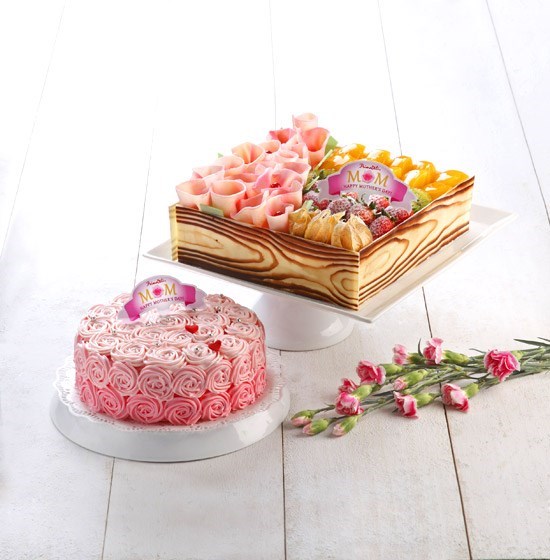 Abundant Love is a salted caramel cream (after tasting this flavour from PrimaDéli last Christmas, I thought this is the best salted caramel cake in town) that is topped with a medley of assorted fruits, and speckled with crunchy chocolate pearls in the fluffy vanilla sponge layers. (S$48.80 for 1.2kg)
Pink of Roses is an elegant cake with cream roses in varying shades of pink, concealing layers of rich chocolate sponge and ganache. (S$26 for 600g)
Mango Chocolate Surprise & Mango Double Decker Cakes from JP Pepperdine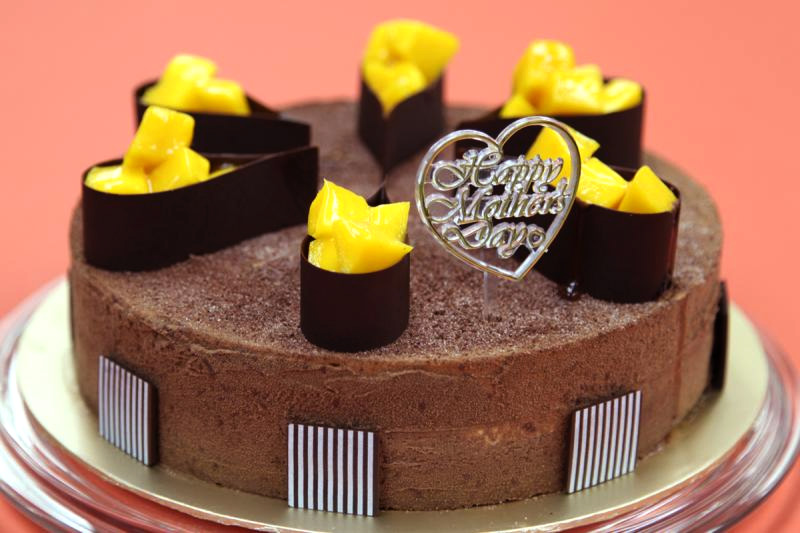 Mango Chocolate Surprise is a super rich chocolate cake lusciously layered with fresh mango and chocolate mousse in vanilla and chocolate sponge, crowned with mango cubes. (S$58.00 for 1kg)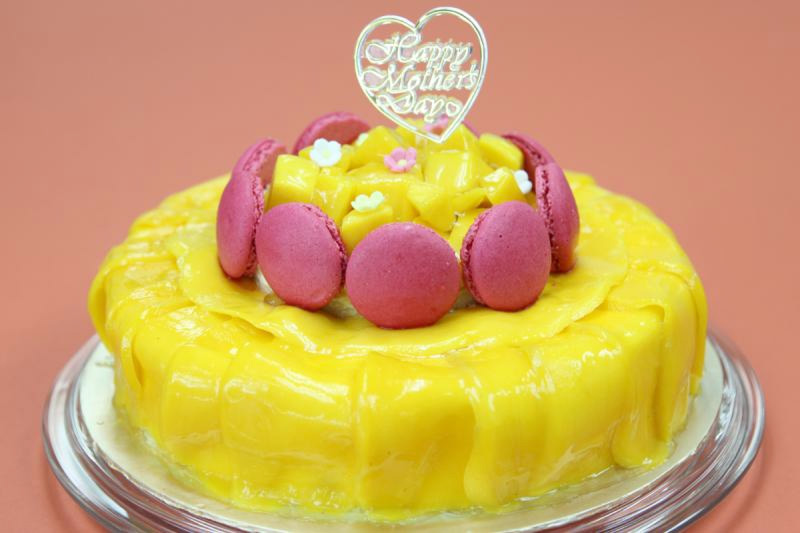 Mango Double Decker is another mango creation, with fresh mango mousse in vanilla sponge, topped with mango slices and a centrepiece of raspberry macarons! (S$68.00 for 1.5kg)
Chocolate Mousse Cake from Emicakes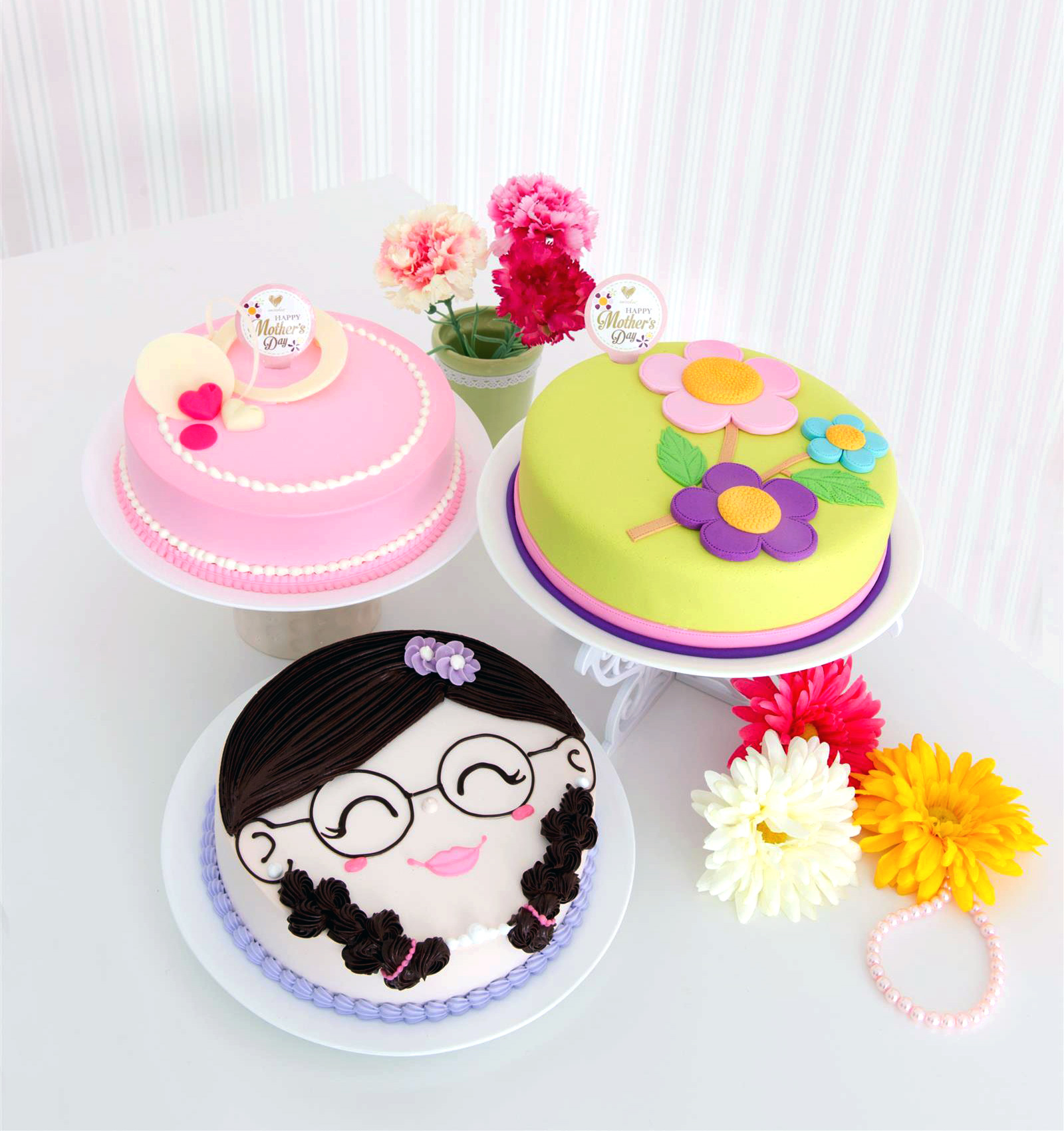 From Emicakes comes three delightful cake designs for Mother's Day. The Flowers for Mum cake design has pretty flowers embossed on top of the cake, which is entirely covered in fondant. We love the attention to detail in this one, with stitch patterns on the flowers and leaves.
There are also the pretty in pink Especially for Mum and adorable Fabulous Mum Happy Face cake designs in assorted flavours and sizes.
Mango Rosette from Pies & Coffee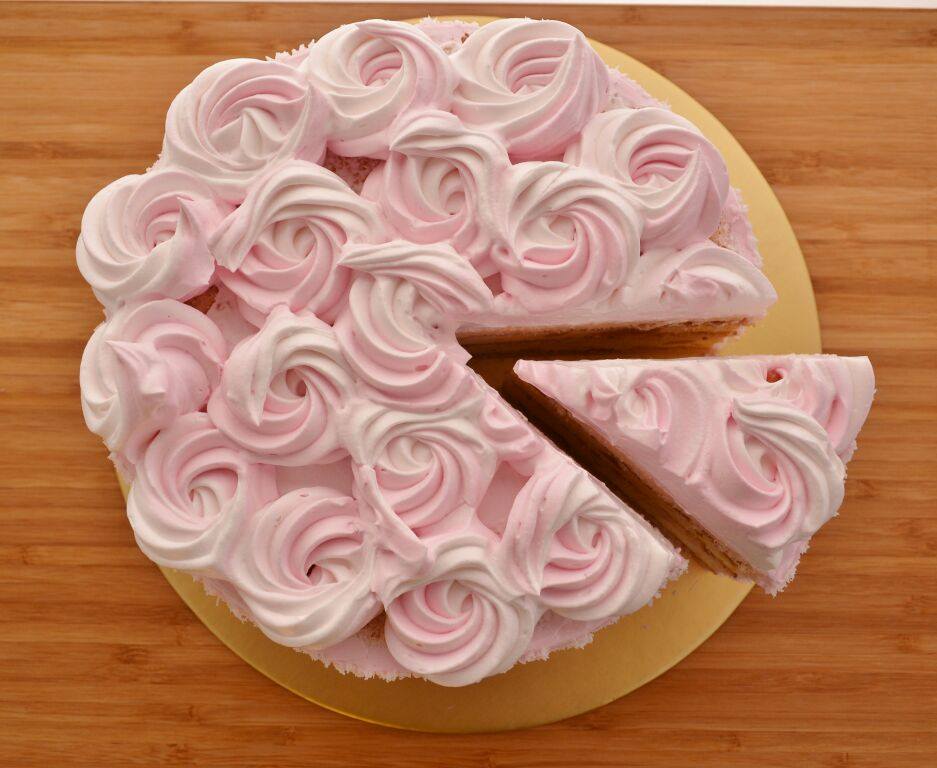 The beautiful Mango Rosette Cake is made from fresh mangoes layered between fluffy vanilla sponge and coated with light rose cream. (S$65 for 1.5kg)
Garden Of Love & Love Always from The Icing Room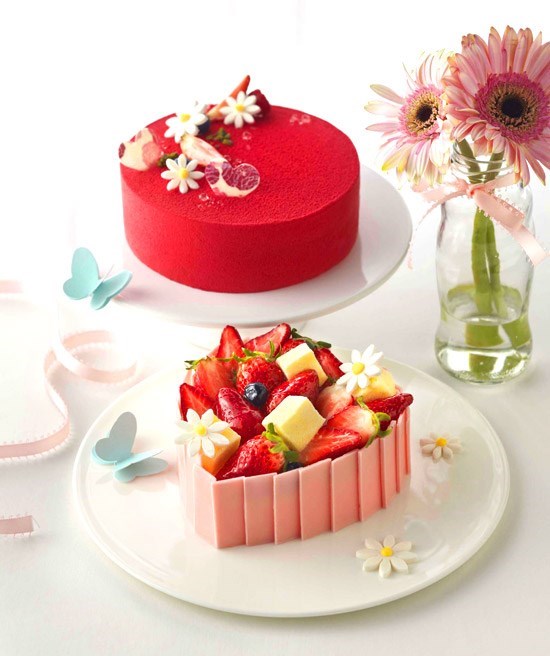 Garden Of Love is a light cake with The Icing Room's signature smooth chantilly cream, topped with fresh strawberries and blueberries – a reflection of the sweetness of Mum's love!
Love Always is a chocolate chantilly cake layered with refreshing tropical fruits, then given a luscious coat of red velvet, and topped with a melange of berries and pistachios. (S$30.80 each)
Red Velvet Layer Cake from Marina Mandarin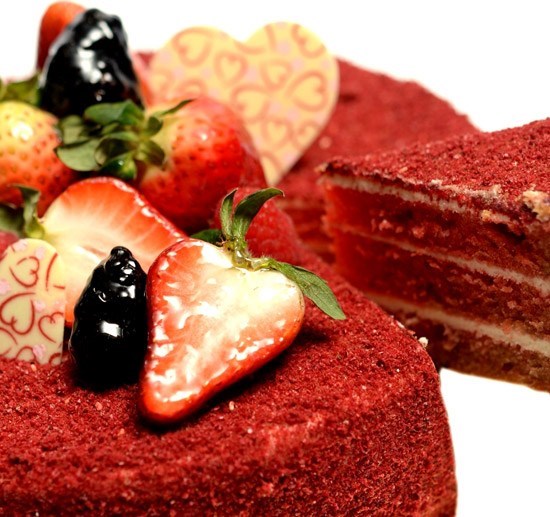 Café Mocha at Marina Mandarin has baked up a classic red velvet layer cake in two sizes. It comes garnished with fresh strawberries and white chocolate hearts, adding that crunchy contrast to the soft sponge layers. (S$35 for 500g; S$55 for 1kg)
Tango Bianco & NuttiYuzu from Bakerzin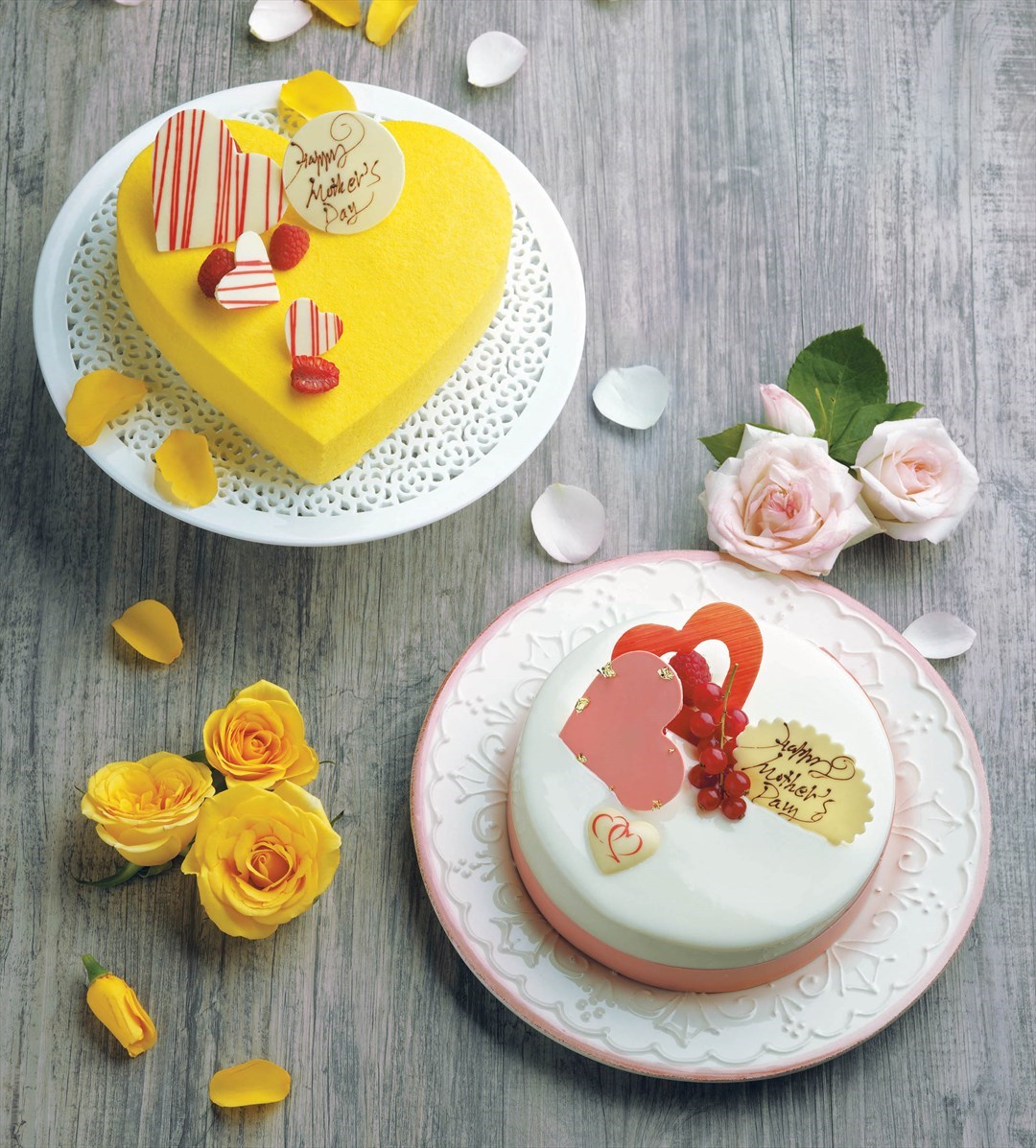 Tango Bianco is a soft madeleine cake given a pinch of orange zest and a delicate layer of tangerine jelly before it is embalmed in a white chocolate mousse infused with Earl Grey tea. For a hazelnut-yuzu rendition, try the NuttiYuzu that comes embellished with white chocolate hearts and raspberries. (S$60, serves 8 – 10 pax)
NuttiYuzu is a hazelnut-yuzu rendition that comes embellished with white chocolate hearts and raspberries. (S$60, serves 8 – 10 pax)
Velvety Mom-ents from Swensen's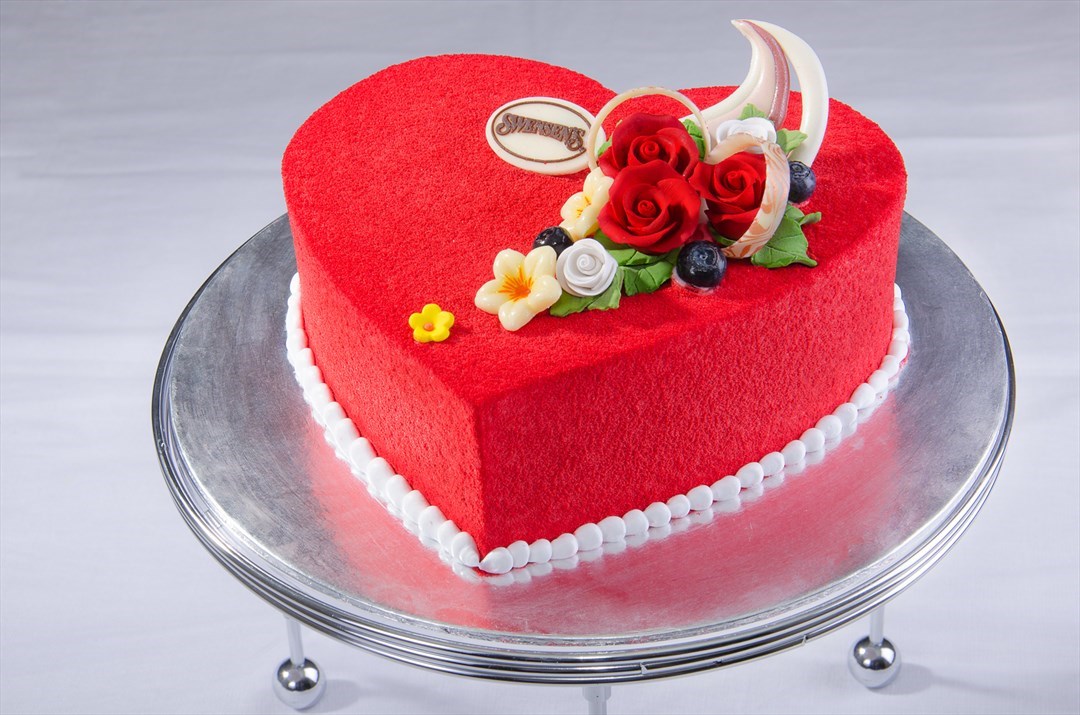 Swensen's Velvety Mom-ents ice cream cake is a combination of vanilla ice cream and red velvet sponge cake. (S$49)
Gorgeous Mum & Exceptional Mum from BreadTalk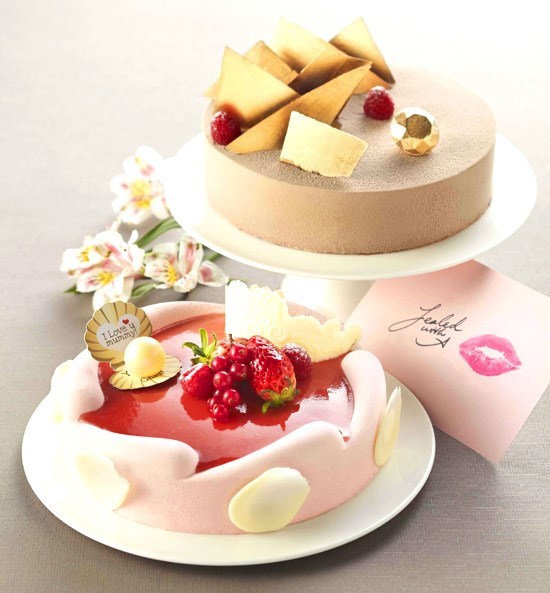 Gorgeous Mum comprises of layers of almond sponge cake, strawberry mousse and crunchy caramel chocolate pearls topped with chantilly cheese cream and fresh berry flavours. (S$42.80)
Exceptional Mum is chocolate almond sponge cake paired with chocolate cream and Griotte cherries topped with a milk chocolate spray. (S$43.80)