I am sure many of you would be familiar with Mr. Teh Tarik at Far East Square. It's the little pushcart stall with the green roof that sells all kinds of teh (tea). People would sit around on wooden stools to enjoy their drinks.
At least, that's how I remember it.
When we paid a visit recently, we found that Mr. Teh Tarik has upgraded itself to Mr. Teh Tarik Cartel. No longer is it a modest little pushcart in the outdoors. Now, it occupies an actual stall unit in the Far East Square building!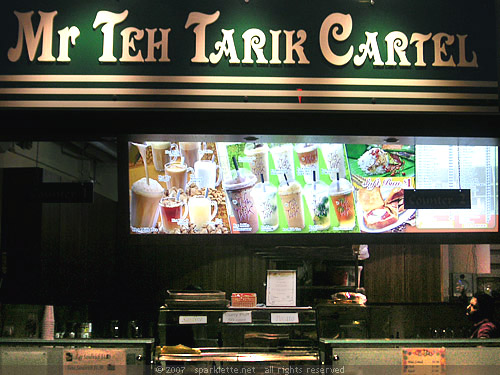 But if you ask me, I still prefer its old look. There is somewhat of a 60s feel when you queue up at a wooden pushcart stall, purchase your drink and wait for the Indian seller to tarik (pull) your teh.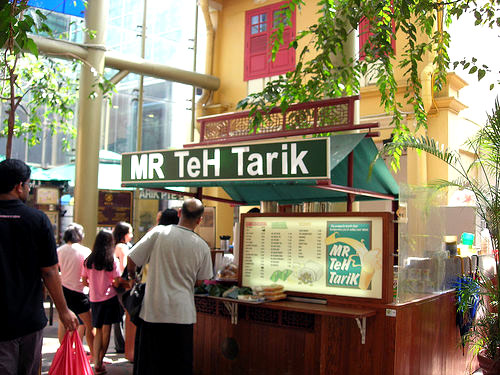 Photo by ixii
This is how Mr. Teh Tarik looks like in its (his?) former days. People would drink their teh under big umbrellas.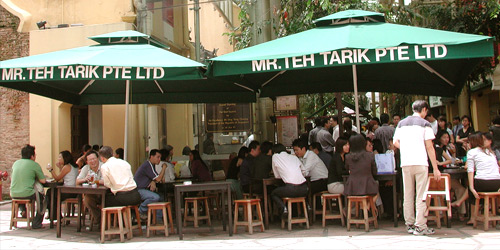 Photo by dc6
Still, it's always a good thing to see a thriving business being able to upgrade itself! In fact, this reminds me very much of the game lemonade tycoon.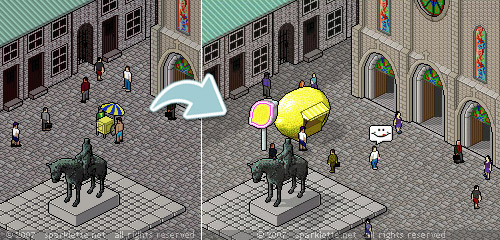 I used to run a little lemonade stall in the game. Similarly, I started out with a tiny lemonade pushcart and eventually was able to afford an air-conditioned stall with multiple upgrades! Haha!
But I digress. At Mr. Teh Tarik Cartel, you can enjoy both hot and cold drinks, including the Milo Dinosaur and Horlicks dinosaur! They also have all different renditions of teh. teh o, teh tarik, teh halia. You name it, they have it.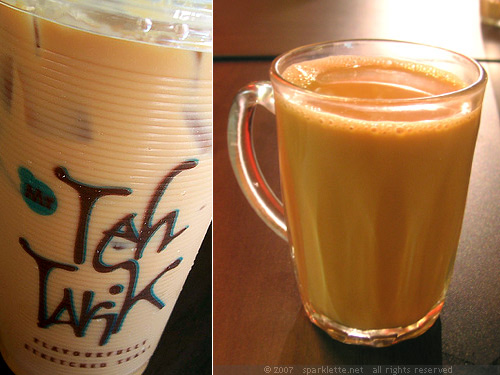 Iced Milk Tea & Hot Ginger Tea Si
S$1.50 & $0.90
Rating:





So I put that to the test. I ordered teh halia si (tea with ginger and evaporated milk), and – surprise, surprise – they actually had it!
Prices here are extremely affordable too. No wonder the place is always packed and people have trouble finding seats!
Not only do they have tea, they serve coffee too, similarly with all the different renditions. So the next time you're done dining at one of the numerous restaurants at Far East Square or China square, do pop by Mr. Teh Tarik Cartel to get your fix of teh or coffee!
Mr. Teh Tarik
(

Halal certified
)
– 135 Amoy St #01-01 Far East Square
– 1 Raffles Place #b1-04 OUB Centre
– No 1 Changi Business Park Crescent #01-21 (Plaza 8)
– Blk 201D Tampines St 21 #01-1155
– Blk 503 #01-293 Tampines Central 1
– 902 East Coast Parkway Blk B #01-04/07
[email protected]
– 970 Geylang Road #01-02 Tristar Complex
– Blk 204 Bedok North St 1 #01-435
– Blk 608 Ang Mo Kio Ave 5 #01-2771 (opening soon)
– Blk 306A Woodlands St 31 #01-01
– Blk 456 Jurong West St 41 #01-750