Graze at Rochester Park. This restaurant needs no introduction. I have raved about it time and again, and named it in my famous list as the best restaurant I visited in the whole of 2006.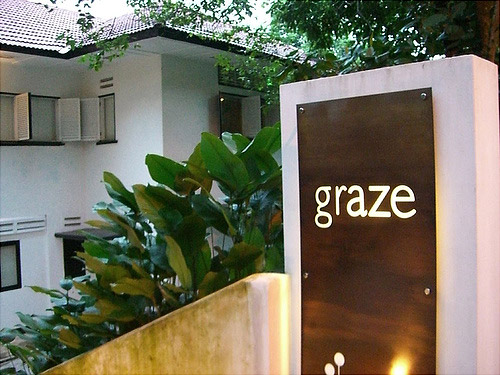 Photo by zoovee108
This time round, I brought along two very important persons with me – james, the big boss of tomorrow.sg and U-Zyn, the big boss of ping.sg.
Besides the awesome food, ambience and service, I was thrilled that Matthew Lawdorn, the head chef, still remembers me. I spotted him from a mile away and we finally got to have an actual proper conversation!
And boy, does he really take extra care of his customers. Barely after we had placed orders for our food, we were served complimentary oyster shooters!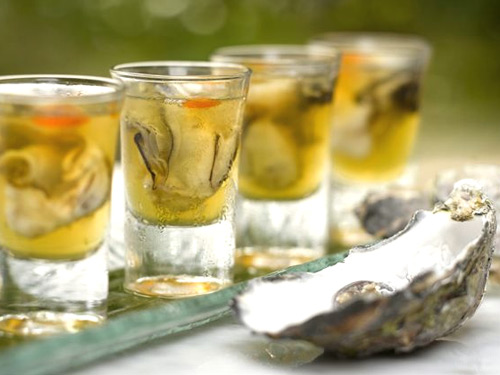 Photo by graze
Ginger Wine Oyster Shooter
S$8++
Rating:





These oysters were soaked in ginger wine and cucumber oil, with a hint of wasabi when you get to the bottom of it. Nice, small and very tasty. I had never been a fan of oysters (I'm the muscles, I'm sorry, mussels kind of girl). But after sampling these shooters, I was completely sold! All three of us loved it!
What a great way to start a meal. I went for the butter fish as my main course.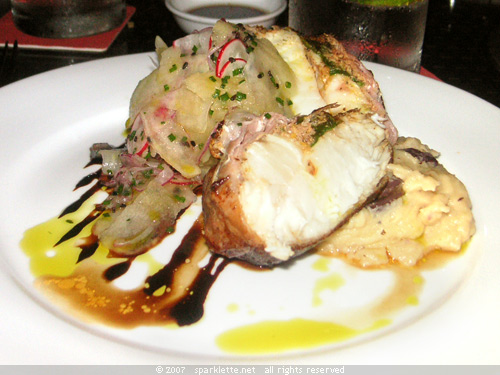 Prosciutto Wrapped Butter Fish
S$32++
Rating:





Look at those generous portions of the white fish! Matthew had personally recommended the dish, which I fell in love with immediately. Every part of it was excellent! Whether it was the tenderness of the fish, the salty ham, or the sweet and sour vanilla pear vinaigrette, the different flavours complemented each other perfectly.
There was black olive mash and shaved radish black sesame too. Now, how do chefs come up with these concoctions?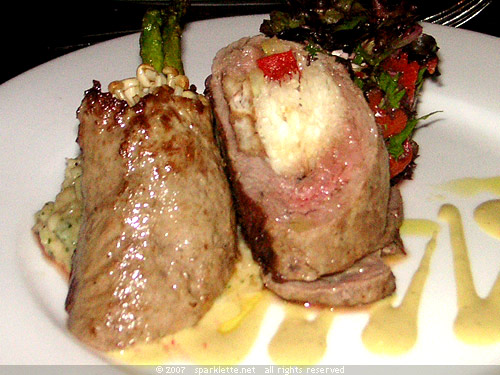 Seared Lamb Loin and Spring Vegetables
S$36++
Rating:





That's the seared lamb loin served with spring vegetables. U-Zyn felt that the lamb didn't exactly retain much of its original flavour. Too much seasoning, perhaps? It had parsley mash, tomato, black olive and fetta salad with a mango citrus vinaigrette.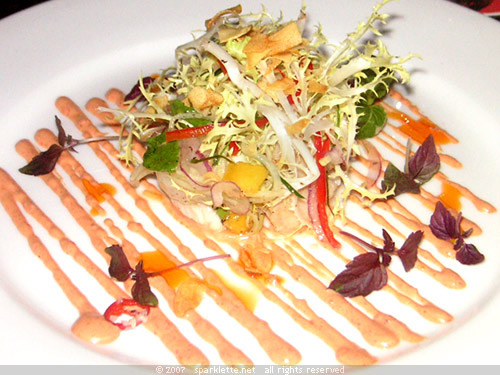 Black and White Sesame Crusted Tuna Sashimi
S$20++
Perhaps the most Asian dish on the menu, the tuna sashimi was another recommended dish. James tried this and said that it was good. But what struck me most was how pretty it looked! With that delicious multitude of colours, it's practically art on a plate!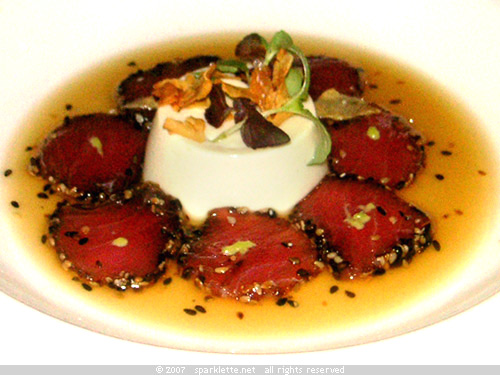 The best surprise of the night came when we were presented with a dessert platter after we were done with our main courses. "it has every item on the dessert menu," said our favourite waiter. Wow!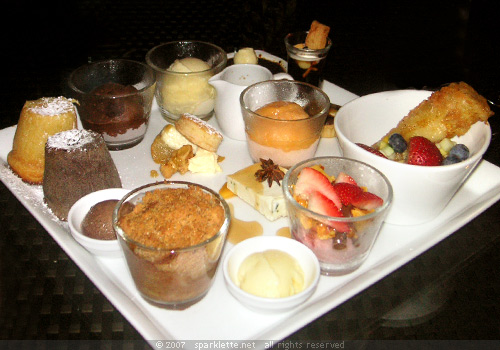 What was impressive wasn't just the huge spread of desserts in front of us, but the fact that our waiter knew his stuff so well. He could name and describe each and every single dessert on the platter in detail without faltering.
Every item on the platter was good. And I'm not just saying it because it was complimentary :)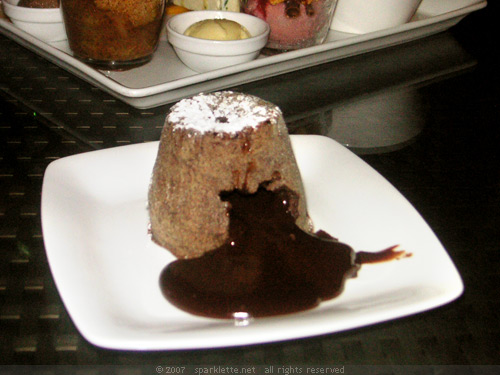 This is my favourite dessert – chocolate lava cake (no surprises there). It forms one half of graze's popular black and white pudding plate, a dessert that is highly raved about by people who have tried it. Love the dark chocolatey goodness oozing out of the rich chocolate cake. Ahhh…
Matthew said that they would be having special plans for Christmas and new year's. Last year's Christmas dinner at graze proved to be one heck of an experience; it made me fall in love with the place, and made Christmas really magical too.
They still amaze.
graze
4 Rochester Park
Singapore 139215
Tel: +65 6775 9000 |
Website
Service: