Something's brewing in the local Indonesian food scene with the recent sprouting of numerous food outlets, most notably at Lucky Plaza. Even with the advent of new competition, Pagi Sore, a long-established Indonesian restaurant at Far East Square, is still cooking up a storm after all these years!
Upon hearing rave reviews about the restaurant, a friend brought me there to find out if it's as good as what people say. After all, it has been named by the Straits Times as one of Singapore's top 50 restaurants!
We arrived at a rather nondescript restaurant. This no-frills eatery is decked out simply and casually – no fancy furnishings or mood lighting. I guess they would rather let the food speak for itself. With a history stretching back almost two decades, the food must be good, right?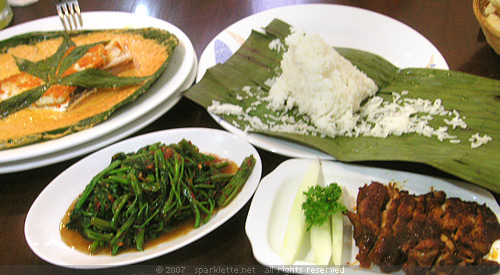 Well, let's see! I like the way the rice is served in a banana leaf, folded into a cone that you would unwrap yourself. It reminds me of rice dumplings!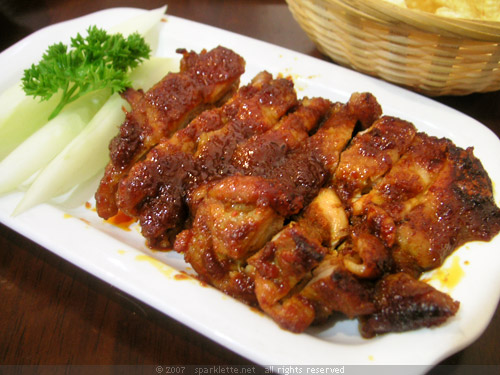 Ayam Bali (Marinated Char-grilled Chicken)
S$5.80++
Rating:





Any meal that I have would almost certainly consist of… Chicken! I'm a huge, huge chicken lover! One of the house specialties happens to be the ayam Bali (marinated char-grilled chicken). Perfect!
Truth be told, I was rather disappointed by the size of the portion. But that no longer mattered once I got a taste of it. The slices of chicken meat were extremely tender, juicy and grilled to perfection. They were drenched in a sweet and spicy black sauce that only made the dish more perfect. This was excellent stuff!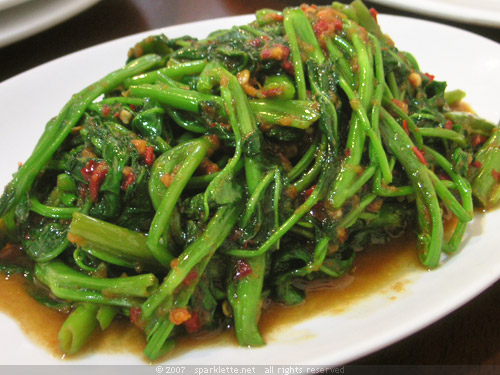 Tumis Kangkong Belachan (Stir-fried Kangkong with Belachan Chili)
S$6.80++
Rating:





The vegetable dish that we opted for was the tumis kangkong belachan (stir-fried kangkong with belachan chilli). Crunchy greens that were not too overcooked, with a soupy sauce that was not too watered down. All things considered, this was a decent kangkong dish.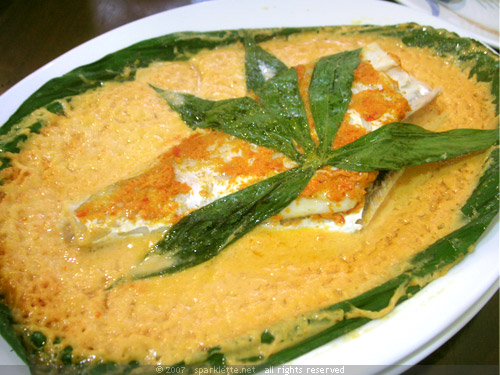 Ikan Otah Kukus (Steamed Fish Marinated with Otah Seasoning)
S$17.50++
Rating:





A-ha! The ikan otah kukus (steamed fish marinated with otah seasoning) is what Pagi Sore is really famous for. Taking a quick glance around the restaurant, you would find this dish on virtually every table!
With prices starting from $17.50, it doesn't exactly come cheap too. When I saw the price, my eyes promptly grew wide like saucers and I couldn't stop the miser in me from exclaiming, "Wa! So expensive ah!" at that price it had better be good!
The dish consists of a slab of steamed leather jacket fish swimming in orange otak paste. There were very few bones too. I have a phobia of choking on fish bones, and had no problem eating this at all.
But what really makes it work is the delicious otak paste. It is somewhat milky with a gravy-like consistency, and tastes of sweetness and spice. Simply sedap (yummy)!
Oh, the cut of white fish comes with a large leaf on it too. I thought it resembled a huge marijuana leaf, but it was actually a sweet potato leaf. Phew!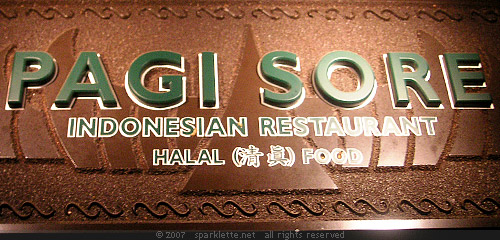 As a bonus, here's an additional interesting nugget of information about Pagi Sore. Its lady owner, Liyana Kwan, helps ex-offenders start afresh by hiring them as waiters and kitchen helpers. I find that really meaningful. Think the Yellow Ribbon Project. (Not all the staff are ex-offenders though.)
So, do check out Pagi Sore! And while you're at it, you may even drop by the neighbouring Fuk Tak Chi Museum too.
Pagi Sore
(

Halal certified
)
Far East Square
88/90 Telok Ayer Street
Singapore 048470
Tel: +65 6225 6002
Service: