A friend once described an Indian meal as a feast for all senses. Not only does it consist of rich flavours that you can both smell and taste, the cuisine is also a multitude of vibrant colours with the various gravies and curries. And then, you would eat it with your hands while listening to Indian music playing in the background, right? Boy, I love Indian food!
Of the numerous times I have circled round the fountain of wealth at Suntec City Mall wondering which restaurant to check out, I never realised there is muthu's curry! Honestly, I have no idea how I ever missed this. An Indian restaurant there amongst the mostly Chinese and Western eateries is definitely a breath of fresh air, especially for an Indian food lover like myself!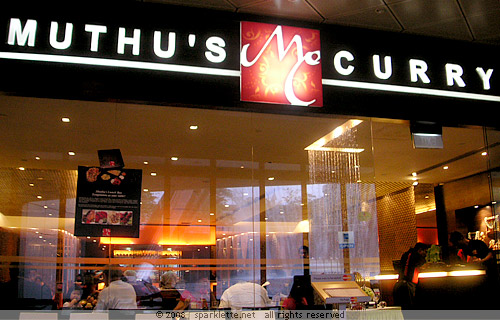 When it comes to the best Indian restaurants in Singapore, tour guides frequently recommend muthu's curry, as well as banana leaf (both in Little India). Muthu's was established in 1969, with its fish head curry winning the hearts of many. This Suntec outlet is actually muthu's second branch.
Since we were a not-so-hungry party of two, we felt that we couldn't possibly finish the entire fish head curry dish ourselves. (this dish needs no introduction anyway, right?) so, we opted for a couple other dishes instead.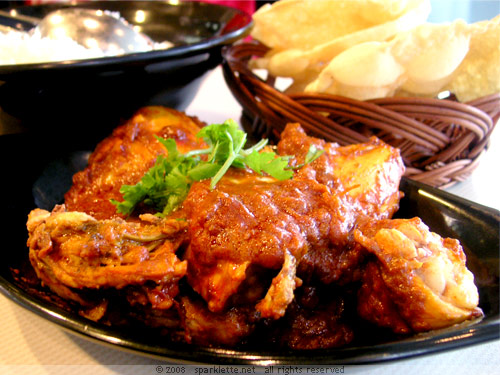 Masala Chicken
S$4++ a piece
Rating:





Each time I'm at an Indian restaurant, I would make it a point to order masala chicken as long as it's on the menu. The spicier it is, the better! The masala chicken here isn't that spicy, having been toned down to suit most taste buds. But it sure doesn't disappoint! The tender chicken is napped in a thick masala paste that is rich in herbs and spices and bursting with flavour! My only gripe? Too little gravy!
At $4 apiece for the chicken, what you will get isn't exactly the most generous serving. So when ordering, make sure to err on the side of more! Also ask for more gravy. Otherwise, you may find yourself fighting with your dinner partners for more of this delicious spicy paste to go with your briyani rice!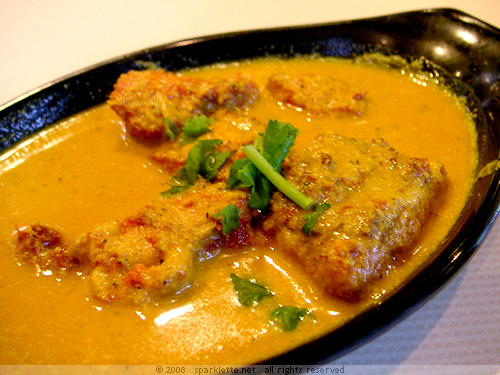 Goan Fish Curry
S$10++
Rating:





For a place with "curry" in its name, we thought we had to have a curry dish. But sadly, the goan fish curry doesn't score quite as many points as the masala chicken. The portion we got was really small and the fish itself wasn't that fleshy. Besides, I think I really need more spice in my curry! The curry in this dish is pretty mild, a little bland even, if I dare say. I wonder if this is the same curry that they use in their famed fish head curry?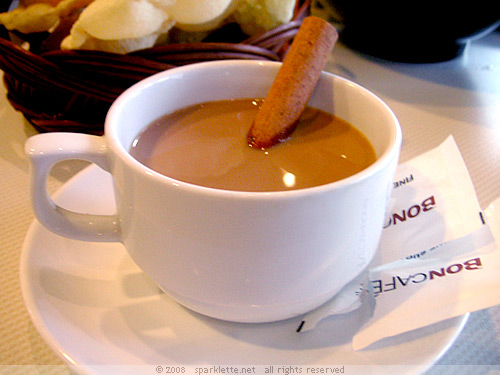 Masala Tea
S$3.50++
Rating:





It's been a long time since I last had masala tea, or "spicy" tea. I love the way the mixture of spices in the tea give me a kick up the nostrils each time. But somehow, the masala tea here is extremely tame! I barely detected any hint of spice in it. It was a real disappointment!
One thing that I do like about it, though, is that they have included a cinnamon stick as a stirrer. That was cute!
When all has been said, I'm still pretty satisfied after this meal. What can I say? Indian food makes me happy! Looks like I gotta pay a visit to Little India real soon!
Little India outlet
Little India
138 Race Course Road #01-01
Singapore 218591
Tel: +65 6392 1722
Suntec City outlet
Suntec City Mall
3 Temasek Boulevard #B1-056
Singapore 038983
Tel: +65 6835 7707
Service: