If you are a fan of Marché, the Swiss-run restaurant at VivoCity, or even its imitator at The Heeren, chances are you would love Shokudo Japanese Food Bazaar. Shokudo shares the similar concept of having several cooking stations under one roof, charge cards and themed dining, but with Japanese cuisine instead.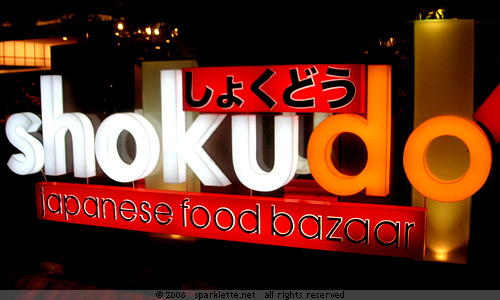 The 15,000 square foot eatery opened just weeks ago at the new basement extension of Raffles City Shopping Centre. Attracted by the fact that I can choose from over 230 dishes, I hurried down to check out the place. Many other people had the same idea, and it was only during my second visit that I managed to get in after a relatively short queue.
The design is colourful, modern and tasteful, with various areas of themed dining. The walls are dominated by murals of Tokyo city scenes overlaid with graphics of Japanese girls.
(Update: Asprah left a comment informing me that those aren't really Japanese girls, but long-haired Japanese male rockers!)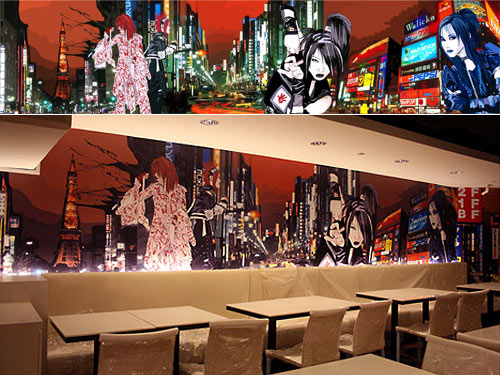 (As I was rather enthralled by the art on those walls, I did some snooping around and found the artist's website where you can see all the commissioned arts he did for Shokudo. here's the link.)
There are even a few colourful neoprint machines at the centre of the restaurant! They sure are a hit with the younger crowd.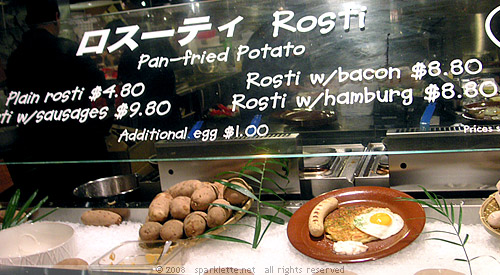 You would find the rosti here too, which is a signature potato dish at Marché. But other than that, the food is vastly different. In addition to traditional fare such as sushi, sashimi, teppanyaki and tempura, there are many more unusual creations.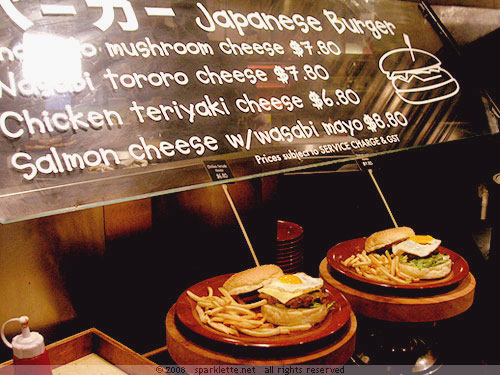 Even for Western dishes such as burgers and pasta, they would be done Japanese style. The burgers come with eggs served sunny side up and – check this out – miso-flavoured beef patties!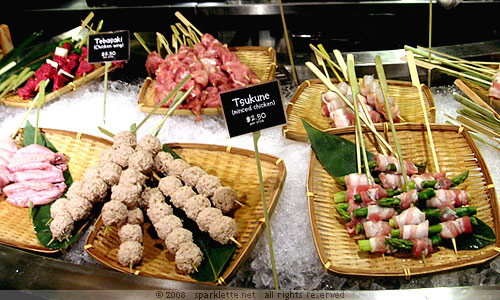 So there I was, walking through the melange of various cooking stations, not knowing what to eat. There were so many choices and everything looked tempting to me!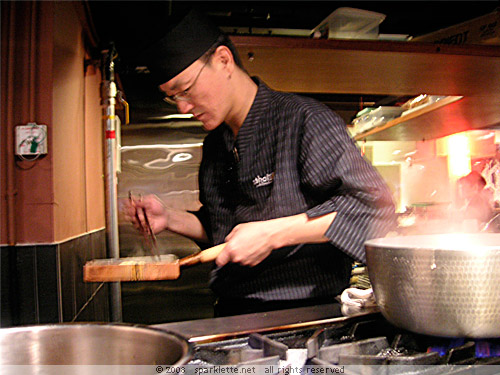 Then, I spotted a queue at the omelette station. Normally, bland-tasting omelettes wouldn't attract me much. But this time round, my Singaporean mentality kicked in. "if there's a queue, it must be good la!" moreover, it was fun watching the chef cook the omelette in his cute square-shaped pan.
The dish is served popiah-style, with the omelette wrapped around the ingredients and cut into different segments. Delicious mayonnaise is then drizzled generously over it.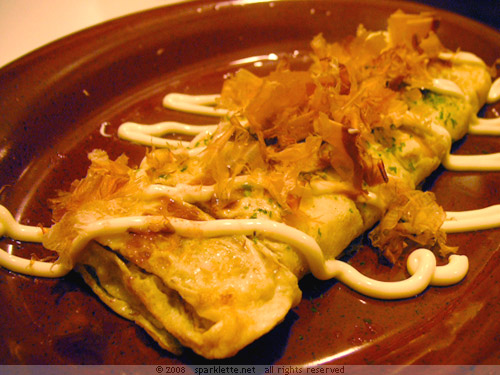 Japanese-style Unagi (Eel) Omelette
S$5.80++
Rating:





What you see here is the unagi (eel) omelette. I swear I am not exaggerating here, but boy, it was lip-smackingly good! I certainly had not expected it to be that good. I mean, there is only so much you can do with an omelette right? It was a little sweet, a little salty, and bursting with flavour all at the same time. I strongly urge everyone to go for this – we even got ourselves a second helping!
Besides unagi, you also get to choose from other ingredients such as crab meat, cheese, bacon, ham, sliced pork and mushroom too. Wow, I'm so going back to shokudo just to get a taste of the omelette again!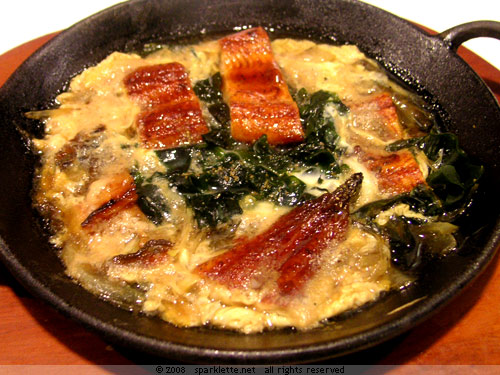 Japanese BBQ Eel Hot Plate
S$6.80++
Rating:





If you are in the mood for something more conventional, go for the Japanese hot plate. Besides the unagi seen above, there's also beef, seafood or chicken (for the chicken lovers like me) to choose from. It's nothing particularly out of the norm, but tastes good nonetheless.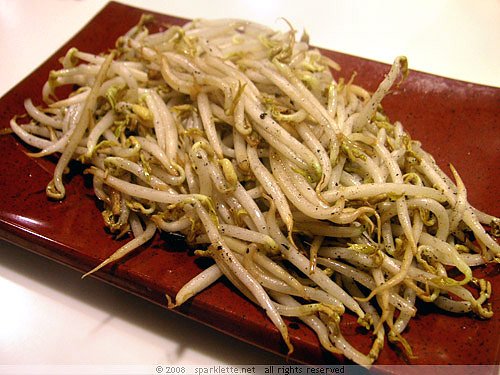 Bean Sprouts
S$4++
Rating:





Okay, this is just too funny to leave out. For something that goes back to the basics, and by that I really do mean the basics, there's the fried tau gay (bean sprouts). I couldn't believe it when my friend came walking back to our table with a whole platter of fried tau gay! And it actually cost 4 bucks!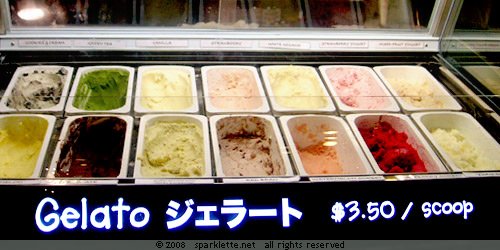 This is followed by dessert! Dessert choices include cr�pes, waffles and even tofu cheesecakes. Always a fan of waffles, we went for the waffle with a scoop of gelato. Why gelato? Because the Japanese are a health-conscious bunch and gelato has much less fat than regular ice cream!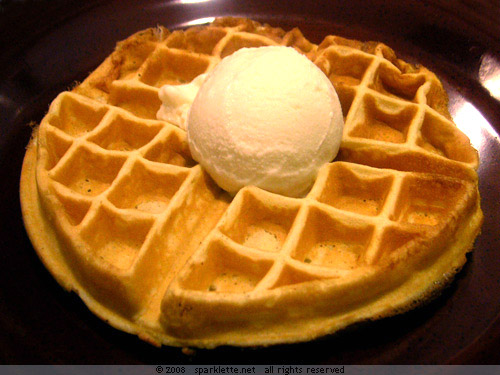 Waffle with choice of gelato
S$5.80++
Rating:





It's a long wait, though, as the waffle is made from scratch on the spot. But it's well worth the wait. At my next visit, I'm having the tofu cheesecake. I've never had one before!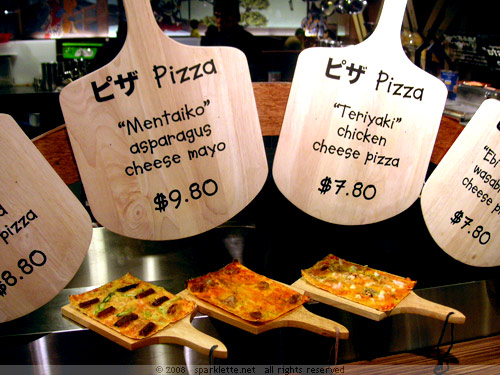 As I was going around checking out the food stations, one particular station piqued my interest. It's a pizza station! These Japanese pizzas are wafer-thin and certainly do not resemble the common pizzas!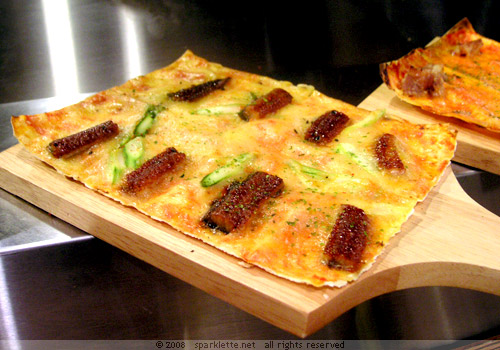 This is a plastic replica of the pizza. Look just how thin it is! I was rather pleased to see these plastic food replicas at every food station here, the way many restaurants in Japan have them!
I really enjoy the wide array of Japanese food here. There are so many different dishes to sample such that even the fussiest eater (and by that I really mean me) would find something he or she loves. I'm already looking forward to my next visit!
Shokudo Japanese Food Bazaar
Raffles City Shopping Centre
252 North Bridge Road #B1-44E
Singapore 179103
Tel: +65 6837 3793
Service: