Even though the Dragon Boat Festival may be long over, rice dumplings still remain my favourite food at the moment. For the past one month or so I have been eating myself fat with all these dumplings – and I don't even care! Over at my place it's dumpling festival everyday.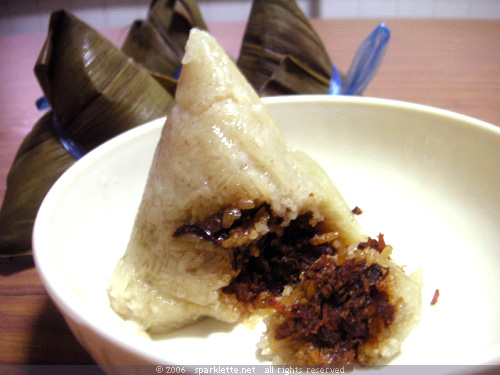 Nonya Rice Dumplings
$1.40 each
Rating:





For the less informed, rice dumplings are cute little pyramids made of glutinous rice (a.k.a. sticky rice) and wrapped in dried bamboo or pandan leaves. Stuffed within the rice is a savoury filling that may be salted egg yolk, mushroom, chestnut, pork, chicken, etc.
My favourite is the Nonya variety that has a marinated minced pork filling. I find that the Daun Pandan Rice Dumpling chain sells the best dumplings in town. My dad buys a few of these each time. Seriously, their sweet pork filling is second to none.
Most days after work I am too exhausted to cook or even buy dinner. Each of these dumplings are amply portioned. They don't even need to be prepared or cooked, just steamed. Perfect for filling an empty stomach!
Daun Pandan Rice Dumpling
– Bugis Junction #B1-K13
– IMM Building level 2
– Junction 8 Shopping Centre #B1-K3
– NEX Mall #03-K16
– Pearl's Centre #01-20
– Rivervale Mall #01-K9
– Tampines Mall #B1-K15
– Tiong Bahru Plaza #B1-27
– White Sands #01-45
News updates
February 3, 2007: My list of Best (& Worst) Restaurants in Singapore for 2006
– Nominated for "Best Take-out"