Where would you be dining this Chinese New Year? Do you fancy having great seafood and customary festive goodies with wonderful-sounding names like "好事发财" or "步步高升" that taste as good as they sound? Welcome to Palm Beach Seafood Restaurant.
For more than half a century, the restaurant has been serving delicacies from the sea. From their first home at East Coast to their present premises at the scenic and tourist-favorite One Fullerton, the restaurant has evolved with the times, bringing innovative dishes to our seafood-loving population.
During this most important Chinese festival of the year, you can enjoy an array of festive dishes here with your loved ones or colleagues.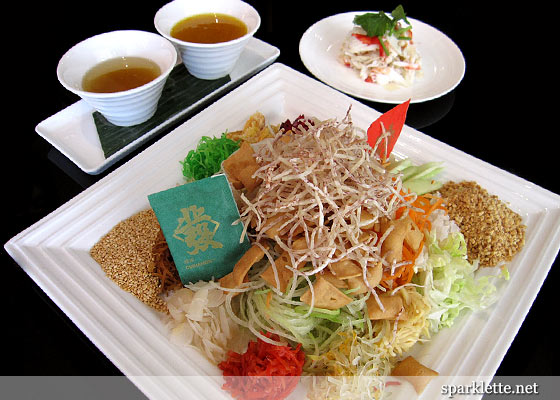 Alaskan King Crab Yusheng
鱼生
S$58++ / 88++
Rating:





The Yusheng (raw fish salad) has become quite a staple for this occasion. Here's a very good write-up on the history and tradition behind it. Typically eaten as an appetiser, this is the one dish that would usually elicit the most oohs and ahhs at the table.
A kaleidoscope of colours is created from the various types of shredded ingredients that include red pepper, carrots, ginger, chopped peanuts, vegetables, jellyfish and raw salmon amongst others. Over here, it even comes with pitaya (dragon fruit) slices! By the way, did you know that this fruit comes from a cactus plant?
To up the posh factor you can even have shredded Alaskan King Crab or lobster added to your salad. The crab meat is extremely succulent and sweet. What a great way to pamper oneself!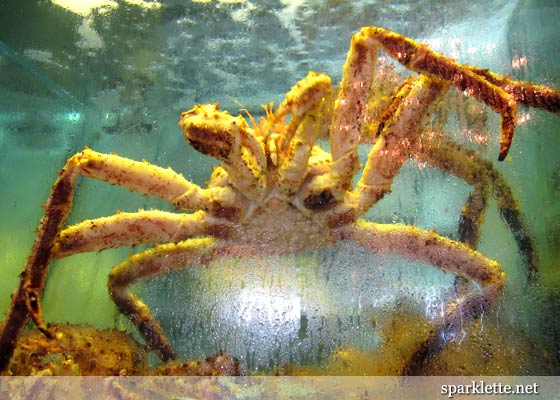 And that's the aforementioned majestic Alaskan King Crab. Executive Chef Andy Lau (yes, exactly like the Hong Kong starlet) amusingly informs us that at times, the crab manages to make its escape out of the tank! I don't know about you, but I sure wouldn't want a mega-huge crab like that to be freely crawling 'round my feet!
Amazingly, the Alaskan King Crab is nowhere near as big as the Japanese Spider Crab.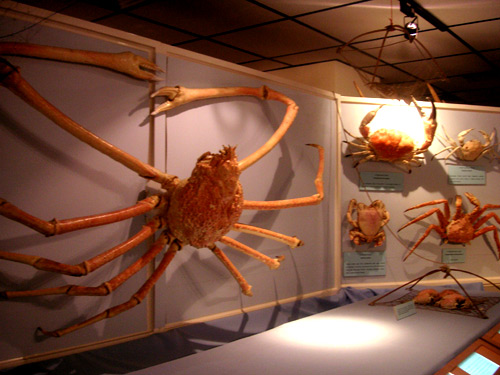 The Japanese Spider Crab is the largest crab in the world, boasting a leg span of almost 4 meters!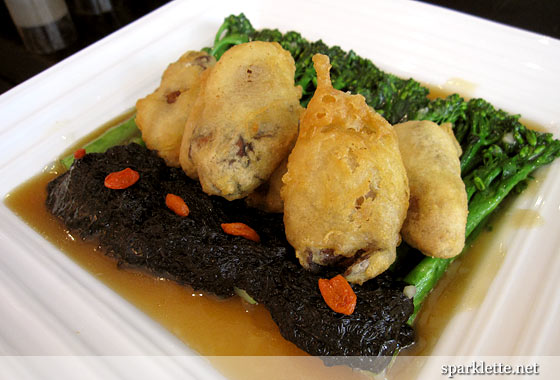 Oysters with Prosperity vegetables
好事发财
S$48++ / 68++
Rating:





The Chinese, as a group, like to hear auspicious sayings and anything that sounds remotely like an auspicious saying. So when you have a dish with a name like 好事发财 (good fortune), we lap it up like crazy. Can you tell why oysters + black sea moss = 好事发财?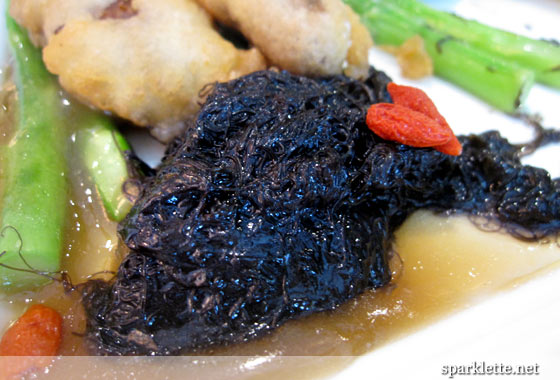 What intrigues me the most is the black sea moss. While this is apparently a very common ingredient in Chinese dishes, I have never had it in my life! My Mom never cooks it because it "looks gross". Really, this peculiar vegetable (or weed) from the sea looks just like human hair! Or as the Cantonese would call it, "Fatt Choy!"
Taste-wise, the hair-like moss actually goes down very well. It suffices to say that I like it. Apparently it doesn't make an appearance aside from Chinese New Year, just like the God of Prosperity.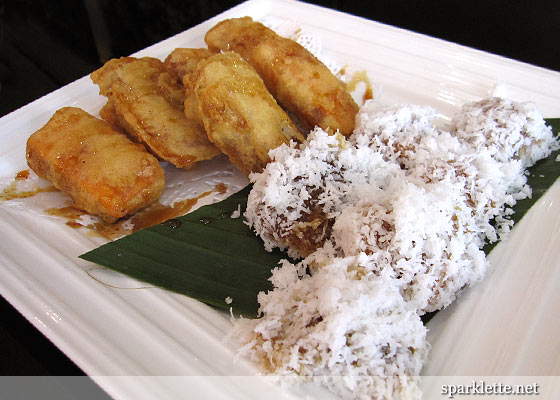 Nian Gao (Chinese New Year cakes)
步步高升
S$18++ / 28++
Rating:





Next, we have the Nian Gao that have just the cutest Mandarin name of all: 步步高升! What this means in English is, uh, improving step by step? Can someone offer a better translation? Basically, the 高 character sounds exactly like pastry in Chinese.
The "small" portion comes with a dozen pieces of the pastry evenly divided between deep-fried or coated in coconut shavings. Both are yummy but our favourite is the deep-fried one.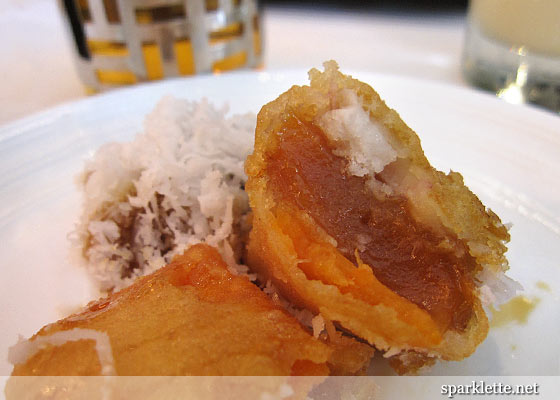 Rather than being wholly Nian Gao, it also features a layer of yam and a layer of sweet potato. This way, it does not get too cloyingly sweet. Yum!
Have Your Say!
As you may already know, two important occasions happen to be on the same day this year. We're curious to know: which would you be celebrating?

Loading ...
Do you intend to dine in style at a fancy restaurant this Chinese New Year, or would you prefer a quiet reunion dinner at home? What are your must-have food during this time of the year? Share with us in the comments!
(Hint: If you are still racking your brain on where to bring your sweetheart this Valentine's, check out our review of an Italian Valentine's Day dinner!)
Palm Beach Seafood Restaurant
One Fullerton
1 Fullerton Road #01-09
Singapore 049213
Tel: +65 6336 8118 |
Website
Bus services: 10, 57, 70, 75, 97, 100, 107, 10E, 128, 130, 131, 162, 167, 196, 700, 97E, NR2, NR5, NR7, NR8, 196E
Nearest MRT: Raffles Place
Opening hours: 12noon – 2:30pm, 5:30pm – 11pm daily