If you're looking for a restaurant to celebrate an anniversary or Valentine's Day, Forlino at One Fullerton is just the place for you.
Picture this: The two of you are enjoying a wonderful dinner. The panoramic view of the illuminated skyline, the Singapore Flyer and the Marina Bay Sands integrated casino resort are spread out before your eyes. Soft ambient music plays in the background while you and your sweetheart sip on red wine into the night. Picture perfect?
This is why we feel Forlino is one of the most romantic places to dine in Singapore.

Credit
Designed by JP Concept, the same interior design firm behind eateries like il Lido and Claypot Fun, the decor here is done in the quaint Victorian style. Walls in baby blue with gold rims line the corridor leading up to the dining area.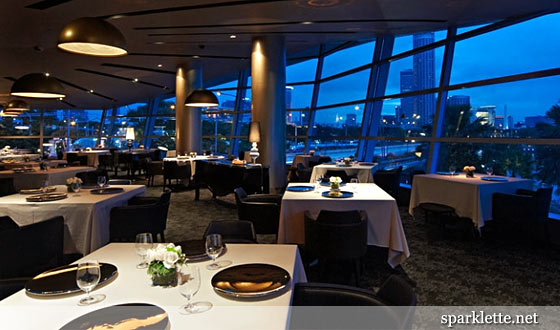 Credit
Floor-to-ceiling glass panels offer a stunning view of the surrounding Marina Bay and Esplanade area, undoubtedly Singapore's most photographed skyline.
---
Valentine's Day Dinner
Check out their Valentine's Day dinner promotion for 2010.
Valentine's Day dinner
S$128++ a person
February 12 – 14, 2010
2 seatings: 6pm – 8:15pm; 8:30pm onwards
The Valentine's Day dinner comprises 6 courses, including a choice of main course. We food-taste all the dishes and here's the scoop on what you can expect.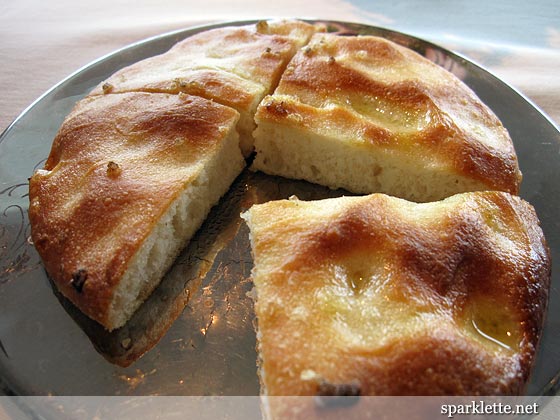 Focaccia
The Italian flat bread Focaccia is first served, lightly salted and brushed with olive oil.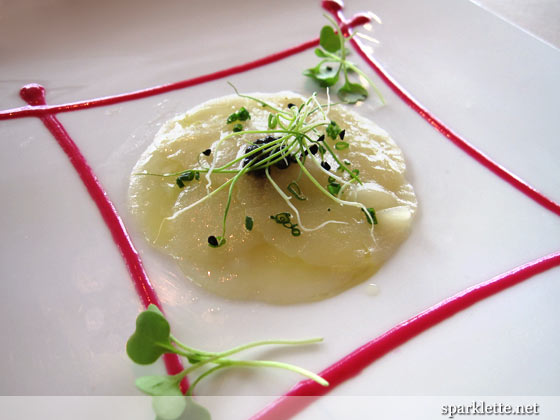 Amuse-bouche (Scallop carpaccio)
Rating:





The Amuse Bouche (love the way it's pronounced!) is a dish of razor-thin slices of scallop soaked in a tangy and salty sauce, topped with Osetra caviar and a hot pink berry sauce on the side. This one really wakes up your taste buds for more to come.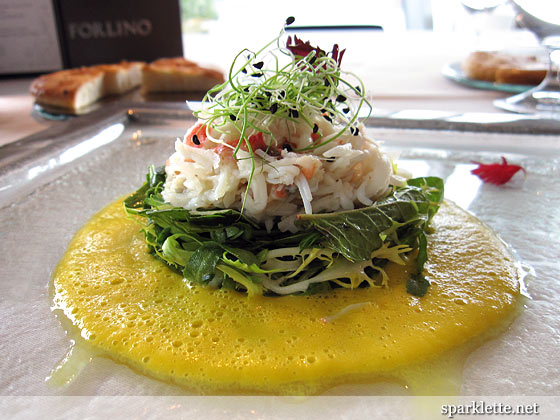 Jumbo crab salad
Rating:





One of my favourite items on the menu is the Jumbo crab salad. Shreds of succulent crab meat sit on a bed of rocket leaves with cantaloupe sauce around. It should easily become a crowd favourite.
If you love crab meat, you can check out another restaurant's take on the Alaskan King Crab in the form of Chinese Yu Sheng.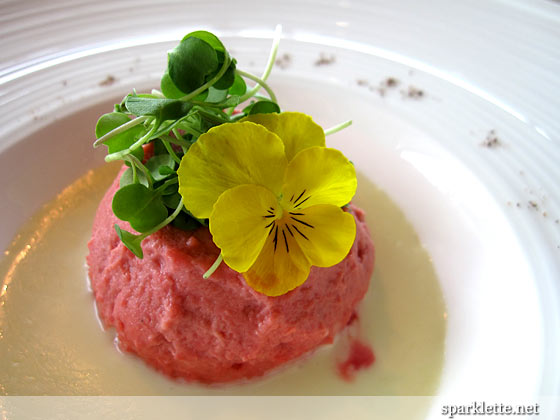 Beetroot cake with Robiola cheese fondue
Rating:





What follows next is beetroot cake. Our first thought is, oh how cute! The texture is dense and rich, thicker than mousse. Nice colour, too. The little yellow flower on top provides the icing on the cake. This is one of the few edible flowers around. Does anyone know what is the name of this flower?
Interestingly, the moat of Robiola cheese fondue is made from the milk of three animals: sheep, goat and cow.
To be frank, this is rather heavy on the palates and I'm surprised it is served so early in the meal, especially with a pasta following right after.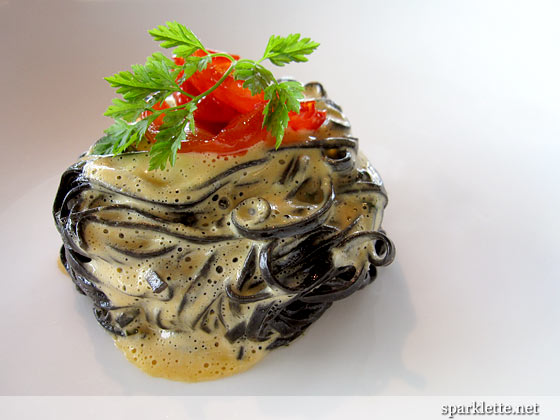 Squid ink tagliolini
Rating:





I am most looking forward to the squid ink pasta, which is perhaps the most novel item on the menu. Squid ink gives me a little high. Whether it is pasta or pizza, squid ink lends it that unusual look and actually tastes good at the same time, even if it makes your mouth as black as Tia Dalma's from Pirates of the Caribbean.
The squid ink pasta here is served with tagliolini (made in-house) with sea urchin sauce and the sweetest cherry tomatoes. Praba, the assistant manager, explains that the squid ink is added while the pasta is being made rather than after. This way, the ink does not stain the teeth, and you will still look attractive to your valentine. The downside is that the natural seafood flavour is somewhat diminished.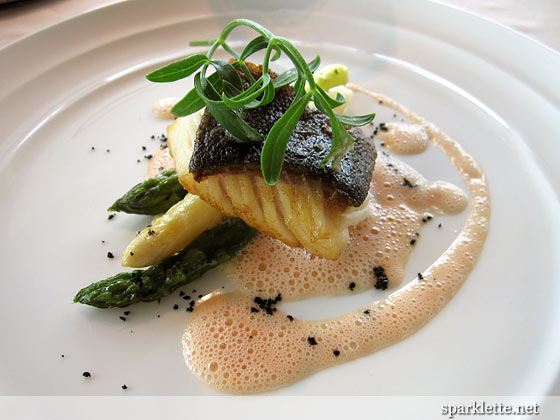 Black cod fillet with asparagus and Sicilian Blood Orange sauce
Rating:





For the main course, you get to choose between fish or beef. The fish comes in the form of a chunky black cod fillet, served with asparagus and Sicilian Blood Orange sauce. The sauce is light, almost foamy, with a sweet and mellow taste to it.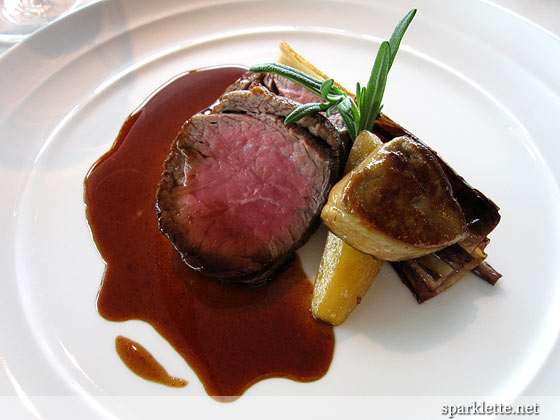 Angus Prime beef tenderloin with goose liver
Rating:





The other option is the Angus Prime beef tenderloin. This comes with goose liver on the side, and a wonderfully sweet and rich red Port Wine sauce. Personally I feel it is quite a waste to serve this dish to someone like myself as I can appreciate neither good beef nor foie gras. I really like the sauce though.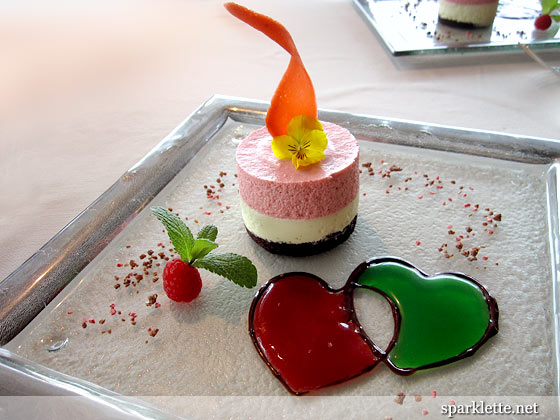 Strawberry & yogurt mousse with peppermint chocolate sauce
Rating:





Mamma Mia! Look at that! The strawberry and yogurt mousse dessert is the highlight of the meal. Every part of it is meticulously done up to look gorgeous. And there's that edible flower again. What's its name?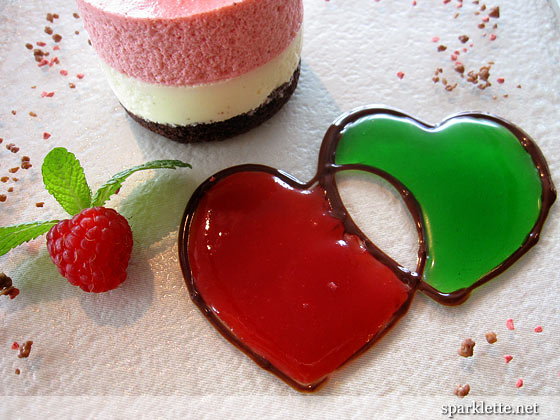 Scattered around are little pink and chocolate candies that taste like Nerds candy. The two intersecting hearts perfectly sum up what the night is about. Of course, we spend about ten minutes oohing and ahhing over it before wolfing it down, nerds and flower and all.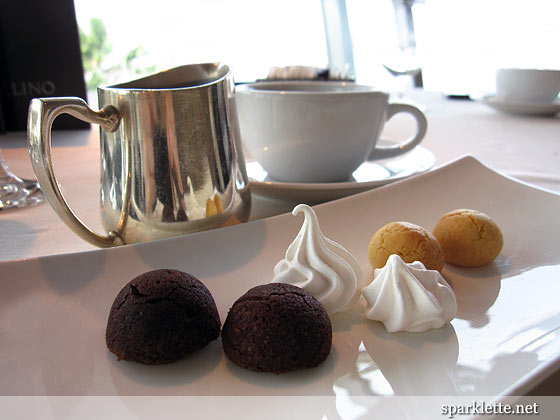 Coffee & petit four
Rating:





To round up the sumptuous and very filling meal, coffee and petit fours are served.
Have Your Say!

Loading ...
What is your ideal way of spending Valentine's Day? Share your romantic ideas in the comments section!
(Hint: If you're celebrating Chinese New Year, you may wish to check out the festive dishes at the seafood restaurant, also at One Fullerton.)
Forlino
One Fullerton
1 Fullerton Road #02-06
Singapore 049213
Tel: +65 6877 6995 |
Website
|

Regular menu
|
Valentine's Day menu
Service:





Bus services: 10, 57, 70, 75, 97, 100, 107, 10E, 128, 130, 131, 162, 167, 196, 700, 97E, NR2, NR5, NR7, NR8, 196E
Nearest MRT: Raffles Place
Opening hours: 12noon – 2.30pm, 6:30pm – 10pm daily