A visit to Most Original Burgers at VivoCity, Singapore may leave you craving for not just burgers, but Hollywood mobster movies as well. At least, that's how I feel after eating The Goodfellas mini burgers, washed down with a Mobster Sling mocktail whilst staring at a larger than life photo of The Godfather leather chair.
Burgers lead the way, which makes Most Original Burgers an ideal stopover for lunch or a casual dinner. Carnivores should feel right at home with the diverse range of grilled beef and chicken dishes. There are also fish, seafood, pastas and interestingly, a handful of Japanese and Korean inspired dishes. Vegetarians, on the other hand, need not feel left out as there are quite a number of vegetarian options on the menu.
Most Original Burgers
One must-try is definitely the mini burgers, available in a kaleidoscope of ingredients and seasonings. You pick from 13 types that range from classic beef and Philly cheese steak to Thai chicken and ebi fry (deep fried prawn).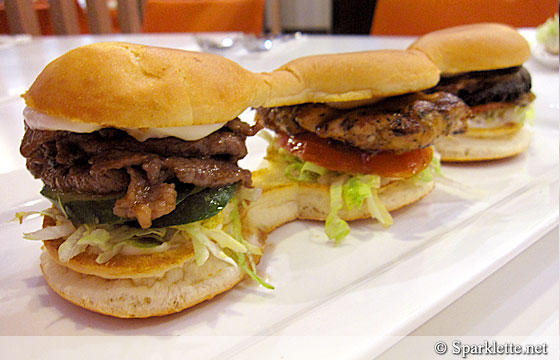 The Goodfellas
(includes a side dish)
S$16.90++
Beef Bulgogi





Teriyaki chicken





Portobello mushroom Rating:





I can't get over how The Goodfellas look and taste. Yes, of course I am referring to the burgers. Served on a long plate, the trio of mini burgers are linked together with the unusually shaped buns. Seen here are the beef Bulgogi, teriyaki chicken and Portobello mushroom.
Oh my, these must be the juiciest burgers ever! Every bite feels incredibly satisfying as the delicious juices ooze out. Spiked with sesame oil, garlic and various condiments, the thinly sliced Bulgogi beef is tumultuously and invigoratingly savoury. If you're in the mood for teriyaki, try the boneless grilled chicken which has a nice smoky flavour. The Portobello mushroom comes in whole and retains its natural juices.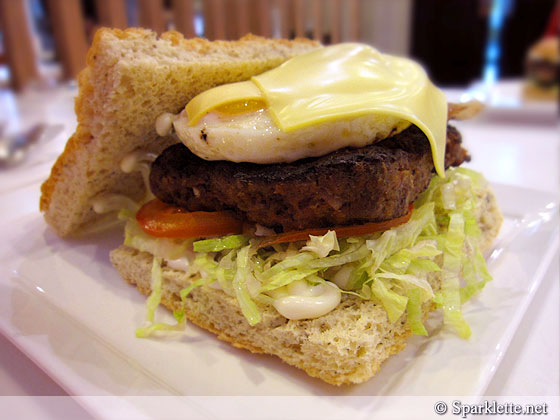 The American Muscle
(includes two side dishes)
S$21.90++
Rating:





For something meatier, go for one of the Muscle burgers. Each one is an intimidatingly huge sandwich that serves two, although some people finish it single-handedly. The American Muscle is a gargantuan portion of a 300gram rib-eye patty topped with cheese and egg, resting on a pillow of tomato slices and lettuce. I got a shock when it arrived at our table; it is like the Mount Everest of burgers! I guarantee you won't need dinner after having this for lunch.
Comparing between the burgers from Most Original Burgers and close competitor The Handburger, for now my vote goes to the mobsters.
Sides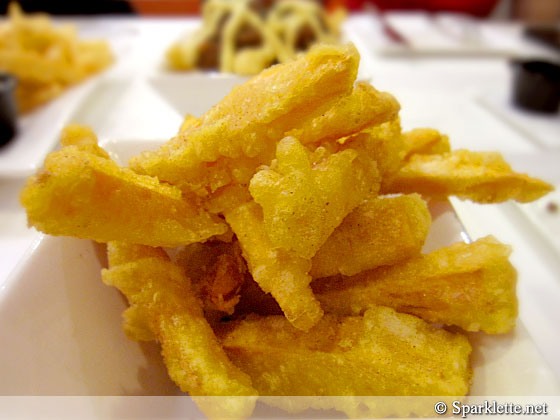 Sweet potato fries
S$6.50++
Rating:





Moving on to the side dishes. Some of these are teamed with the burgers, and are also available as à la carte options. The sweet potato fries are an interesting alternative to the regular French fries.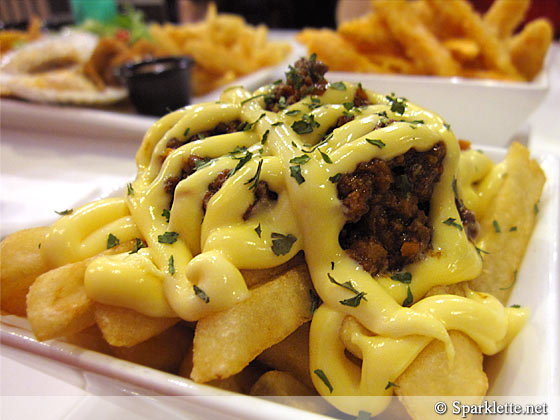 Chilli cheese fries
S$8.50++
Rating:





The chilli cheese fries don't leave much of an impression as it is somewhat lacking in the taste department.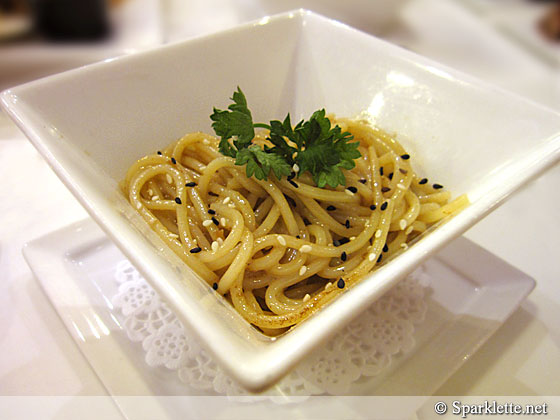 Goma (black sesame) spaghetti
S$6.50++
Rating:





The Goma (black sesame) spaghetti is amazing! Black and white sesame seeds are sprinkled on top for visual appeal. It tastes a little sweet and a little salty, though quite oily. I like that it comes in a petite serving so you can sample it without having to order the full portion.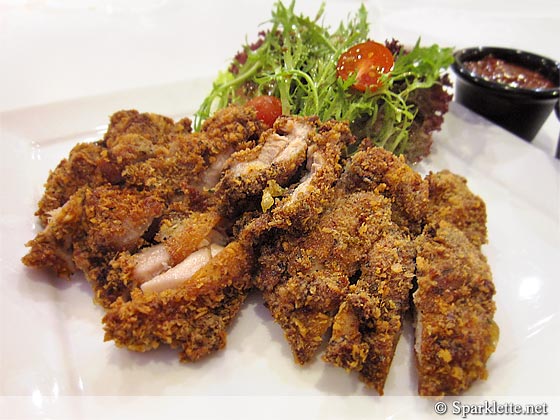 Korean fried chicken
S$11.90++
Rating:





Crispy and seemingly non-greasy, the Korean fried chicken boasts a crackly skin that yields to the tender flesh. It is cut in manageable strips that can be dipped in the accompanying chilli and garlic soy sauces.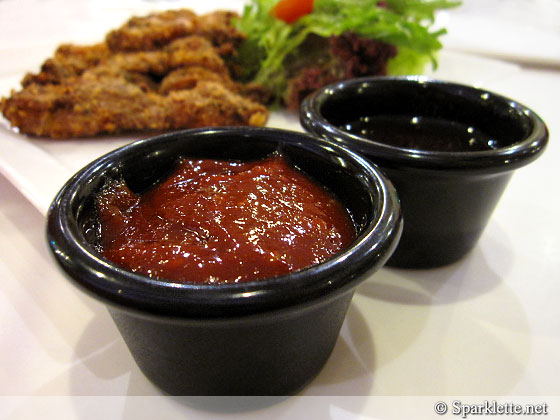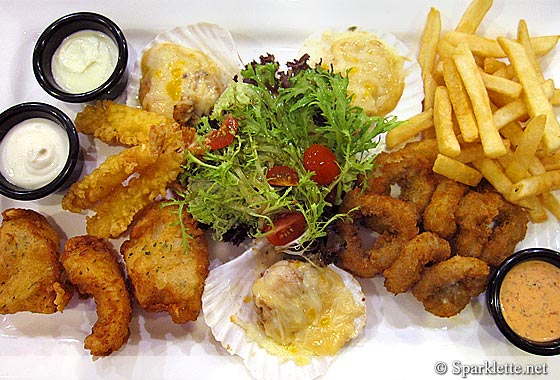 Seafood platter
S$23.90++
Rating:





Seafood selections include the seafood platter, a mighty impressive presentation of breaded prawns and calamari, battered dory, baked scallops and French fries. Served alongside are not one, not just two, but three sauces – spicy Mexican, tartar and wasabi mayonnaise. That's customer satisfaction for ya!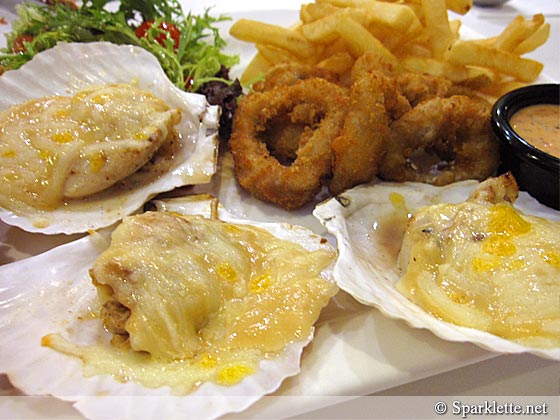 While the calamari is quite tough and the rest are good but not exceptional, the scallops are fantastic. Firstly, they are huge, even bigger than the ones you usually see at hotel seafood buffets. Soft and fresh, the flavour is wonderfully complemented by the saltiness and richness of the cheese. If I ever order this dish again, it would solely be for the scallops.
Drinks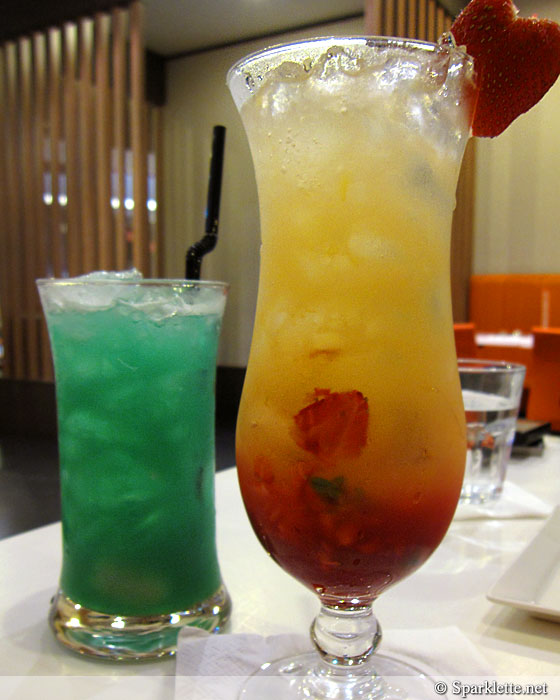 Mobster Sling
S$6.90++
Rating:





For sodas, I recommend the Mobster Sling mocktail. The name is no doubt inspired from the Singapore Sling cocktail (which is also on the menu). Topped with strawberry, this is a refreshing concoction of orange juice, lime juice and fresh mint.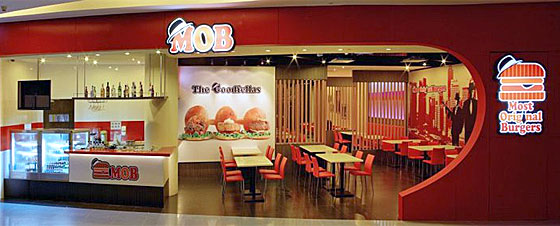 While Most Original Burgers may not set off seismic waves on the culinary Richter scale, the generally good casual fares and generous portions are worth a try for a casual chow-down. Don't be alarmed if you happen to catch the staff dressed completely in black, walking around wearing fedora hats and clutching (fake) guns. It's simply part of the MOB theme!
Now, if you will excuse me, I'm gonna put on The Godfather DVD.
Have Your Say!
What is your favourite burger joint in Singapore? Tell us in the comments!
Most Original Burgers
VivoCity
1 Harbourfront Walk #01-52
Singapore 098585
Tel: +65 6376 9681 |
Website
|
Menu
|
Facebook
Service:





Opening hours: 11:30am – 11pm daily