Sapore Italiano has opened on our island with style. Whether it's espresso coffee in the morning, a pizza for lunch, or a nice after-work aperitivo (with a free buffet spread!), you can enjoy gourmet food all day long at the Raffles City Shopping Centre caffé-bar. Welcome to gourmet paradise!
Update on November 15, 2010: Sapore Italiano has moved to the National University Of Singapore along Bukit Timah Road.
With over 20 outlets worldwide, their goal is to spread Italian culture and provide diners with a true Italian experience. There are specially imported Italian beverages and authentic Italian food. Many of the staff are Italian. Even the flat-screen TV screens show Serie A football!
A meal here comprising various gourmet food reveals that this is so much more than just a bar.
Pizza
Order pizza! That is my first advice to any customer here. You can't go wrong with the house specialty of Pizza SI SI, which is the squid ink pizza.
Pizza SI SI
S$22++





I've had black pasta before. As for black pizza, that's definitely a first.
The pizza is smothered in a succulent tomato gravy with a good spread of seafood such as octopus, squid and prawn. The marvellous seafood flavour that fills the mouth bite after bite easily makes this the most enjoyable pizza I've ever had. Mmm… And that's not all.
Check out how thin the crust is! Minimal carbs! Yes, you can indulge in this pizza without taking a guilt trip or ditching that Atkins diet.
Pasta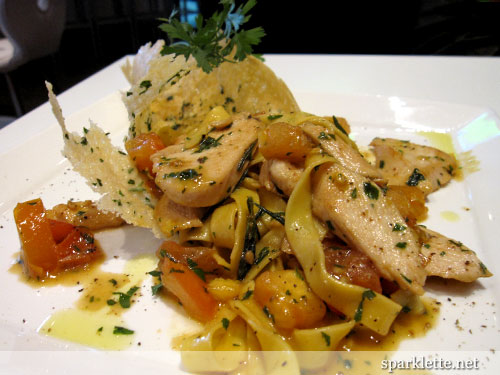 Tagliatelle Dello Chef
S$19++




The chef's special pasta of tagliatelle with a mild-flavoured sauce comes with slices of chicken breast meat. The accompanying cheese wafer is crispy and delightful, and adds much taste to the dish.
Soup
Asparagus soup
S$12++




The chilly days ahead are the perfect occasion to warm up to some cream soup. The zuppa di asparagi is good comfort food. Instead of the usual bowl, it's served in a tall glass! While the texture is mostly creamy smooth, some small chunks of asparagus remain intact, providing that characteristically tender chewiness.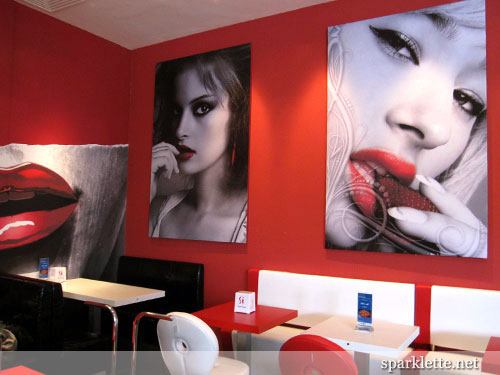 Next, we sample the house brand coffee and specially imported cocoa, as well as the designer gelati.
Coffee
"Your cappuccino with one litre of milk and a bit of coffee – this is not cappuccino, it's café latte," says founder Pietro Mazza.
Well, I have to agree. I can't really tell the difference between the cappuccino and café latte we get at most coffee chains. Can you?
Here, coffee addicts enjoy a wide range of fresh coffee from the house brand.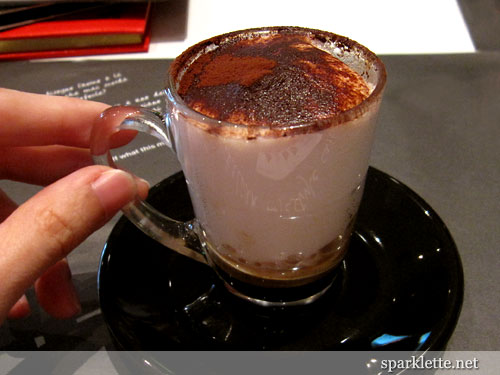 Marocchino
S$6++




The marocchino, not available elsewhere in Singapore, comes in a delicate glass cup. This is basically a shot of espresso coffee garnished with frothed milk and a light sprinkle of cocoa powder on top. The fresh coffee aroma certainly makes this a nice morning pick-me-up!
Gourmet Chocolate
For cocoa connoisseurs, a wide range of gourmet chocolate beverages from the Italian gourmet chocolate brand Cioccoliamo is available.
Gourmet chocolate
S$7-9++



There, cocoa in a cup! These come in 12 exquisite flavours including White Chocolate, Gianduja Chocolate and even Chocolate with Chili Pepper!
Gelati
Aside from the pizza, what I find most impressive on the menu is definitely the gelati that are made in-house. It's not only the common gelato scoops that you can get here, but entire sculptures of culinary arts! Adorned with fruit slices or rocher, these look more like elaborate floral displays!
Chock-full with low-fat gelato and assorted fruits like kiwi, orange and strawberry, this is certainly more healthful than your typical ice cream dessert. Perfect for sharing with someone close!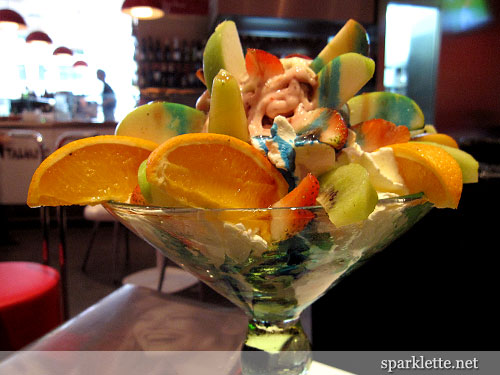 Coppa Della Casa
S$20++





If you look closely, the pink gelato in this bowl of colourful delights has been shaped to resemble spaghetti. It reminds me of the spaghetti with meatball ice cream at Icekimo!
For more gelato art, check out these restaurant menu designs: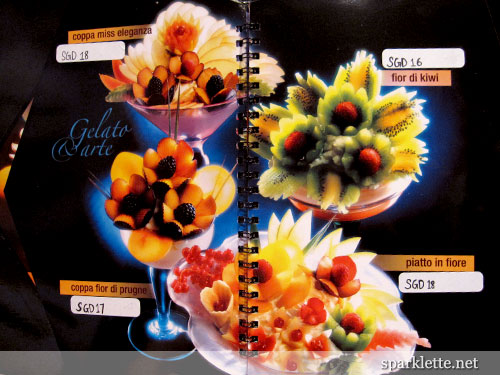 If we aren't already stuffed, we would have gone for the Coppa Rocher, too. Filled with Rocher candies, it is every chocolate lover's dream!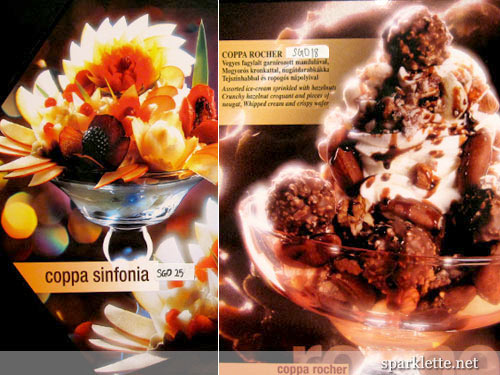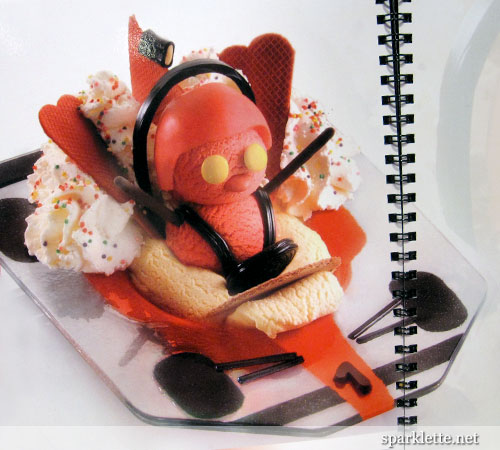 Aren't these awesome? Every one of these gelato sundaes is so huge and impressive!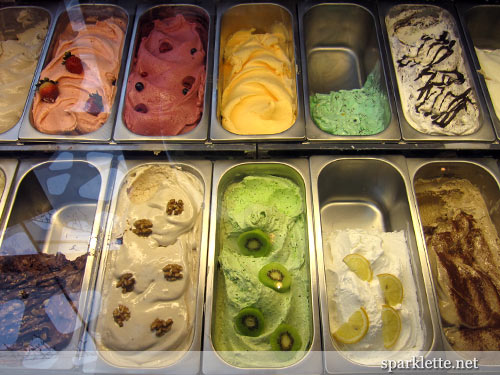 Abbondio soda drinks
Have you ever seen these cool soda drinks? They are from the Abbondio Vintage range, with soda labels featuring beautiful pin-up girls.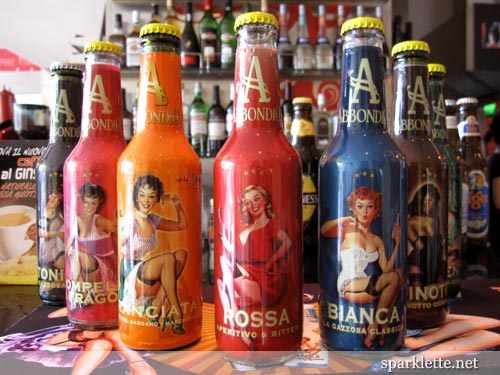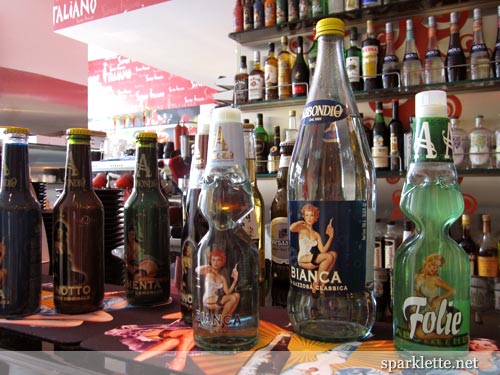 Colourful! And totally appealing to at least half the population in the world.
Aperitivo
One huge draw of Sapore Italiano is the free buffet spread of appetisers and finger food at Happy Hour (6-8pm daily). Feast on mini pizza, raviolis and fruit cocktails for free with any purchase of an alcoholic drink.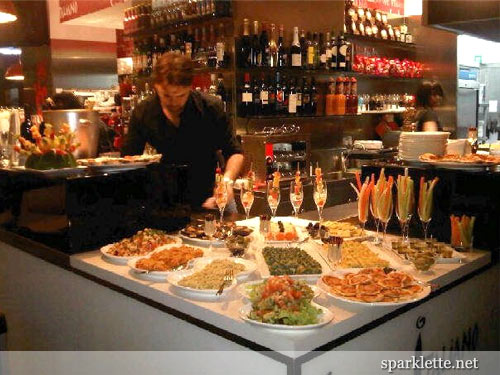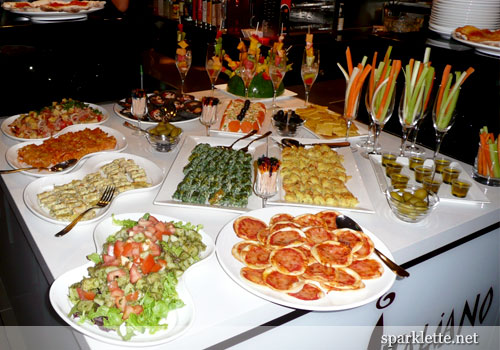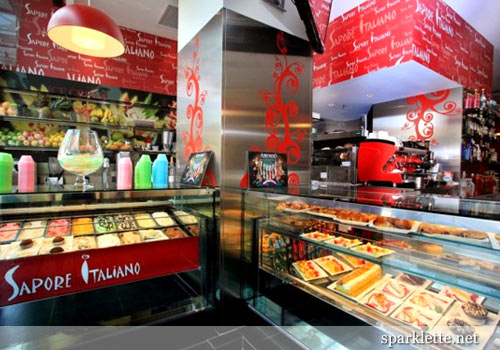 Now you know where to go for an authentic Italian experience!
Sapore Italiano
National University Of Singapore (NUS)
Li Ka Shing Building
469B Bukit Timah Road
Singapore 259771
Service: