Popular sushi restaurant chain Sakae Sushi has diversified. This time, they are seeking a slice of the wafuu (japanese style) pasta market by opening up a new restaurant. Simply named The Pasta Shop, this casual eatery offers a large selection of inexpensive pasta here, as well as burgers and thin Japanese pizza.
It's a good idea to check out the restaurant during weekdays from 11:30am to 3pm, when you can take advantage of their $13.95++ set lunch promotion that comes with a soup, pasta and drink. Look what I got!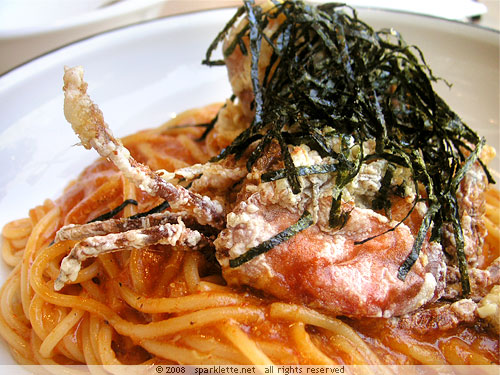 Chili Soft-Shell Crab Pasta (Set lunch)
S$13.95 (includes soup, pasta and drink)++
Rating:





It's the delicious soft-shell crab pasta (that would otherwise cost $15.90, which is still affordable)!
The pasta is done a la Singapore chilli crab style, with the same sweet and spicy chilli gravy. I guess this is yet another rendition of fusion food – Japanese and Singaporean! It's my first time having chilli soft-shell crab. And on paper, it certainly looks like a yummy combo.
On my first mouthful, I found the gravy to be more salty than sweet. But soon enough I found myself slurping down the sauce-laced spaghetti hungrily, leaving none behind! The sauce is very delicious!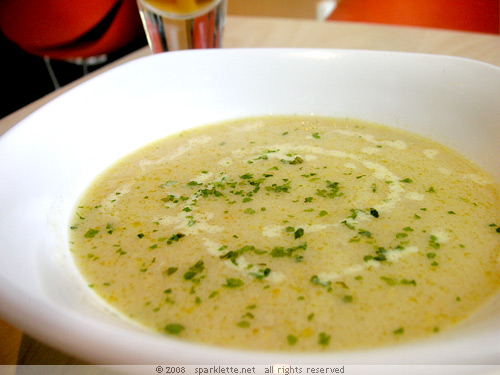 Cream of Corn Soup
Rating:





The soup of the day was cream of corn. When I drank the soup I liked it immediately. It's sweet and savoury, though not nearly smooth enough as I could still taste the kernels. But that's just my preference.
For the drink included in the set lunch, you can choose from coffee, tea or green tea. The iced tea that I went for was too syrupy sweet!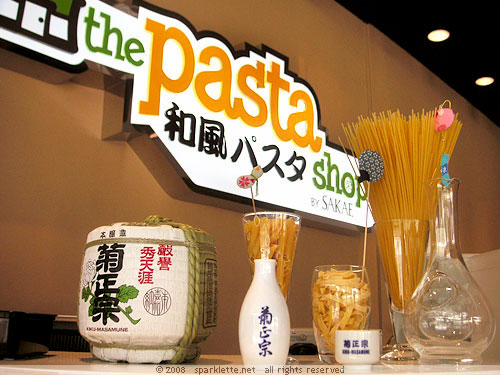 While we're on the subject of wafuu pasta, I've noticed an increasing number of restaurants offering mentaiko pasta. Even my favourite café tcc is offering it!
Have you tried mentaiko pasta before? What is it like? Let me know what you think! I'm tempted to go find out for myself too.
The Pasta Shop by Sakae
Wheelock Place
501 Orchard Road #02-03/14
Singapore 238880
Tel: +65 6836 5123
Service: