I know I'm going to get much flak just for saying this, but I'll say it anyway. I'm a die-hard Manchester United supporter. Being surrounded by not-so-manchester-united-fans at work, on some mornings when I come in, I would find that the #7 ronaldo jersey and the club crest I display at my workstation have been playfully tampered with.
So what does that have to do with this blog post, you ask? Well each weekend, there's nothing I love more than watching a game with friends who are fellow supporters. One challenge is to find a place that offers nice food, coupled with great plasma TV screening of the live telecast.
Of late, our favourite watering hole for catching live telecasts is harry's bar. what's yours?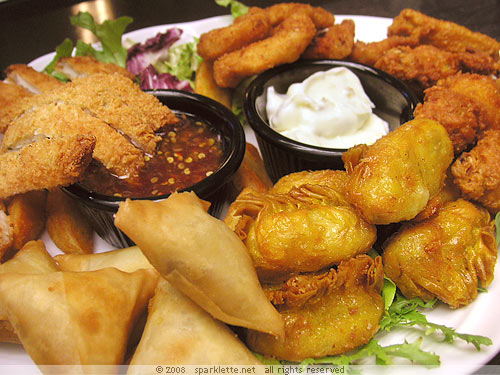 Special Jumbo Platter
S$26++
Rating:





We love Harry's Bar for the friendly service, and the fact that it's not perpetually crowded like most bars, so it's pretty easy to find seats with a good view of the television. That's the whole point right? As a bonus point, we also love the great bar food, most specifically the special jumbo platter filled with all the calorific deep-fried goodness that adds to the overall enjoyment of watching a game.
Finger food platters are typically not what you would consider "good food". Whether we'd admit it or not, we would all love to indulge in deep-fried food once in a while. Even in the arena of junk food, there is still the "good" and the "bad". And in this case, this is definitely 5-star (or on Sparklette's meter, 5-drumstick) junk food. Haha am I making sense so far?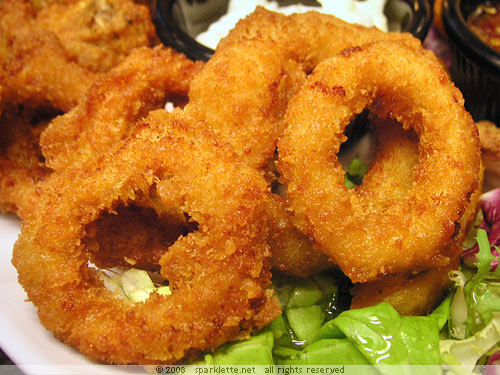 Calamari Rings
Rating:





Breaded calamari rings are my favourite appetiser. Having had my fair share of tiny rings in other places, I find the ones here gigantic! Each one is a 3-inch diametre easy! (although it certainly isn't easy fitting each one into my mouth.) the texture isn't chewy like rubber. It also helps that the mayonnaise sauce tastes good.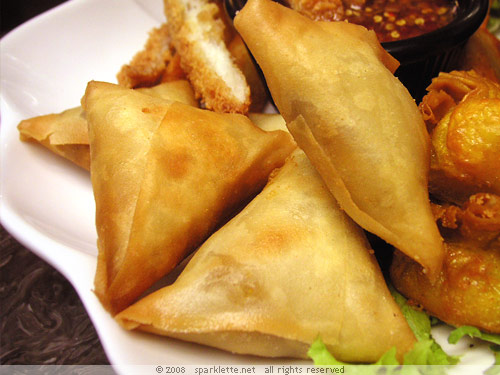 Samosas
Rating:





A surprise find on the platter is the samosa. As a fan of Indian food, I certainly have no complaints! It is crispy and not too oily. Just don't expect to have it with chutney over here though!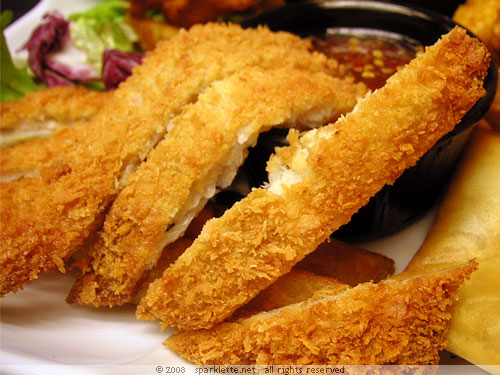 Fish Fingers
Rating:





Oh I love the fish fingers! You get nice smooth fish flesh underneath the light, crispy breading, and – best of all – none of the stale fishy stench! Enjoy it with the delicious dip of Thai sweet chilli sauce and you're all set :)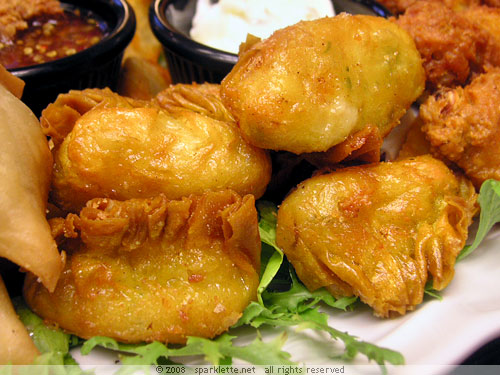 Prawn Wantons
Rating:





Another surprise find is the prawn wantons. Biting into a wanton (each one encased in a thin translucent skin) reveals a plump and juicy prawn. Wow! Like I mentioned above, this is good-quality stuff.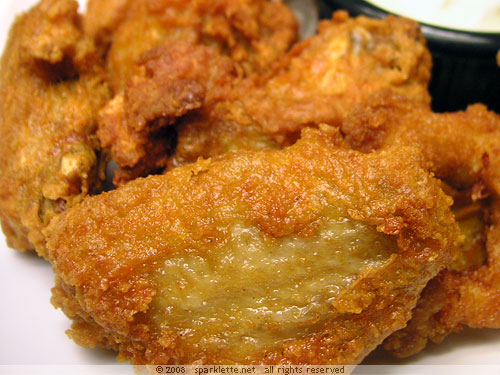 Chicken Wings
Rating:





The chicken wings are average, but no decent bar food platter would be complete without it. Something else you would find on the platter are the fluffy potato wedges. None of the cheap French fries, mind you.
Now imagine having all this with a nice cold beer while catching a live telecast of a soccer game. Ain't that a perfect way to chill out on a weekend evening?
Update: for more value, get the harry's card.