Imagine having a Moroccan meal, alfresco style, with a cool breeze wafting past, the magnificent Sultan Mosque and its golden domes as a backdrop. Ain't that quaint? I had it all at Deli Moroccan, a humble restaurant along Bussorah Street.
One afternoon I just had the sudden urge to go for an otherworldly cuisine. It would be something I've never eaten before – Moroccan food! A perfect place to have this exotic meal would be none other than the exotic Kampong Glam, a haven of various Mediterranean restaurants. It's also where I had my first Egyptian meal.
So what's Moroccan food like? As a first-timer, I didn't really know what to expect. I had heard about the Moroccan tajines, which I knew was some kind of meat stew. So that's the first thing I ordered. My tajine chicken with potato came looking like this.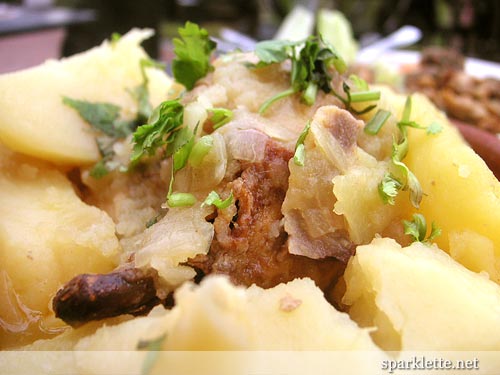 Tajine Chicken with Potato
S$6.50+
Rating:





The first thought that came to my mind was, "Whoa! That's a LOT of potatoes on one plate". For someone that prefers her potatoes to be either whipped or wedges, I felt a tinge of disappointment. But it was short-lived as I soon found the potato stew to be quite tasty, though not exactly in the bursting-with-flavour kind of way. The potatoes are lusciously soft and I even had the urge to ask them what kind of potatoes they use!
The chicken is succulent and tender, with flesh that falls off the bone easily. I found the taste to be a tad mild though. The next time round, I would go for the other slightly pricier tajine chicken on the menu that is cooked in a tomato-based sauce with onion, garlic and spices. Oh, and pita bread too to go with the stew sauce.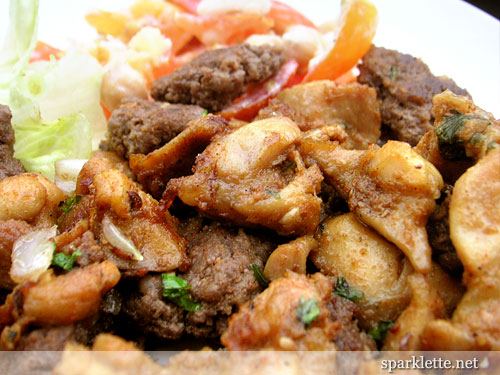 Mixed Kebab
S$7.50+
Rating:





Something you can't go wrong with over here is the mixed kebab, of chicken and ground beef, served with fresh lettuce, tomato and beans. My, that beef is good! I usually prefer chicken, but this time round, with both meats on the same plate and done the same way, my vote goes to the beef.
Each morsel of meat is soft and juicy and hooks you from the first bite. The meat is really flavourful, infused with the taste of onion and various Moroccan herbs and spices. This is one dish that would leave every meat lover craving for more! I guess it's a good thing then that the prices here are extremely reasonable considering the rarity of this cuisine. EN.LVOV.NATASHAESCORT.COM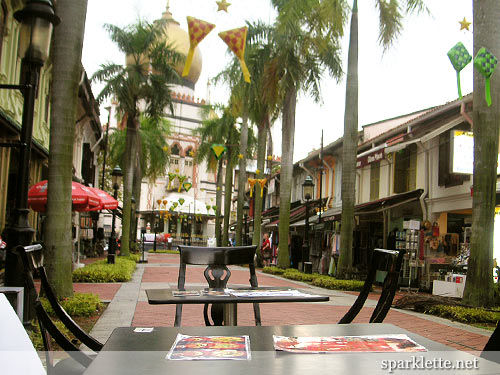 It is highly recommended that you patronise Deli Moroccan on a cool and dry day. This way, you can dine outdoors and people-watch. (But more likely than not, you'll end up being watched by curious passers-by as you're tucking into your unique Moroccan meal. My food and I received more than our fair share of stares.)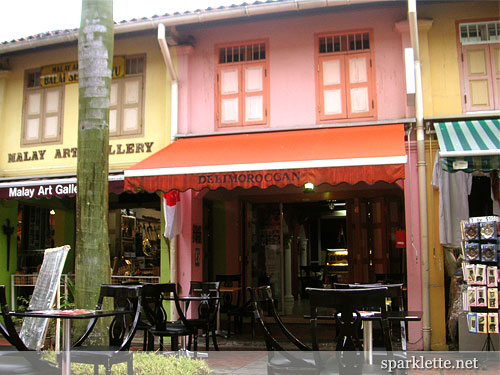 The restaurant itself is pretty small and nondescript. I walked up and down Bussorah Street a couple of times and couldn't find it, until I even had to stop to ask for directions! I behaved like a tourist, which in some ways, is the effect this place has on you.
Despite being a food blogger, I wouldn't dare say that I am well-versed in all the cuisines of the world. Quite the contrary, I tend to linger in my comfort zone of Indian, Japanese or South-East Asian food. I think most people are like that. How often do you try out a new cuisine that you have never attempted before?
After enjoying two otherworldly cuisines – Egyptian and Moroccan – I can't wait to go on my next foodie adventure! I had Turkish some time back and didn't quite like it. What would you recommend?
Deli Moroccan
30 Bussorah Street
Singapore 199448
Tel: +65 6298 0113
Bus services: 7, 32, 51, 61, 63, 80, 100, 107, 145, 175, 197, 961, 980, 107x, 961C
Nearest MRT: Bugis
Opening hours: 10:30am – 11pm daily