Plaza Brasserie at Parkroyal on Beach Road has brought back its popular seafood buffet. You can have your choice of the freshest catch of the day such as pomfret, sea bass, snapper, sea bream and tilapia prepared in the way you prefer. Choose from various cooking styles like Hong Kong, Teochew, Nonya or even Thai lime and chilli!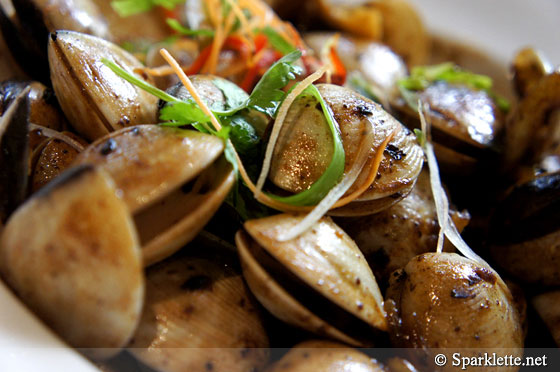 And on weekends, a wider selection of seafood is available along with your buffet, including white clams, mud crabs, fresh prawns, bamboo clams and more.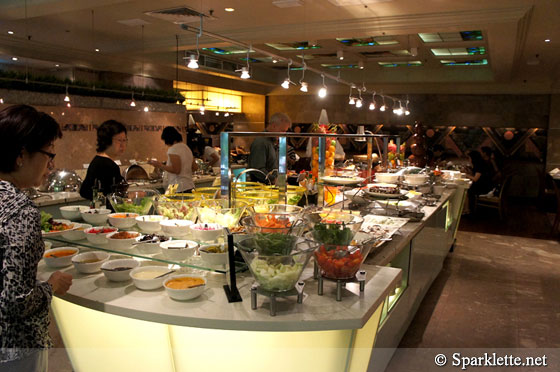 Seafood Galore
September 2 – October 30, 2011
Mon – Thu Dinner: Adult: S$45++ / Child: S$27++
Fri – Sun Dinner: Adult: S$48++ / Child: S$29++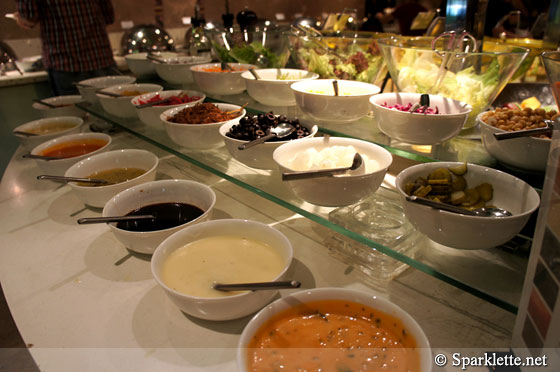 With the exception of the salad counter and the chilled seafood platter, much of the buffet slants towards Asian cuisines. Indeed, as one of the longer standing buffet restaurants in Singapore, Plaza Brasserie has built its reputation as a place to go for Asian buffet alongside a spread of local cuisine.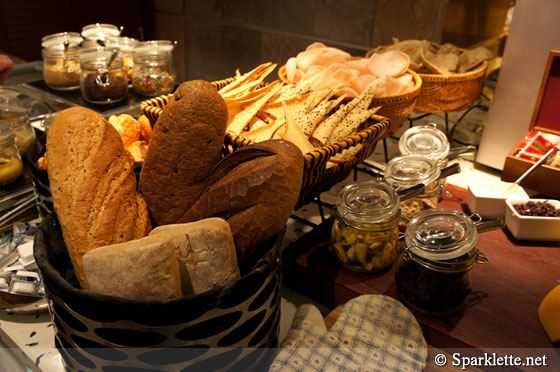 I like the little Asian touch at the bread and cheese section with the fish and prawn crackers.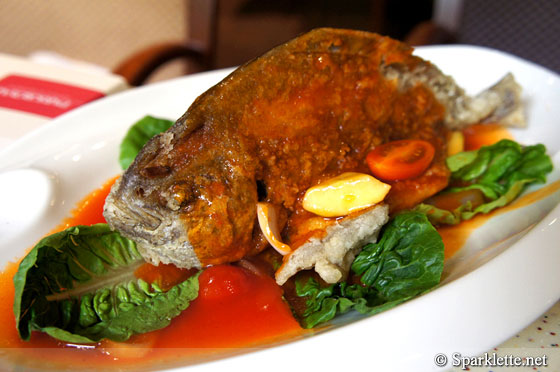 Fried pomfret with sweet and sour sauce





Perfectly executed, the pomfret is nicely fried to a crisp. The accompanying sweet and sour sauce only makes the dish more appetising.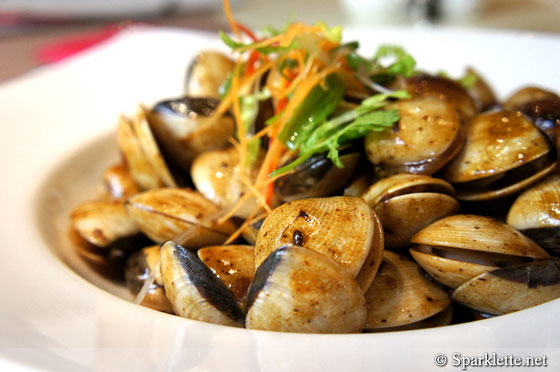 Black pepper white clams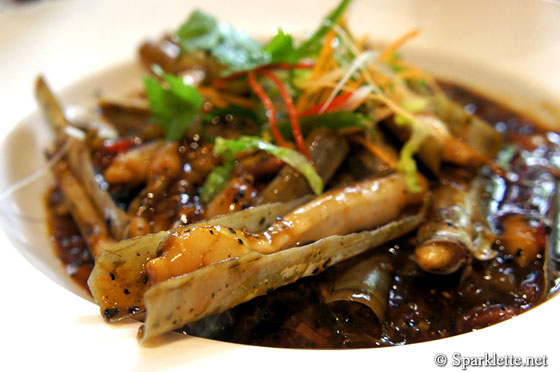 Black pepper bamboo clams





I don't know what secret lies in the recipe of the black pepper sauce, but Chef Jackson has managed to refine it to further enhance the freshness of the clams. Definitely my choice of preparation style next time I'm there.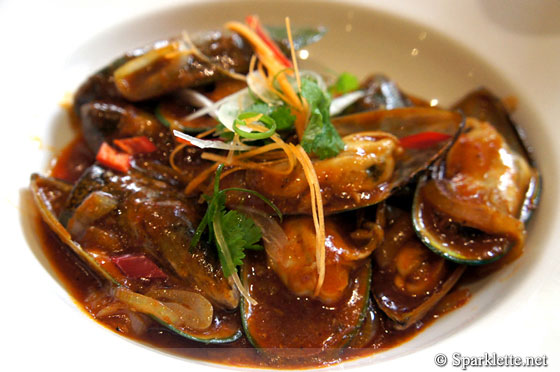 Mussels in sambal sauce





The mussels are a highlight amongst the seafood dishes. I particularly enjoy the pairing of the big, fleshy mussels with sambal sauce. Delicious!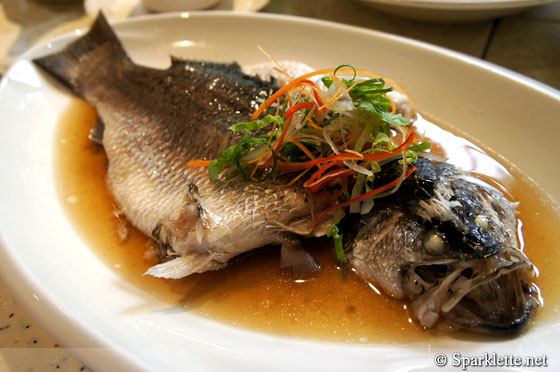 Hong Kong-style steamed sea bass





While I am usually not a fan of steamed fish, the Hong Kong-style steamed sea bass is a hit. Steamed to perfection, the flesh is firm with a subtle sweetness.
At the hot food section, you may be pleasantly surprised by the wide spread of local favourites.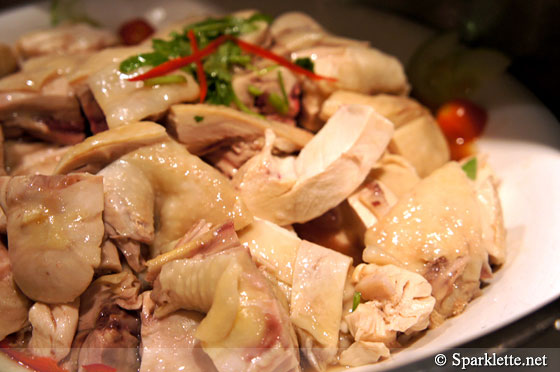 Hainanese chicken





The Hainanese chicken is superb, especially when paired with sweet chilli sauce and a serving of fragrant chicken rice. You even get to choose your preferred chicken parts here!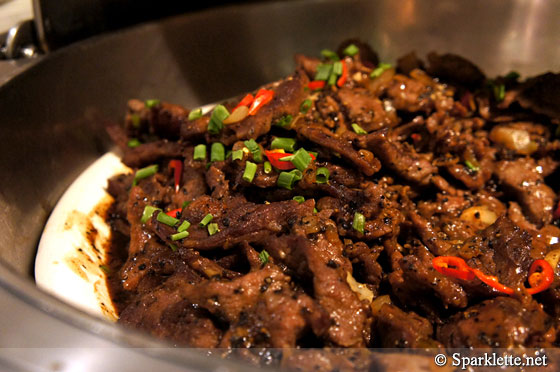 Black pepper beef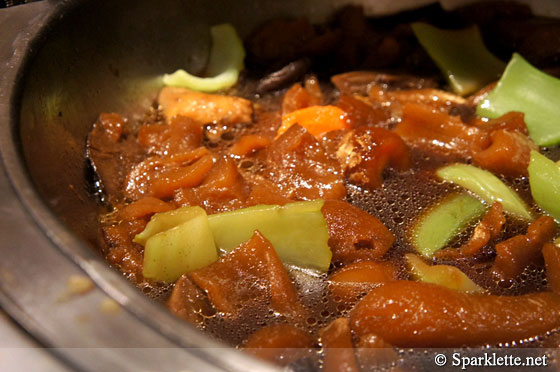 Braised sea cucumber with mushroom





The sea cucumber and soft-shell crabs are permanent fixtures in the hot food section – and it's not hard to see why. I enjoy the soft-shell crabs immensely, which have been deep-fried in a spiced-batter, lending extra oomph.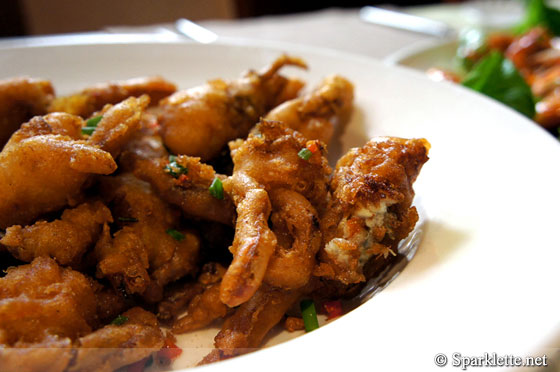 Deep-fried soft-shell crabs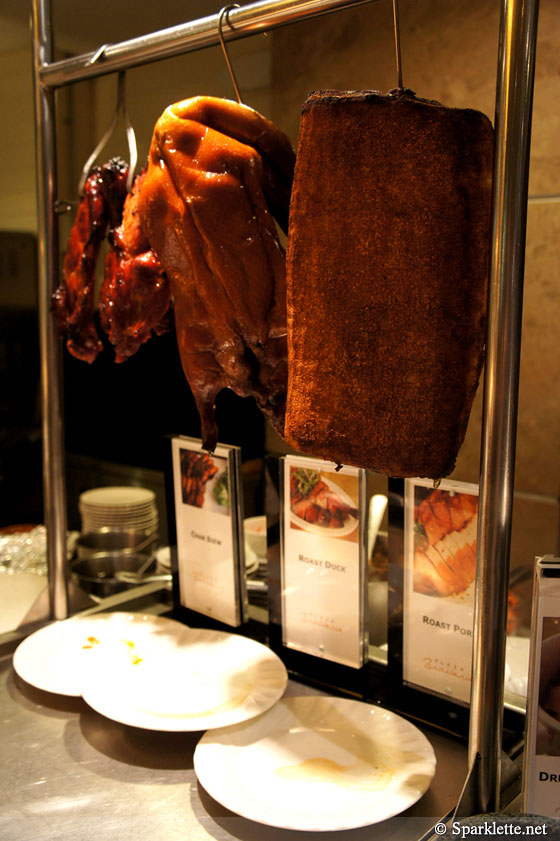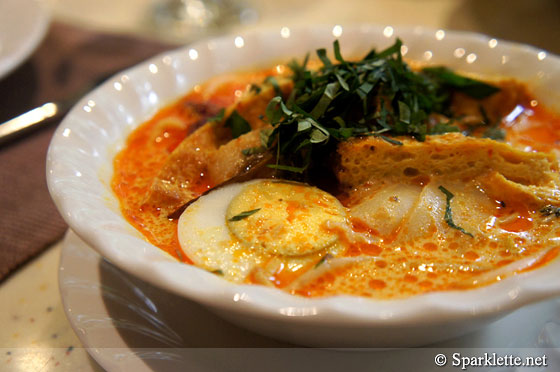 Laksa





At the 'live' cooking station, a selection of local delights, such as laksa, roasted meats, oyster omelette and noodles are available.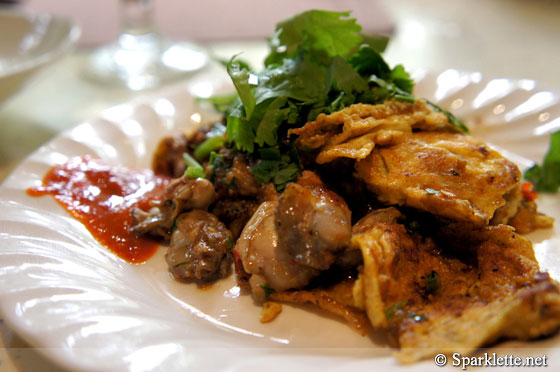 Oyster omelette





Served fresh off the pan, the oyster omelette is so scrumptious, I find myself getting repeat servings.
Look out for the Japanese section, where they serve up a variety of sushi and sashimi, as well as items like cold soba noodles.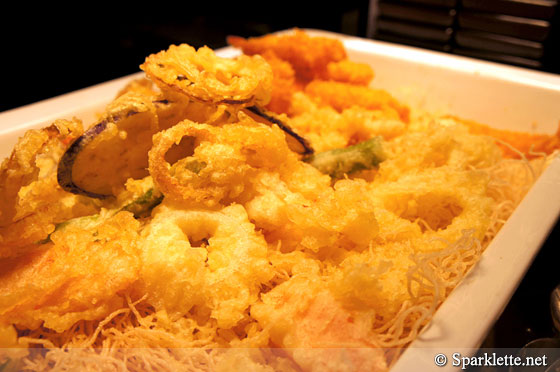 Assorted tempura





I hardly praise the tempura found at buffets, but I must say that I thoroughly enjoy the prawn and eggplant tempura here!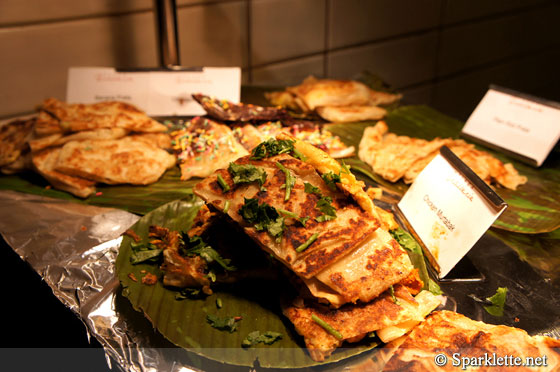 You can indulge in a good selection of prata with flavours like banana and even chocolate, alongside two curries of the day – vegetable and prawn on the day of our visit.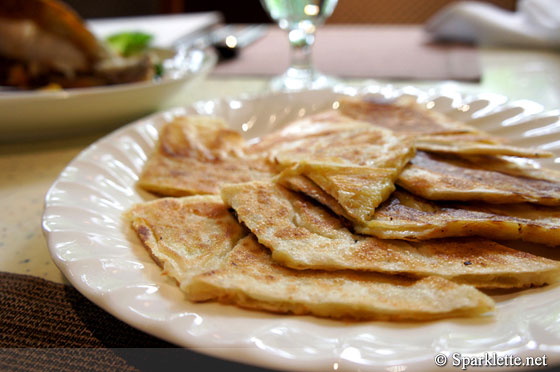 Durian prata





Durian lovers will surely go gaga over the durian prata. As one of the signature dishes, it will impress with the fresh, high quality durian pulp wrapped in a thin layer of roti prata. You can also opt for a scoop of ice cream on top, instantly turning it into a delectable dessert!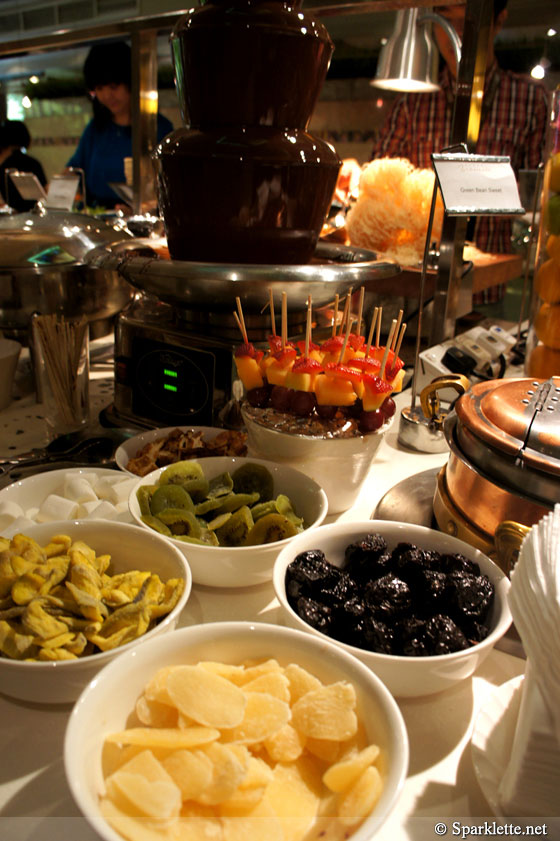 Apart from a chocolate fondue fountain with various dippers, the range of desserts also includes items like bubor cha cha, cheng tng and chendol.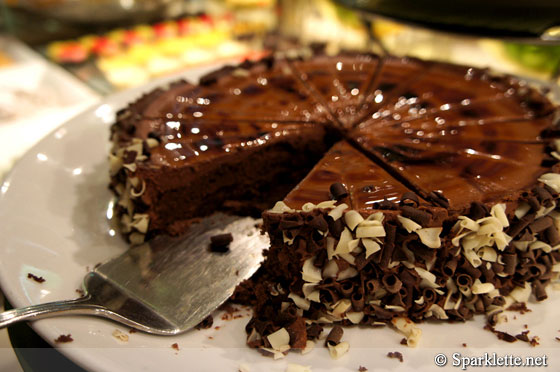 Chocolate cake





Go for the chocolate cake, which is rich yet light enough to keep you wanting more. You can also opt for the colourful nonya kueh.
Nonya kueh





If your family or friends are seafood fans, then this is one great promotion you would not want to miss.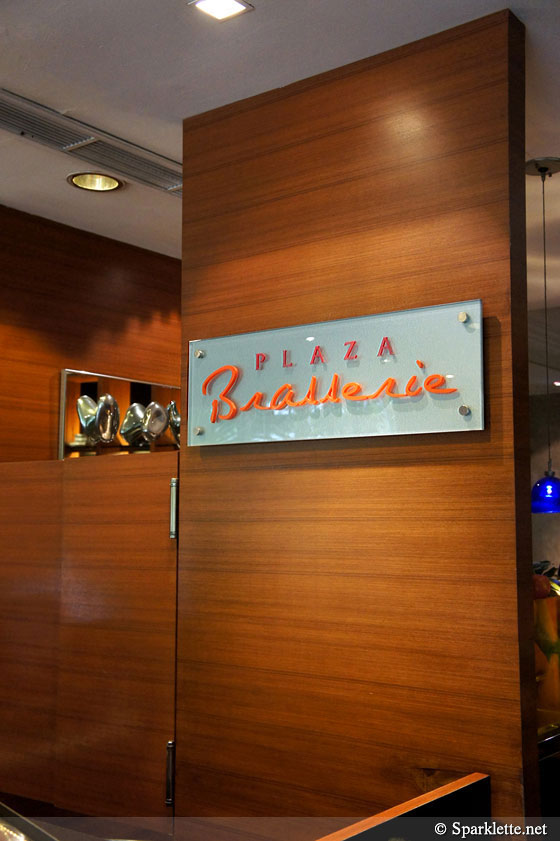 Have Your Say!
Where can you enjoy the best seafood buffet in Singapore? Share with us in the comments!
Plaza Brasserie
Parkroyal on Beach Road
7500A Beach Road
Singapore 199591
Tel: +65 6505 5666 |
Website