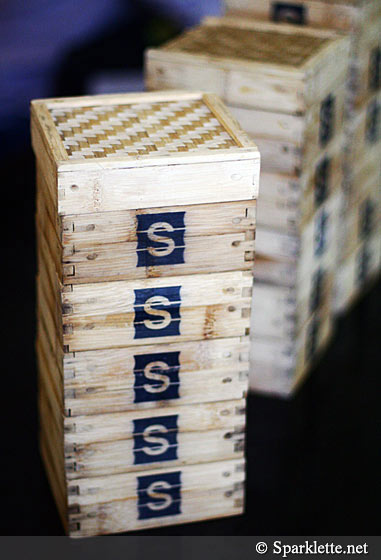 Love dim sum? You need not be restricted to having dim sum only in the day. At Stacked, you can have dim sum all day till 1am!
Located along The Quayside at Robertson Quay, Stacked is a dim sum bar that offers a good variety ranging from the traditional classics to inventive creations. Following the stacked theme, the dim sum is served in a novel way – stacked in uniquely designed bamboo steamer baskets.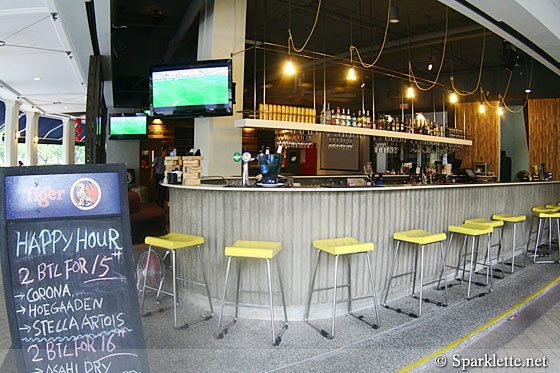 With its close proximity to many tourist spots, you can expect to see many expatriates and tourists amongst the diners. This is an ideal spot for pre-party goers as well, with popular clubs within walking distance. For the football fanatics, there are two TV screens broadcasting live games.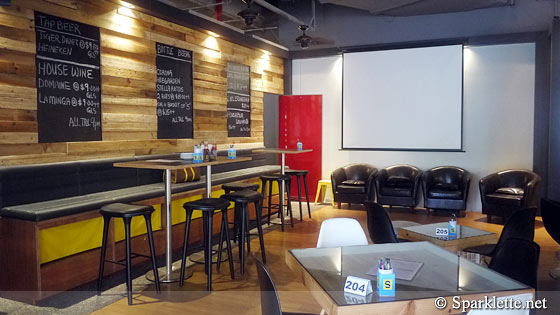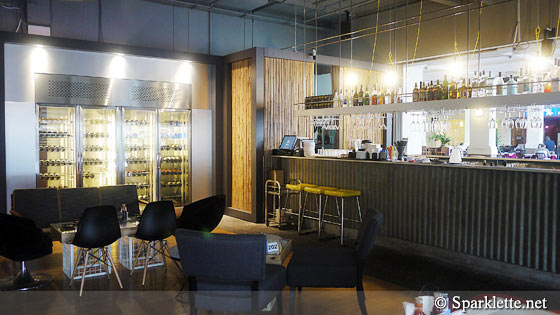 The interior is prepossessing; the blending of rustic elements with a modern twist creates an urban-industrial feel, with subdued lighting to complete the look. This hidden gem of a restaurant is set in a laid-back atmosphere – a good spot for after-work relaxation.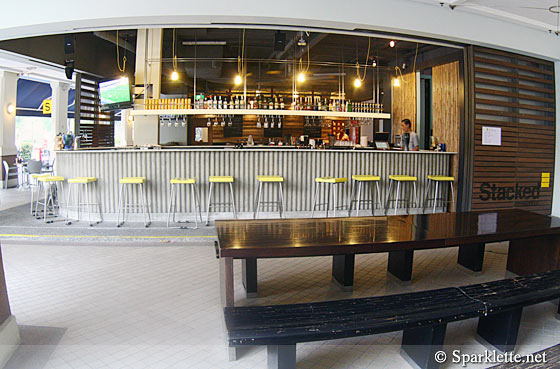 Although there is no air-conditioning, the indoor area is well-ventilated by a huge fan. You can also opt for outdoor seating by the riverside to enjoy the cooling breeze.
Drinks
Forget the traditional yum cha etiquette of pairing dim sum with tea. At Stacked, you can pair dim sum with alcohol! The drinks menu is extensive, with wines and beers, along with signature cocktails. Do take advantage of the 1-for-1 promotion on all house pours, beers and wine by the glass everyday before 9pm.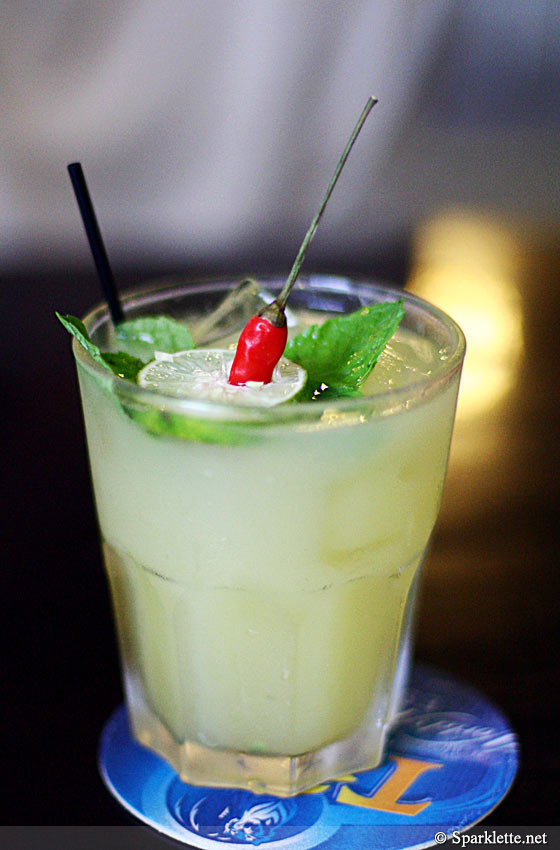 Asian mojito
S$16++





The beautifully garnished Asian mojito is a blend of lime juice, ginger, lemongrass and chilli padi. The distinct taste of the lime juice is overwhelming and somewhat obscures the rest of the ingredients. Having said that, it still makes a refreshing aperitif.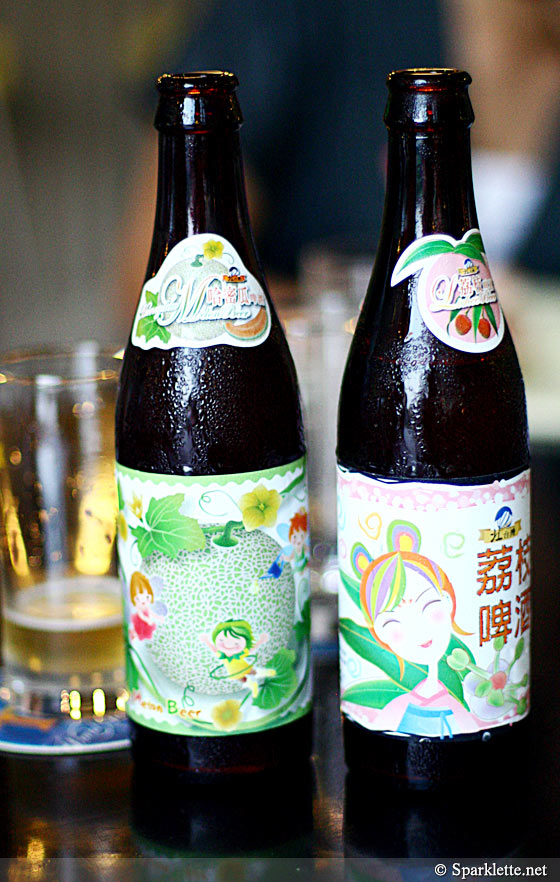 Honeydew melon beer
S$12++





The fruity beers are a must-try! These sweet-scented beers aren't too intoxicating with just 4% alcohol. A popular choice amongst the ladies, the beers are available in two flavours: honeydew melon and lychee.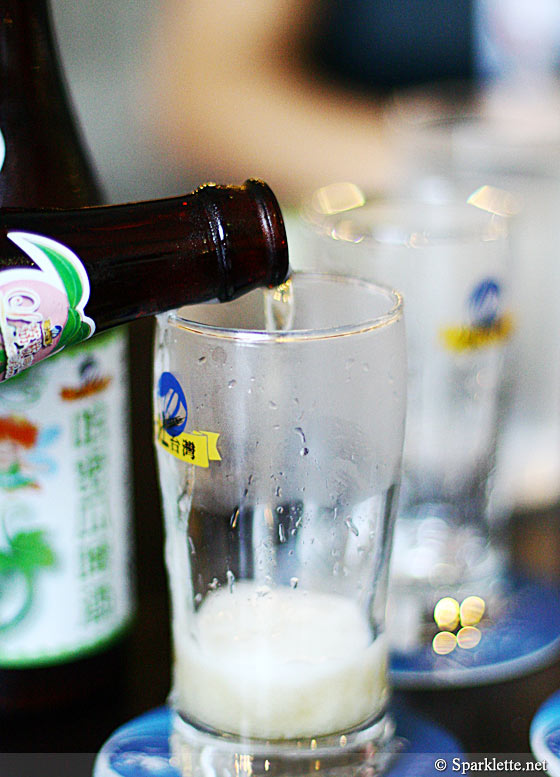 North Taiwan lychee beer
S$12++





The North Taiwan lychee beer is more favourable in terms of taste; the lychee and beer are harmoniously blended with a sweet fruity fragrance. For those who dislike the taste of beer, this potation may just convert you!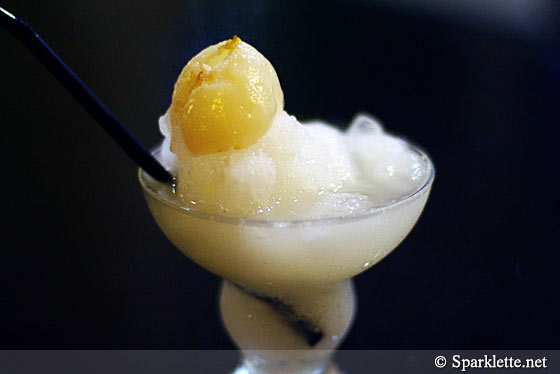 Lychee martini
S$12++





The lychee martini is decked out with a mountain of crushed ice. While it adds much visual appeal, the large amount of ice restricts sipping. When it melts, you'll not be enticed with a bland mixture. Still, props for a tasty martini – mild, mellow and nicely sweet!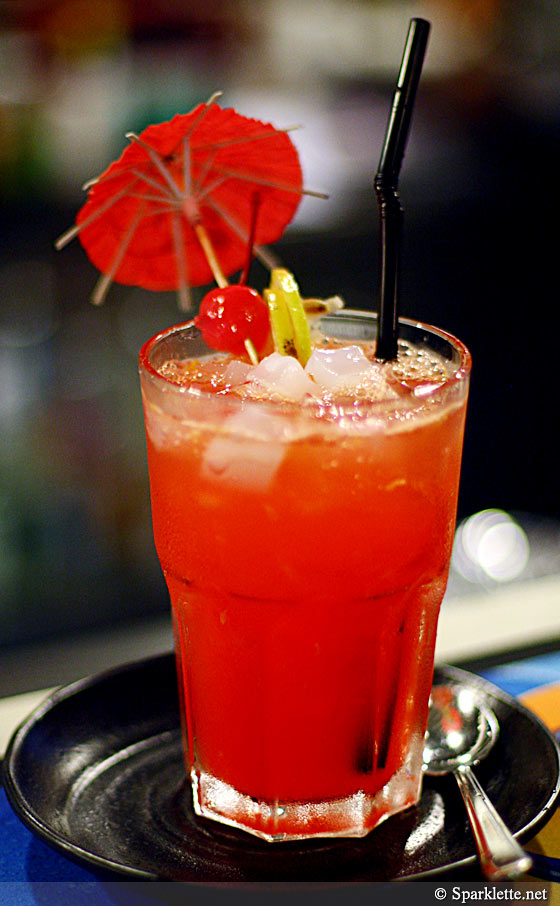 Stacked Singapore Sling
S$16++





Upon the first sip of the Stacked Singapore Sling, you will taste the sweet nectarous blend before the potent alcohol kicks in. Topped with cubes of nata de coco, you have something to munch on while enjoying this intoxicating drink!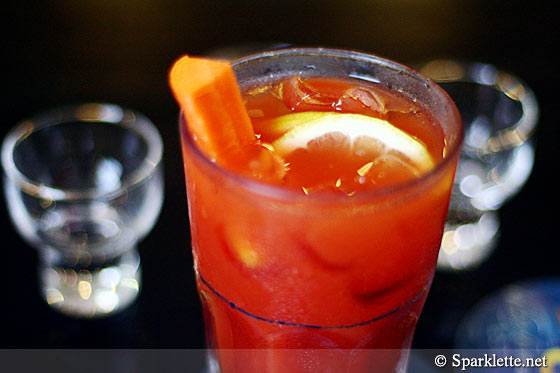 Bloody Mary
S$12++





The Bloody Mary is a sure-fire hangover cure, consisting of a blend of spices, vodka and mainly tomato juice, garnished with a carrot stick and lemon. The diversity of ingredients is reflected in its taste – you either love it or hate it!
Bloody Mary fans, you can look forward to Stack's Bloody Sunday promotion where the 1-for-1 deal on Bloody Mary lasts till 3pm.
Dim Sum
Get started with the dim sum classics, before venturing into the more creative options.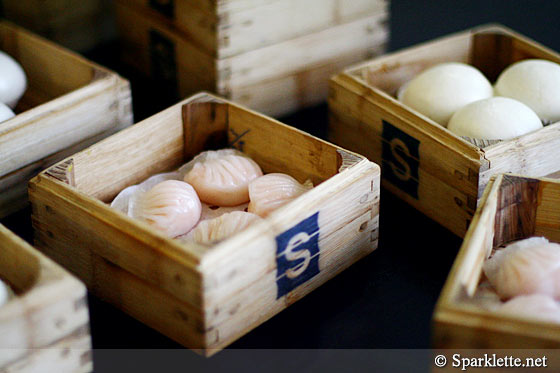 Steamed har kau
(shrimp dumpling)
S$5.90++





Wrapped in a thin translucent skin, the pouch-shaped steamed har kau (shrimp dumplings) boast plump, springy prawns that are nicely seasoned.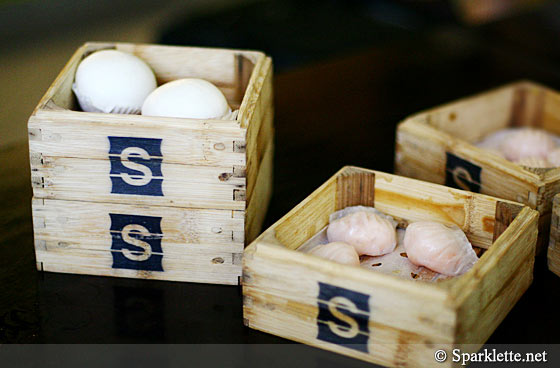 Steamed creamy custard pau
S$5.90++





The steamed creamy custard pau has a soft bread texture – neither too dry nor tough, with a sweet and savoury egg yolk core.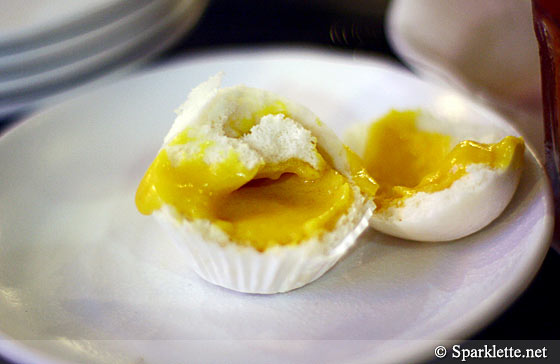 The custard filling has a very enjoyable creaminess, although the texture is slightly sandy, probably due to the salted egg.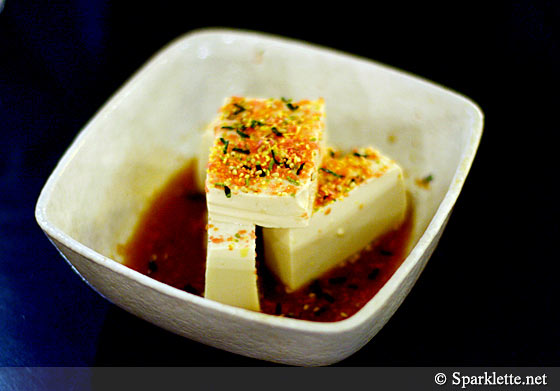 Cold tofu with citrus sauce
S$4.50++





The cold tofu with citrus sauce is quite forgettable. As interesting as the citrus sauce may sound, it does nothing to save the cold tofu from its blandness. You should leave stomach-space for better dishes.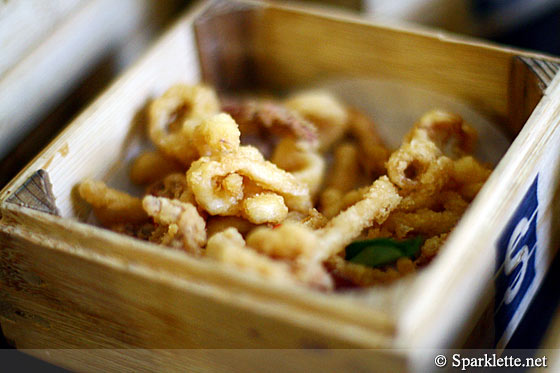 Mildly spicy salted egg squid
S$12++





The mildly spicy salted egg squid is one of the highlights. Lightly battered and crispy, the well-seasoned squid is neither tough nor chewy – an addictive treat that should be enjoyed immediately upon being served.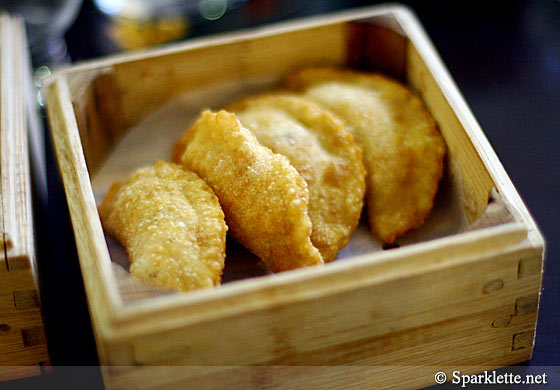 Margherita dumplings
S$8.90++





The Italian-inspired Margherita dumplings are generously stuffed with mozzarella cubes, shredded basil and finely diced tomatoes in a crispy skin (albeit a little thick). The various ingredients add texture and provide well-balanced flavours.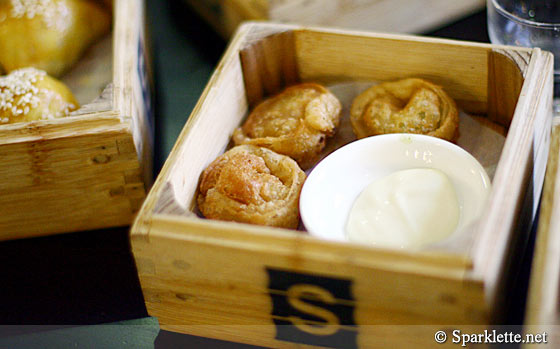 Pesto scallop dumpling
S$8.90++





Crispy on the outside, starchy and redolent on the inside; the pesto scallop dumpling is served with mayonnaise, although it is quite delicious on its own. The bite-sized dumplings are so palatable you will find it hard to resist another serving!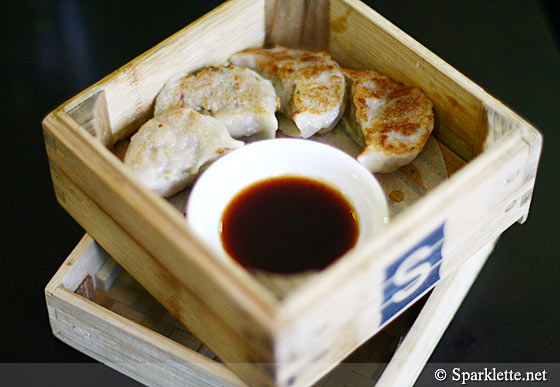 Shredded duck dumpling
S$8.90++





The pan-fried shredded duck dumpling is lightly browned to a slight crisp, its skin yielding to a well-marinated filling. It is paired with a specially concocted hoi sin dip, a slightly sweet sauce that provides extra zing. Definitely a must-try!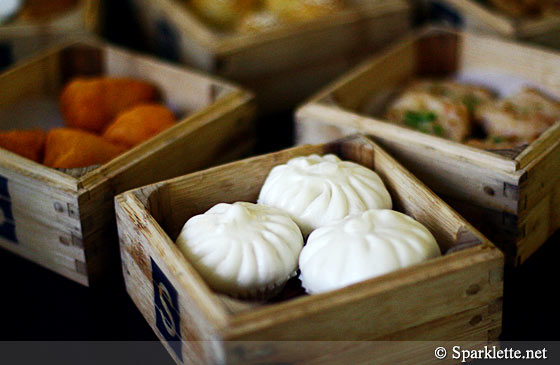 Steamed chilli crab pau
S$8.90++





The steamed chilli crab pau has a fluffy and moist exterior with a delicious chilli crab filling. The flavours are robust and not too spicy, just enough to stimulate your appetite. Honestly, this is one of the tastiest chilli crab pau fillings I've tasted to date!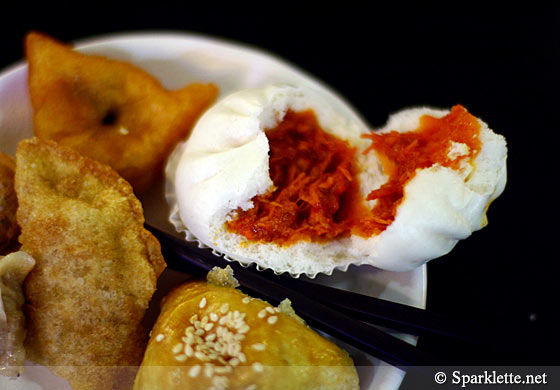 All the pau on the menu are available as steamed or fried options (and somehow everything tastes better fried!). The fried chilli crab pau is another hit.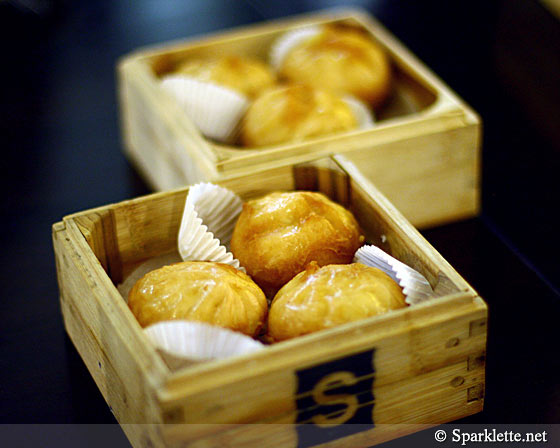 Fried chilli crab pau
S$8.90++





The crab filling is identical, while the bun has been fried to a smooth golden brown crust. Take a bite of the chilli crab pau and you will be instantly reminded of the chilli crabs served with deep fried mantou at seafood restaurants. Only that this time round, you have all the elements in one single bun! How convenient is that?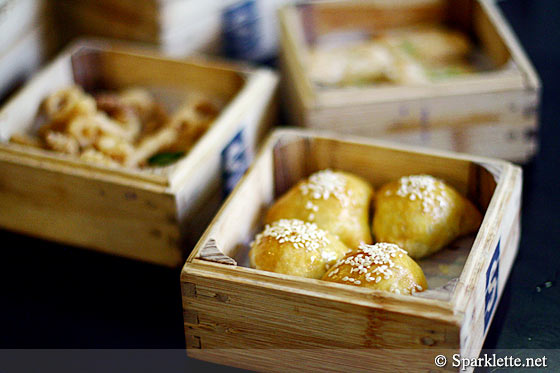 Char siew pastry
S$5.90++





The char siew pastry has a sweet, tender and flavourful filling encased in a fragrant flaky skin.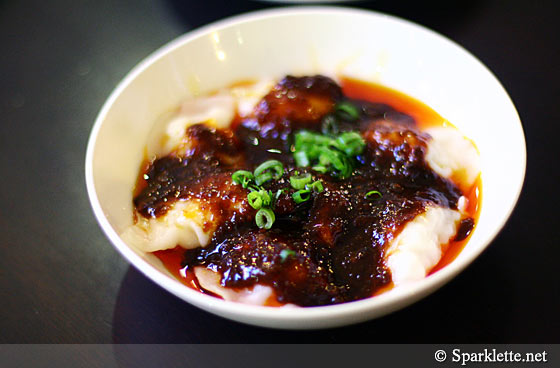 Sichuan grouper fish dumpling
S$8.50++ for a basket of 5





On first glance, the layer of chilli oil on the Sichuan grouper fish dumpling may turn off health junkies. But given a try, the taste will win you over. Eating this proves to be an effortless affair; the dumplings are so soft, you barely have to chew at all.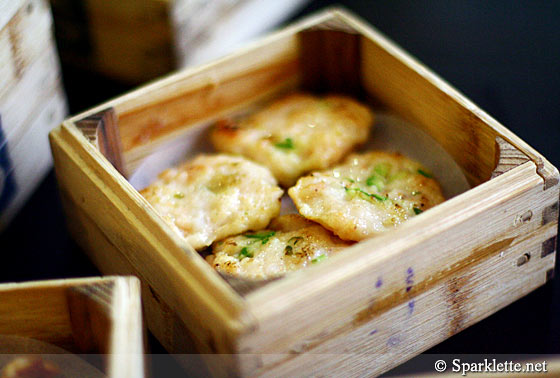 Prawn cake asparagus
S$10.50++ for 3 pieces





The salted prawn cake asparagus is fried to golden brown, with a texture similar to that of fish cakes.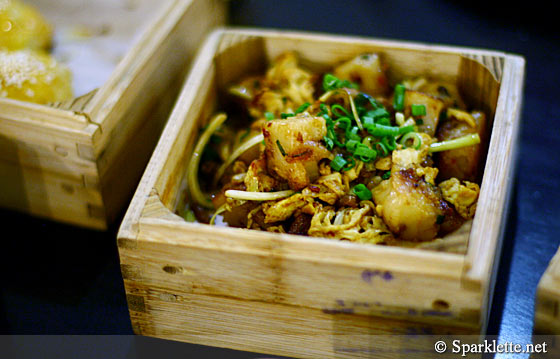 Stir-fried XO carrot cake
S$8.50++





For something more substantial, you can try the stir-fried XO carrot cake, albeit with a barely-there XO flavour. The fragrant carrot cake is evenly fried, each cube having a crispy crust and soft interior. Tossed with bean sprouts and eggs, this simple dish is slightly spicy and gratifying.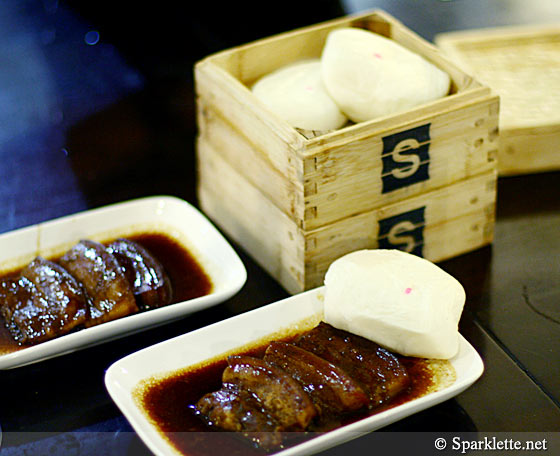 Stewed black sauce pork belly
(served with steamed white bun)
S$9.50++





The stewed black sauce pork belly here is legit, with pork belly stewed to melt-in-the-mouth tenderness. Undeniably satisfying, this hearty classic will bring back nostalgic memories of grandma's home-cooked meals.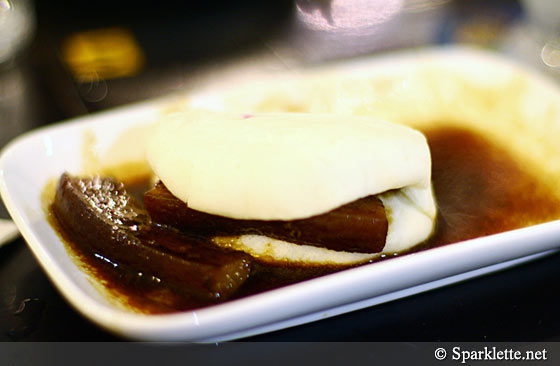 Desserts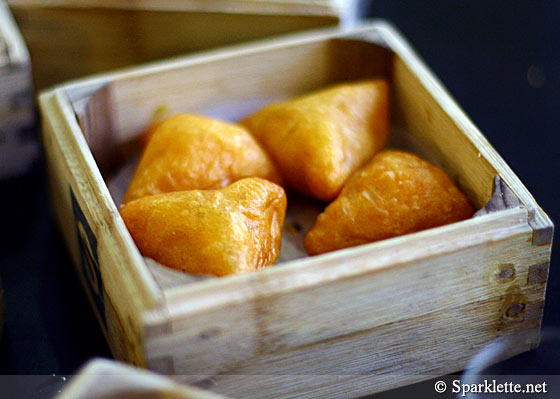 Sweet potato with red bean paste
S$7.90++





The sweet potato with red bean paste dessert has a mixture of the two ingredients encompassed in a golden crust. It is a little too oily but undoubtedly tasty. Worth a try, but anything more than a couple may leave you feeling jelat.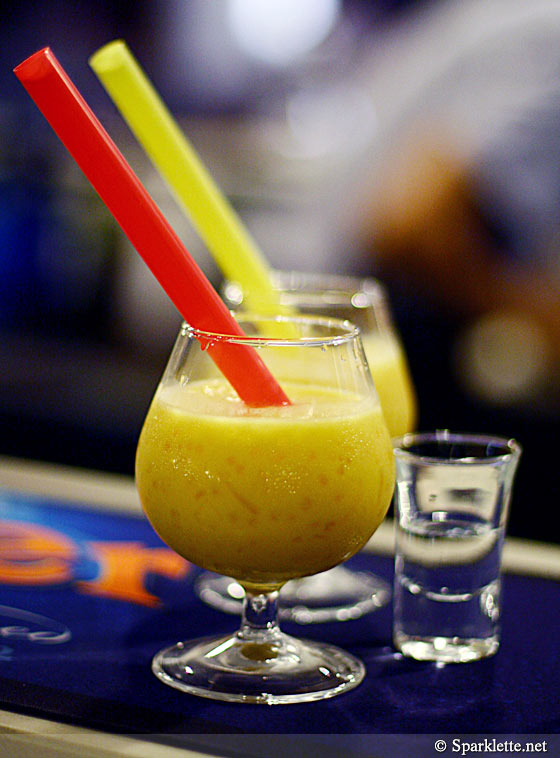 Mango sago with vodka
S$7.90++





Although the mango sago with vodka dessert is delicious by itself, you can choose to have it added with vodka. The drink is rich and made with actual real fruit, with the sago adding a touch of chewy fun.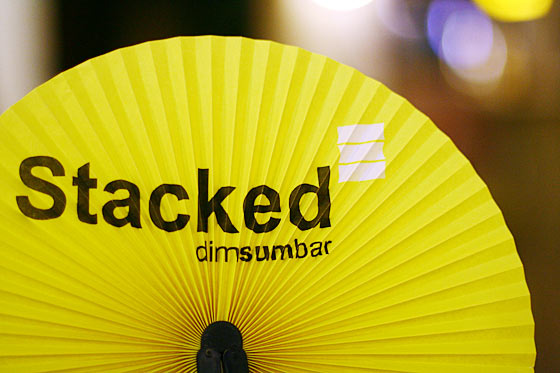 With each order of the set platters, you also receive a complimentary pair of Stacked oriental fans.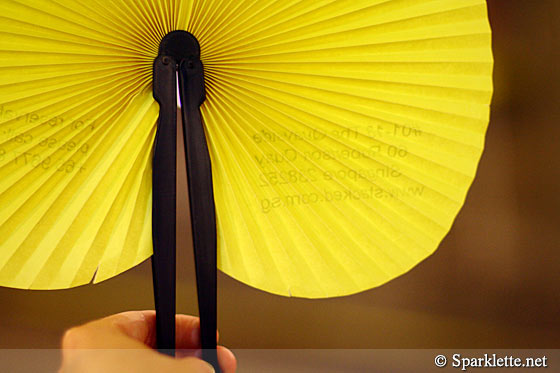 As friendly as the waitstaff are, service is a little slow at times. Food-wise, it is certainly comparable to reputable dim sum restaurants. Stacked is an all-around good destination for a casual bite and a round of drinks by the Singapore River, where you can enjoy the breeze and people-watch in a squeaky clean environment.
Have Your Say!
Where can you enjoy the best dim sum in Singapore? Share with us in the comments!
Stacked Dim Sum Bar
60 Robertson Quay #01-13
Singapore 238252
Tel: +65 6836 4052 |
Website
Opening hours:
Mon – Thu: 3:30pm – 11:30pm
Fri: 3:30pm – 1am
Sat: 1pm – 1am
Sun: 1pm – 11:30pm