Each time I go to Millenia Walk, one thing that always strikes me is the number of posh cars parked out front. Occasionally you would hear the purring of a lamborghini engine. Despite the upmarket crowd here, dining is affordable with establishments like bakerzin, the horrible Mushroom Pot and, of course, the ever-popular paulaner bar.
Then there's rakuzen, a swanky Japanese restaurant that I visited over the weekend. The name means "joy of dining". And as it turned out, my dinner partner and I did really enjoy the food and the ambience!
The decor here is stylish with a zen and cosy feel. This soothing atmosphere certainly makes the place suitable for dates! Plus, the lighting is dim. People tend to look better in a dim setting. And when people look good, they feel good. Bring your date there! Okay that's not really the point of this post. The dim lighting does mean that I have no choice but to use flash photography (a big no-no) for all my food photos. Do bear with me please.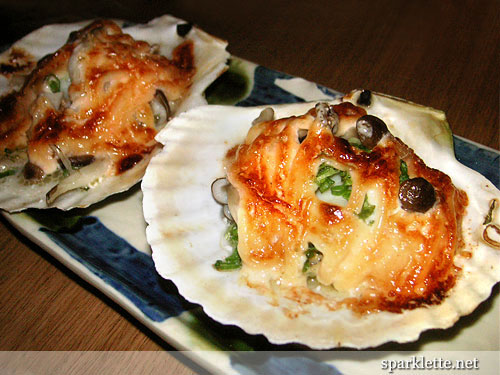 Hotate Mentaimayo Yaki
(Grilled Scallop with Spicy Cod Roe & Mayonnaise)
S$12++
Rating:





A quick flip of the menu reveals a rather extensive selection of sushi, sashimi and a la carte dishes such as sukiyaki (steamboat) and yakitori (skewers). Then there's also the dragon roll (tiger prawn sushi), salmon carpaccio… Wait a minute, didn't we already have those at tetsu? I thought they were unique dishes, and certainly didn't expect to find them at another Japanese restaurant so easily!
We kick off our meal with the hotate mentaimayo yaki. This is one dish for the seafood lovers! Two whole plump scallops served in the scallop shells themselves. Need I say more? Okay! Basically the scallops are grilled and soaked in Japanese mayo. And they are HUGE! I didn't know those things can get so big; I could barely fit one in my mouth! Very satisfying indeed.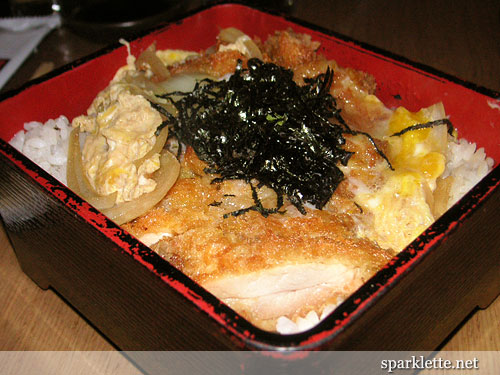 Chicken Katsuju (Fried Chicken Cutlet)
S$14++
Rating:





There are also standard Japanese fares such as the chicken katsuju. The slices of chicken are really tender! But other than that the dish is pretty much average. The rice is air-flown from Japan (so are the fish) and freshly milled at the restaurant. (but if you ask me, I can't really tell the difference. Can you?)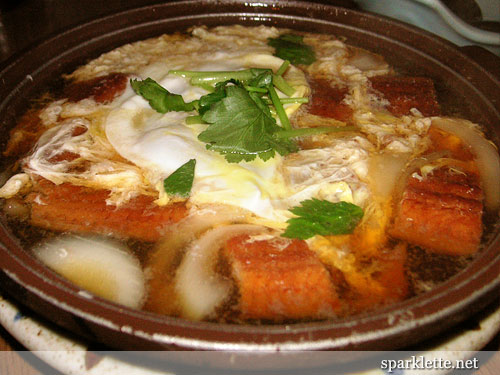 Unagi Yanagawa
S$14++
Rating:





One dish that we simply couldn't get enough of is the unagi yanagawa. And I'm not just saying that because I'm a fan of unagi (eel) and yanagawa dishes. The savoury grilled eel is cut into smaller slices and served on a sizzling platter with a clear brown soup. The soup is simply heavenly, especially with the onion and runny egg. I'm sooo having that again.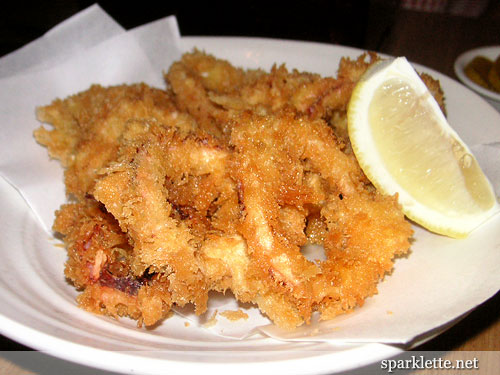 Ika Ring (Fried Calamari Rings)
S$10++
Rating:





Just for kicks, and because we're such fans of calamari rings, we ordered a serving of that as well. It didn't disappoint, with the crispy light batter and tender rings. It would have been perfect if it was served with mayonnaise instead of the black Japanese sour sauce (anyone got a name for that?).
If you are on a budget, heck even if you aren't, do take advantage of the incredibly value-for-money set meals. Each one consists of a main course and comes with rice, salad, pickles, miso soup, chawanmushi, fruit and jelly. One such set with the main course of assorted sashimi and tempura, for instance, would only set you back by 30 bucks.
Joy of dining, indeed you'll have that at rakuzen.
Rakuzen
Millenia Walk,
9 Raffles Boulevard #01-16/19
Singapore 039596
Tel: +65 6333 1171
Service: