I am not sure if you are aware of a place called Pasir Panjang Village. It is a row of shophouses that stands at the junction of South Buona Vista road and Pasir Panjang Road. Since 1993, it has been slated as a conservation site by the URA.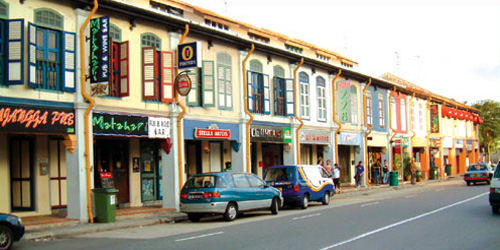 The double storey shophouses have since been converted into an interesting mélange of café bars and food outlets. The environment gives the feel of a mini holland village. Unless you head into one of the restaurants, you probably wouldn't know about an alley that spills across the back of all these restaurants. This spacious area serves as an alfresco dining space where diners can possibly mingle with those from the next restaurant. Very one-of-a-kind!
Despite having a unique selling point, the business here does not appear to be going strong. Half the restaurants were closed when we dropped by on Saturday afternoon. Not having much of a choice, we settled for Rangoli, a North Indian restaurant. I am not too familiar with North Indian cuisine, with this marking only my second North Indian meal. The first was at khansama tandoori restaurant over at Little India.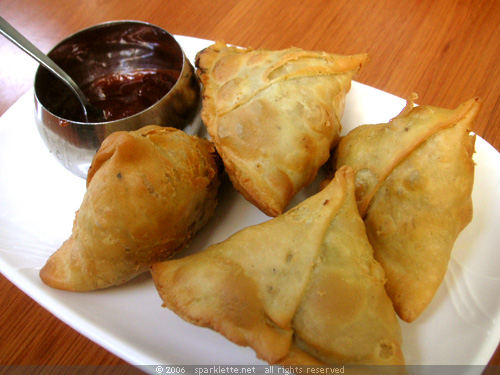 Samosa (Curry Puffs)
S$6.00 (4 pieces)++
Rating:





For starters, we had samosas. Each one had been deep fried to golden brown but was thankfully not very oily. I couldn't exactly get a rich taste of curry in this bubbly textured pastry though. In fact I still prefer its Singaporean counterpart – the curry puff! Damn, writing this just makes me crave for some Tong Heng curry puffs.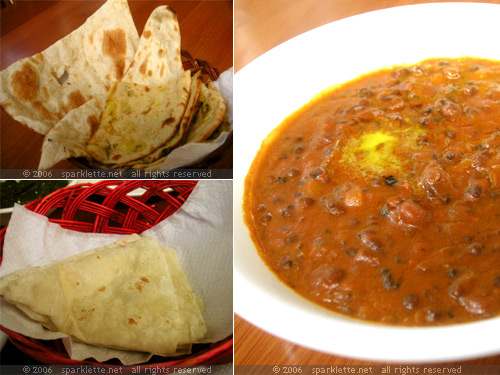 Clockwise from top left:
Stuffed & Plain Naan, Dhal, Romali Roti
S$1.50 for Plain Naan, $3.00 for
Romali Roti
+ 10% service charge+
Rating:





Naans and roti! We had these to go along with our food. The paper-thin romali roti had been folded into a neat handkerchief form. I especially liked the stuffed naans; the potato gave them a nice, fluffy texture. What I didn't really care for was the lentil dhal – the flavour was all monotonous to me.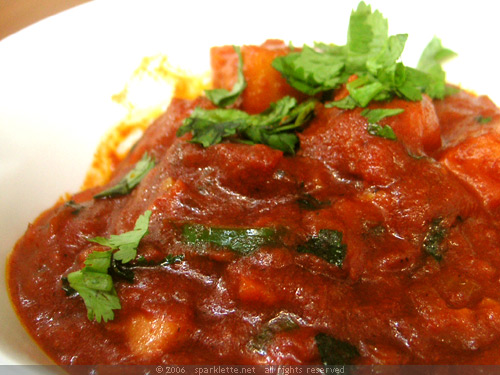 Chicken Vindaloo
S$8++
Rating:





Whoever had penned the menu had taken care to indicate at the side of each item whether it was dry, sweet, mild, sour, etc. He obviously wasn't kidding when he wrote that the chicken vindaloo was hot. Too hot, in fact. Hari (a native Indian) commented that the dish was not meant to be this spicy. A little less spice would have made it more comfortable to eat.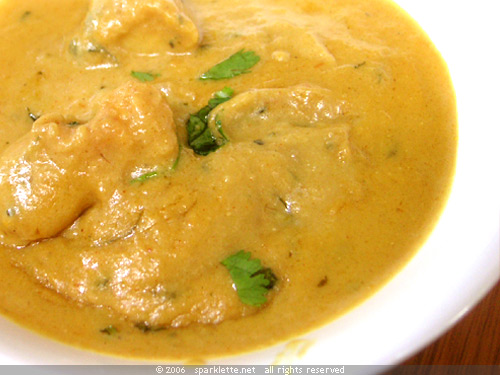 Fish Methi
S$8++
Rating:





The dish that really won me over was the fish methi. Fenugreek gave it a nice curry taste. Boneless fish chunks in a thick gravy with juicy curry flavours and a tinge of sweetness – I wouldn't mind having it over and over!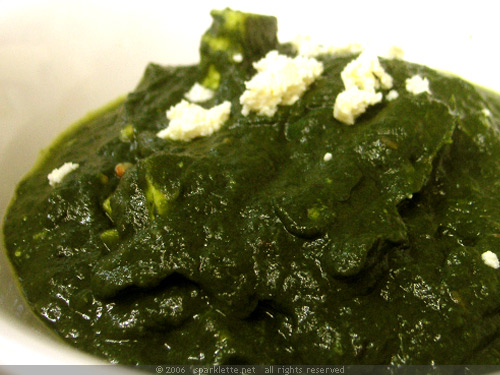 Palek Paneer
S$6++
Rating:





Vegetarian alert! The palek paneer was all spinach and cheese. The paneer (cheese) resembled tofu. Not one who's really fond of vegetables, I passed on this one.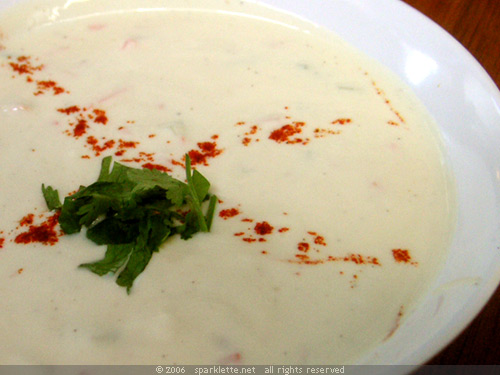 Raita
?++
Rating:





Ah… The raita. My least favoured dish turned out to be burak's most favoured. The sour taste of yoghurt simply didn't sit well with my palate. Like durian – you either love it or hate it. Well I did attempt a spoonful just for the hell of it, and I hated it. Nonetheless I shall give it a generous four-drumstick rating because it looked pretty, and because burak said this was the best dish of the afternoon.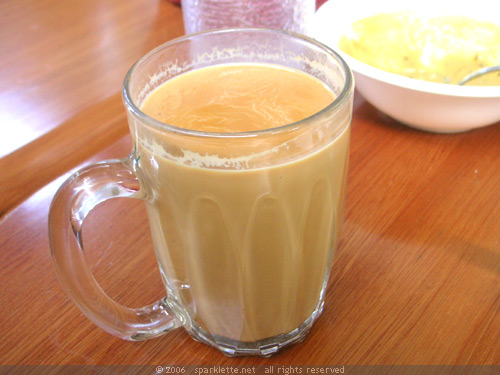 Masala Tea
?++
Rating:





For someone who loves teh tarik ("pulled" tea), I was totally game to try out its distant cousin, the spicy masala tea. With a whiff of ginger, it was strangely addictive and a wonderful palate cleanser at the end of a meal. It wouldn't be my last cup of masala tea, that's for sure.
I really loved the whole dining experience. With a windy alley area for dining, this place is one hidden gem. Why don't we have more of such places around here? A very charming spot, though hardly a bustling one. For those who would prefer to avoid the jam-packed town areas, pasir panjang village is the perfect little place to head to on a lazy weekend.
Rangoli
Pasir Panjang Village
226 Pasir Panjang Road
Singapore 118586
Tel: +65 6777 6413
Service: