It's my birthday today! One of the gifts I received is this: Royce' Nama chocolate! If you have ever tasted this chocolate before, you would know how truly awesome it is.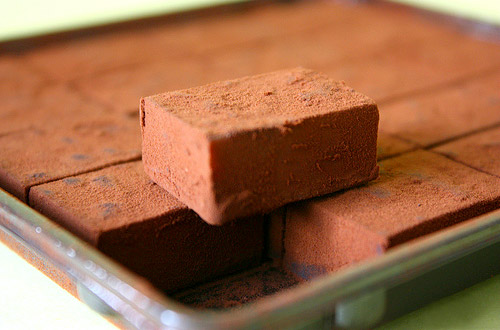 My first experience with Royce' was in '06, when a friend specially couriered a small unassuming "care package" to me. It unraveled to reveal a slim box of Nama chocolates!
I was hooked from the very first bite, and went on to label them as little pieces of heaven. They truly are! Although some people prefer calling them the Rolls-Royce of chocolate.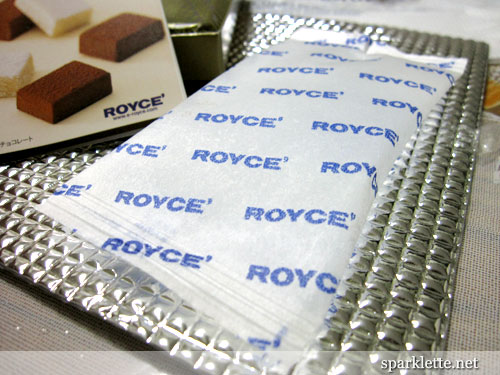 Royce' hails from Hokkaido. As a testimony to the Japanese people's emphasis on excellence, the packaging of Royce' products is impressive.
When you purchase the candy from their stores, it is accompanied by a cooling dry ice pack and sealed in thick silver packaging. This way, shoppers can continue their spree for hours without worrying about the chocolate melting into a gooey mess!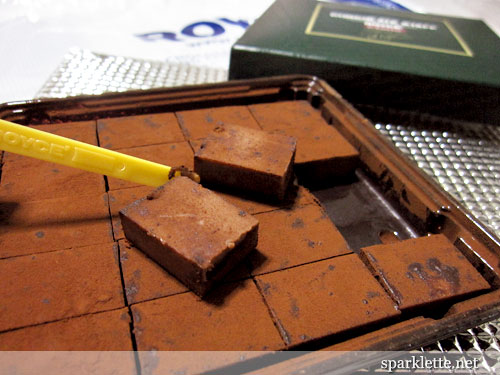 Each box contains twenty pieces of chocolate blocks covered in fine powdery cacao. It comes with a small plastic spoon.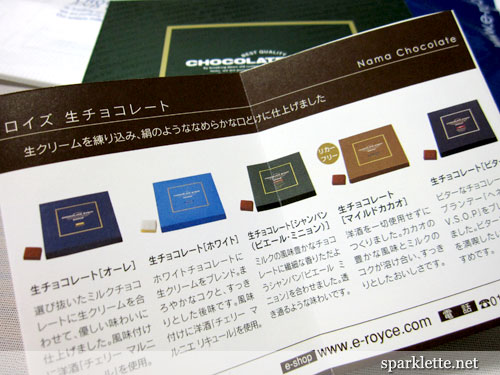 The 5 main flavours of Nama chocolate are (from left):
Au Lait
White
Champagne
Mild Cacao
Bitter
Sometimes, the company also releases seasonal flavours like banana or strawberry.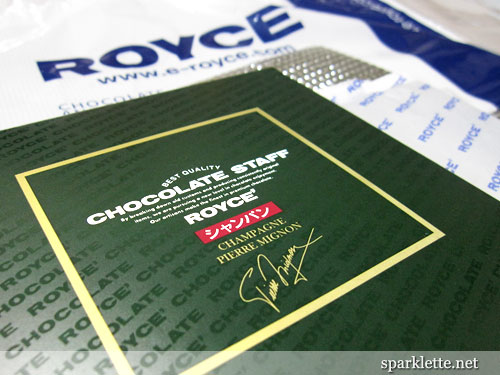 Royce' Nama chocolate (Champagne)
S$15
Rating:





Having sampled all 5 flavours at the store (yeah, they let you do that), my personal favourite is the scrumptious champagne. Bitter trails by a close second, and would be favoured by chocolate fanatics that crave the really strong and mildly bitter flavour.
The feel of the chocolate on the tongue is creamy and velvety smooth. First you taste the slight bitterness of the cacao powder, then the sweet and rich chocolaty flavour as it quickly melts in the mouth.
There is the tinge of Champagne Pierre Mignon, although it isn't like those liquor filled chocolate where you get a burst of liquor flavour. That works for me, because I prefer the liquor to not overpower the chocolate flavour.

Credit
Apart from the Nama chocolates, I heard that the potato chip chocolate is one fast seller too. Yes, that's right. Chocolate-coated potato chips – two sins in one! As far as snacks go, this may well be the most sinful one! I hesitate to try it as it seems pretty lethal on the throat.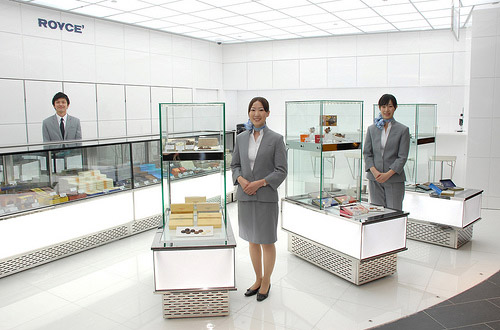 Credit
To get a taste of Royce' magnificent candy, pop by one of their concept stores, where Japanese sales attendants would be more than happy to let you sample all five flavours. This store at Ion Orchard boasts a clean, white, almost clinical look, with refrigerators built into the wall.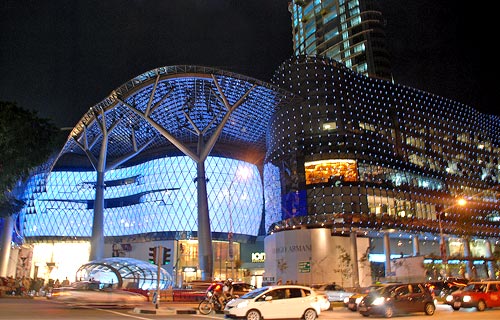 Credit
May I also add that Royce' chocolates is one of the best gifts from the "simple and affordable" category you can get for a friend (without appearing cheap), be it at Christmas, someone's birthday or just to show that you care.
Enjoy!
Royce'
3 outlets:
– Suntec City Mall
– Ion Orchard
– Takashimaya basement food hall
www.e-royce.com