In Malaysia, I indulged in one of the best nasi lemak (rice cooked in coconut milk) I've ever had in my life at Madam Kwan's. Since then, I have been wondering if we can enjoy the same thing in Singapore.
With some googling, I struck gold. Grandma's at Orchard Parade Hotel serve the same dishes whipped up by Chef Yong, a former chef at Madam Kwan's for 8 long years! The restaurant also falls under the Akashi group, and is one that I would eventually visit and come to love.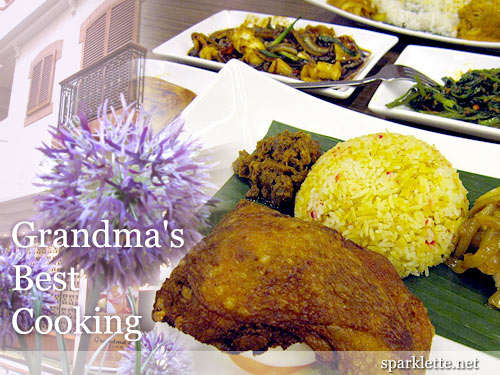 Because I didn't get to try Madam Kwan's famous nasi bukhari in Kuala Lumpur, I've grown even more curious about it. That's the first dish I go for, and Grandma's certainly does not disappoint.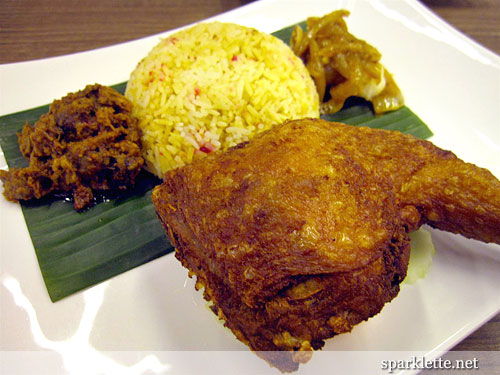 Nasi Bukhari (pilaf rice)
S$15.80++
Rating:





The nasi bukhari consists of (clockwise from top left):
beef rendang
rice cooked in coconut milk
assam prawns
a mega-huge chicken drumlet
The most impressive part of this dish is, no doubt, the big chicken. It has the thinnest, crispiest skin, and neither feels dry nor oily. You just want to chew up all the skin at one go!
Soaked in gravy and infused with the fragrance of spices, the beef rendang is soft and tender.
The weak link of the dish, I find, is the assam prawns that are cooked with loads of sauteed onion. The portion is skimpy (just two prawns of average size) and the taste is ordinary (bakerzin's assam prawns with linguini is actually better).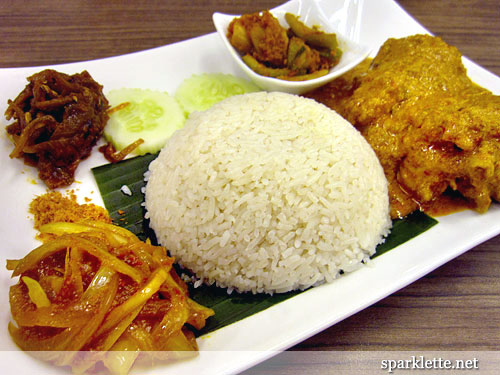 Nasi Lemak (rice cooked in coconut milk)
S$10.80++
Rating:





If you can bring yourself to spend more than $10 on nasi lemak (rice cooked in coconut milk), go for this.
The nasi lemak consists of (clockwise from top left):
sambal ikan bilis (dried anchovies)
cucumber
achar (pickled vegetables) in a separate small dish
curry chicken
rice cooked in coconut milk
hard boiled egg
dried shrimp floss
So basically, the accompaniments are identical to Madam Kwan's.
The lemak rice is similarly aromatic and fluffy. Perhaps due to my own (high) expectations after having tasted madam kwan's nasi lemak, I find that I'm not a big fan of the sambal and achar here. And for me, the sambal plays the most important role of this dish.
But where madam kwan's falters, Grandma's does a pretty good job. The curry chicken here is tastier and goes wonderfully with the fragrant rice.
Now that I have tried the nasi lemak at both restaurants, I feel I can fairly say that overall, Grandma's nasi lemak pales slightly in comparison. (I feel horrible for saying that!) however my partner who has never eaten at madam kwan's before loves it, so I think it has a lot to do with expectations; once you've had the best, nothing else seems good enough. Madam kwan's shoes are hard to fill.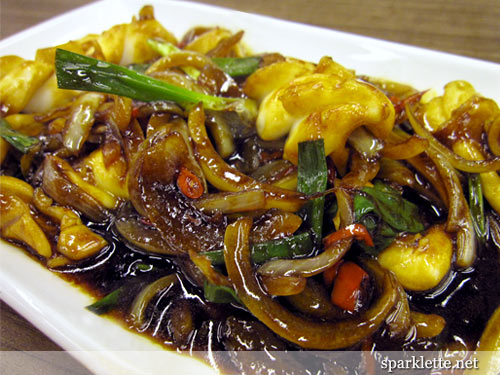 Sotong (calamari)
S$7.80++
Rating:





Apart from the two main dishes, Grandma's also has a whole range of dishes that you can order, zi char style.
The sotong (calamari) is stir fried in either soya sauce or spicy tamarind sauce. We pick the first, which is an excellent choice. The dark soya sauce gravy is distinctly different from all the dishes we have ordered, with a refreshing sweetness coupled with a mild tinge of spiciness.
The sotong, in this case, is sliced into bigger chunks as opposed to the more common rings. The flesh is a little stiff, and would have been a perfect 5 had it been softer.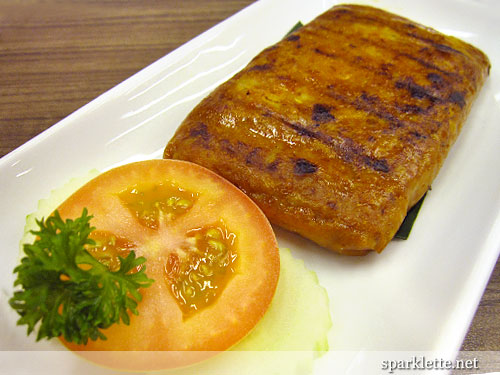 Otak Otak (spicy fish paste)
S$8.80++
Rating:





Another dish I would recommend is the otak otak (spicy fish paste). While it may seem quite pricey, you do get a fat slab of fish paste on the platter. More importantly, it is juicy and oh-so-satisfying, with the spiciness level turned up a notch compared to the earlier dishes.
You can also see that the otak contains many chunky pieces of fish and isn't all mush. I like it that way!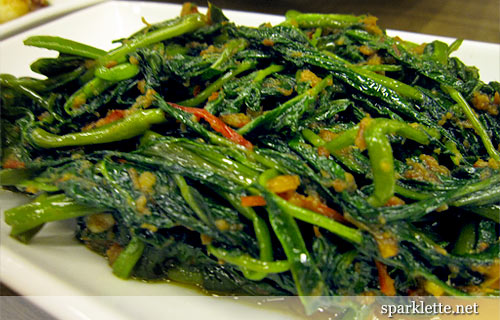 Kang Kong
S$7.80++
Rating:





For veggies, we go for the kang kong (water spinach) stir-fried with spicy shrimp paste. There is also the choice of brinjal, long beans or lady's fingers.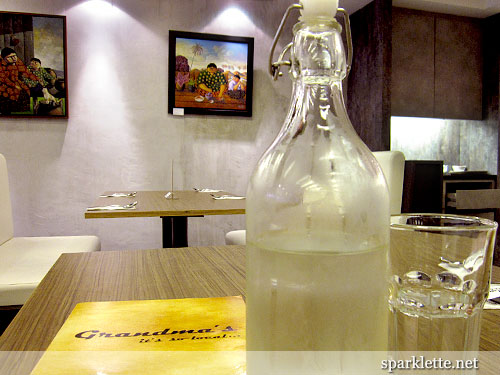 Besides the awesome food, here's one more thing: they serve free chilled water in a carafe! Take that, you restaurateurs that refuse to serve free water. That's how it's done.
Of course, if you want something other than water, you can take advantage of the cheap beer. $3 pints of tiger or $5 pints of Erdinger, anyone?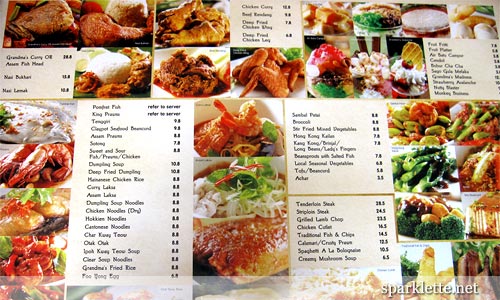 Click to enlarge
I have attached Grandma's menu here. It is worth noting that the service here is prompt and friendly. Both the manager and assistant manager are busting their asses along with the waitstaff, and still find time to chat with us and ask about the food.
From our conversation, I learn that Chef Yong is stationed at Orchard Parade Hotel. He's the guy that prepares all the gravies and sauces (that is, the stuff that make or break a dish), which are then delivered to the other outlets. This way, the consistency of the food standards is maintained at both places!
Maybe it's something to do with the restaurant's name, I spot many families in the weekend dinner crowd. This is certainly one restaurant where you can bring your parents and in-laws to.
Well done, Grandma's. I'm delighted to discover a new restaurant that I can frequent. I'll certainly be back for more!
Grandma's
– Orchard Parade Hotel, 1 Tanglin Road, Tel: +65 6732 3082
– NEX Mall, 23 Serangoon Central, Tel: +65 6634 8949
– Raffles City Shopping Centre #B1-76, Tel: +65 6333 5580
– Paragon, 290 Orchard Road, Tel: +65 6737 7931