According to the culinary grapevine, Boon Tong Kee chicken rice once had the best chicken rice in Singapore. However, as most knowledgeable foodies are aware, over the years it has become more commercialised, expanding from a small humble stall to multiple outlets across the island. The menu now boasts not just chicken rice, but a plethora of local favourites such as chilli crab and raw fish salad.
Even with the wider menu, a recent visit to the branch at Bukit Timah proves that chicken is still the main draw. Every table within the eatery has at least a plate of chicken rice on it. The question remains: Is the famous Boon Tong Kee chicken rice really good or simply overrated?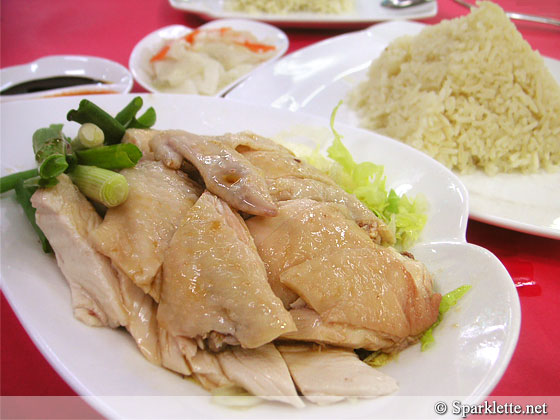 Hainanese chicken rice
S$13++ for half a chicken
S$0.50++ for a plate of rice
Rating:





Our order of chicken arrives sitting on a bed of greens, both skin and bone included. Glistening with oil, this looks like it's going to be a very sinful meal indeed. Yet for all the hype and hoopla, the meat tastes remarkably ordinary. Yes, it is tender, but not as tasty as many other chicken rice chains such as Tong Fong Fatt and Wee Nam Kee, which sell the same dish for a fraction of the price. If I was in a blindfolded taste test, I would not be able to tell this apart from any less famous neighbourhood chicken rice stall.
Presented in the shape of a pyramid, the rice fares somewhat better with a wonderful fragrance, but surely not enough to save the dish.
One major sore point is the price. You would expect to fork out a lot more for chicken rice here than at other places. Even with the levy of service charges, be prepared to pay 50 cents for a glass of water.
Tip: Pickled vegetables and wet towels are automatically placed on your table upon arrival. Ask the staff to remove these to save $2 and $0.50 each respectively.
For the relatively high prices and all the hype surrounding the chain, the Boon Tong Kee chicken rice falls short of its significant potential.
Have Your Say!

Loading ...
What do you think of Boon Tong Kee chicken rice? Really good or overrated? Share with us in the comments!
Boon Tong Kee Chicken Rice
– 399/401/403 Balestier Road | Tel: +65 6254 3937 / +65 6256 0138
– 470/472 MacPherson Road | Tel: +65 6746 2774
– 34 Whampoa West #01-93 | Tel: +65 6299 9880
– 425 River Valley Road | Tel: +65 6736 3213
– 199 East Coast Road | Tel: +65 6478 1462
– 18 Cheong Chin Nam Road | Tel: +65 6463 2289
Website