If you are a business-owner struggling to stand out from a sea of competitors, what do you do? The answer is simple enough – get creative! At Shun Tuck Cheong Fun, the hawkers sure are flexing their creativity muscles to transform the plain ol' chee cheong fun into culinary works of art.
Gone are your usual steamed rice rolls in dark sauce and chilli gravy. In their place are a dazzling array of appetising dishes with names like Japanese maki, curry yong tau foo, and pork ribs with black bean sauce, amongst many other unusual concoctions. What fun!
It's only my first time chancing upon the stall, and already I'm powerless in resisting those tempting pictures of the menu items! In the end, I have to order not one, but two dishes to pig out on!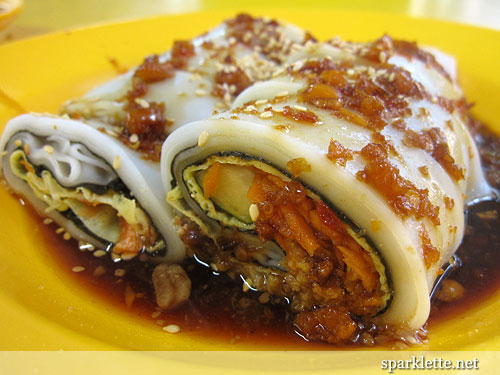 Floss Cheong Fun Maki
S$3
Rating:





First on my list are the maki sushi rolls. Layered with seaweed, pork floss and other vegetables, the floss maki sit in a pool of delicious dark sauce and look really colourful!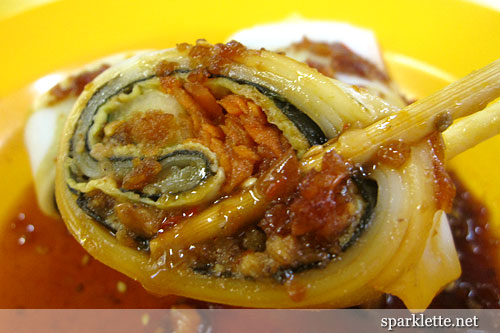 Next comes the taste test. The crunchiness of the filling juxtapose the silky smoothness of the rice sheets. Truth be told, I can't really taste any chicken or pork floss in the rolls. But that's probably because the flavoursome combo of the sweet, salty and sesame oil-fragrant sauce tastes oh-so-good and overpowers everything else. With or without floss, this is one yummy fusion dish that works!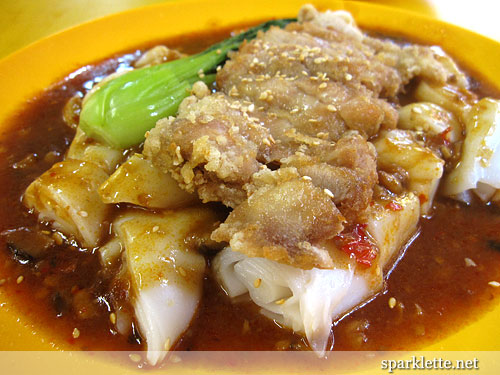 Chicken chop with spicy sauce
S$3.50
Rating:





For something chunkier, you can opt to have the super value-for-money meat dishes. There are chicken chop, pork chop, ribs or even fried fish with your cheong fun! These come in a variety of sauces such as spicy, black bean or black pepper. The spicy sauce, for instance, tastes similar to Thai chilli sauce – sweet and delicious!
If you're not in the mood for cheong fun but can't resist the colourful dishes anyway, you can substitute with brown rice too. Healthy, healthy!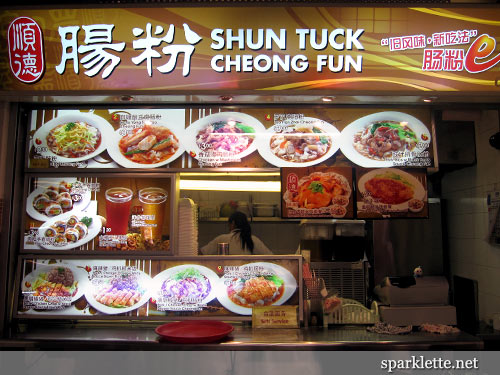 Shun Tuck Cheong Fun is located at People's Park Food Centre. The stall also sells herbal drinks such as hawthorn luo han guo and ginseng chrysanthemum. Wow, talk about convenience!
The food is served fast, and most of the time you won't even have to queue. It's great for quick bites that will fill your tummy and are yummy to boot!
Shun Tuck Cheong Fun
People's Park Food Centre
32 New Market Road #01-1100
Singapore 050032
Tel: +65 9699 6838
Bus services: 2, 12, 33, 51, 61, 63, 80, 143, 174, 186, 197, 961, 970, 961C
Nearest MRT: Chinatown
Opening hours: 9:30am – 9pm daily
Another hawker stall that also gives its cheong fun nice yummy fillings is Teng Yu Chee Cheong Fun Porridge.