Chee cheong fun (steamed rice rolls) is a popular breakfast item in Singapore and Malaysia. This humble dish is made by steaming a mixture of rice flour and water, and turning the resultant rice sheets into rolls. While it may be one of the simplest food items you can find, it certainly isn't plain. I like to eat it soaked in a generous pool of dark sweet sauce and sesame oil, with a heap of chilli paste (preferably cooked with fermented shrimp), and a slight sprinkle of sesame seed.
Rather than being served with just these four condiments, many hawkers have decided to put a twist on the dish. At Teng Yu Chee Cheong Fun Porridge, you can have it wrapped with ingredients such as turnip, egg, char siew (barbecued pork) or prawn.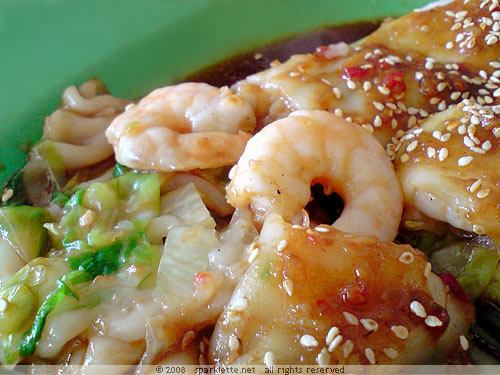 This chee cheong fun has a filling of fresh prawn and vegetables. Before you know it, what is formerly just a simple dish of plain rice sheet rolls and sauce has transformed into something much more savoury!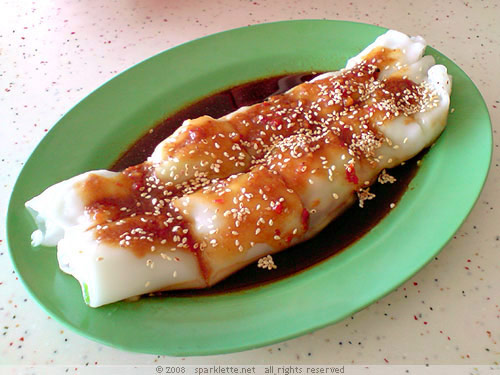 Fresh prawn chee cheong fun
S$3
Rating:





The ideal chee cheong fun should be made up of very thin rice sheets. Not only would the dish taste better, it would look more colourful too, with the filling showing through the translucent rice sheets. I visited the outlet at Tiong Bahru Market, and found the rice sheets to be rather thick (pictured above). I did like the sauce and chilli paste though.
Usually I would patronise the outlet at Alexandra Village where the chee cheong fun fares much better (pictured below). Compare the two pictures. Can you see the difference?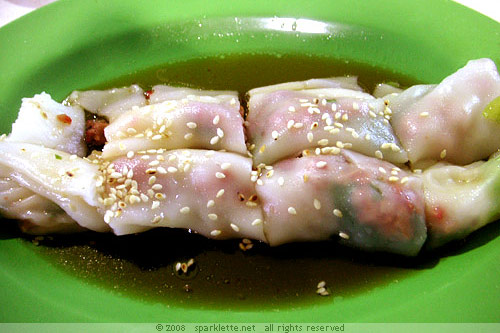 Roasted pork chee cheong fun
S$2.50
Rating:





Observe how the reds of the char siew and the greens of the vegetables clearly show through the rice sheet. This is the way it should be! What a stark contrast from the prawn one above!
By the way, if eating the chee cheong fun alone isn't enough to fill your tummy, just add $1 to top it up with a bowl of porridge.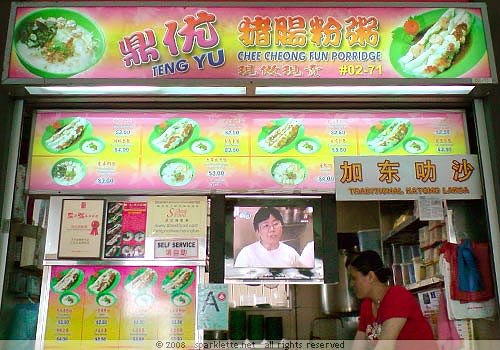 I noticed that the outlet at Tiong Bahru Market has diversified into selling Katong laksa as well. If you're already thinking of checking out Teng Yu, I would strongly recommend the outlet at Alexandra Village just to be on the safe side.
While we're on the subject, there's another popular breakfast item in Singapore that's also made from rice flour. Do you know what it is?
Teng Yu Chee Cheong Fun Porridge
Menu
Alexandra Village outlet
Alexandra Village Food Centre
120 Bukit Merah Lane 1#01-77
Singapore 150120
Tel: +65 9765 3921
Tiong Bahru outlet
Tiong Bahru Market & Food Centre
30 Seng Poh Road #02-71
Singapore 168898