As an avid coffee drinker, I generally prefer the traditional flavours of Ya Kun, Toast Box and Old Town to Western cafés. (For Old Town, I'm referring to the 3-in-1 sachets that you buy from the supermarket, not the cafés.)
One type of coffee that I find particularly intriguing is the Vietnamese Ca Phe Phin (drip coffee). The coffee cup comes with a stainless metal drip filter on top that allows the coffee to slowly trickle through the press and into the cup.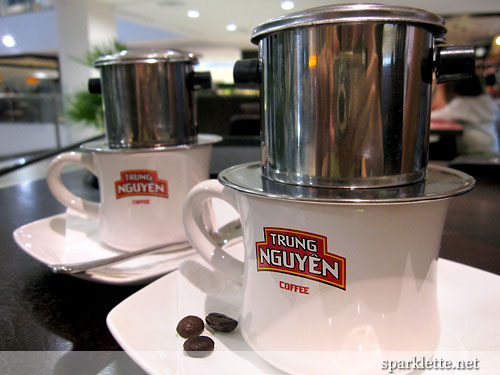 The Trung Nguyen Coffee chain from Vietnam opened an outlet in Marina Bay Sands. I first encountered this café during my undergrad days, when they had an outlet within the National University of Singapore, and later at Liang Court. It is no longer there today.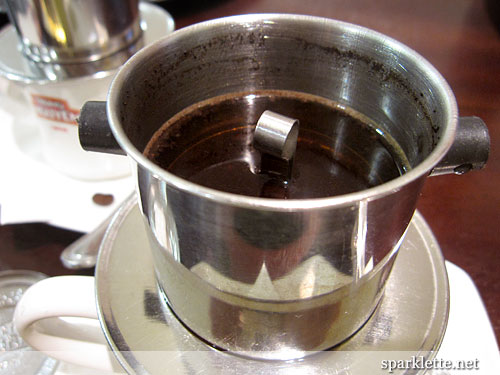 Various kinds of traditional coffee are available here, along with helpful descriptions to aid you in selecting your brew. We went for the "Thoughts" coffee, which is described as having an "elegant aroma" and "bitter sweet", as well as the "Fiscover" coffee, which is "light and flavourful".
The coffee is a deep shade of brown. Patience is required as it would take some time to slowly drip, drip, drip into the cup (which would contain condensed milk if that's the one you opt for). I consider that a good sign, really. I have visited a few other Vietnamese cafés where the coffee was so thin and mild, all of it trickled smoothly into the cup in no time.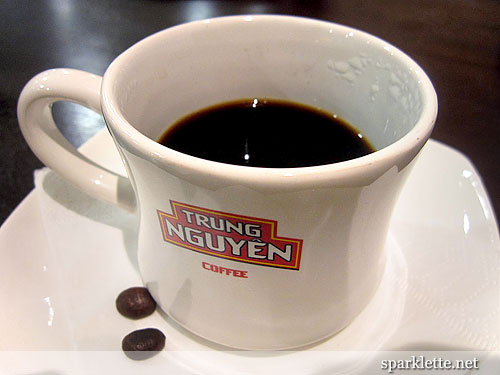 Traditional Vietnamese coffee (hot/iced)
S$3.20 – $5.90 (without milk), $4.20 – $6.90 (with milk)
Rating:





Initially I was lamenting the fact that the coffee only filled half the cup. But after taking a sip, I realised that a full cup would probably induce a sore throat. The coffee is extremely rich and robust, and this still holds true for the one that is described as "light". I have never been to Vietnam, but some people say that the coffee there is even richer than this! fr.natashaescort.com
So caffeine aficionados would totally love this; the aromatic and full-bodied coffee gives a real kick. Casual coffee drinkers might find it too strong though.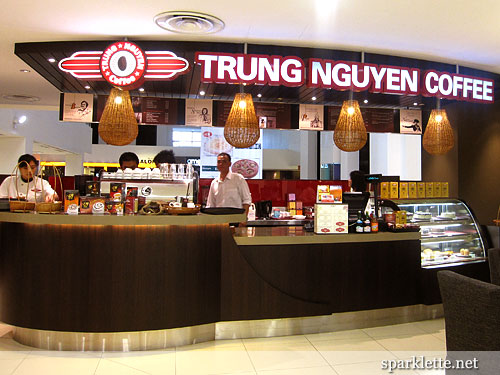 Perhaps to cater to the Starbucks crowd, ice blended drinks and cappuccinos are offered on the menu too. Similarly, you would place your order at the counter and wait to collect your drinks. There are some seats by the counter, and if you venture across the aisle there is an even larger seating area available.
Trung Nguyen Coffee
The Shoppes at Marina Bay Sands
2 Bayfront Avenue, L1-71, Bay Level
Singapore 018972
Opening hours:
Sunday – Thursday : 10:00am – 10:30pm
Friday & Saturday : 10:00am – midnight
Tel: +65 6688 7493