In keeping with my recent craze over thosai, I have been scouting for delicious thosai at Indian restaurants. Having delicious Indian food alone isn't enough; it must be in Little India too, because that's where you get the most authentic Indian dining experience! (Actually, the most authentic would be in India itself. But we make do with what we have here!)
A street-side coffee shop I've found is Sri Vijaya Restaurant, where dining is definitely no-frills (authentic dining experience!). So do not expect any cushy seats or air-conditioning.
Oh, the food is freaking cheap too!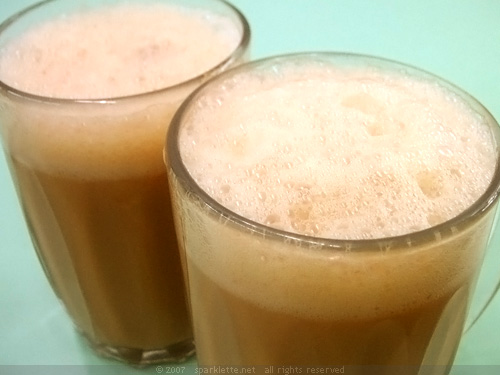 Teh Tarik ("pulled" tea)
S$0.90
Rating:





My, was I pleased with that thick froth on my teh tarik ("pulled" tea). The staff must have "pulled" the tea several times to create a bubbly froth that thick! I love a good frothy teh tarik!
Bubbles and froth aside, that was one of the most excellent teh tarik I've ever had (and I've had a lot of it before). The tea was extremely rich but not overpowering. It was also not overtly sweet (but I know some people may like it sweeter). By any standard, this was the perfect teh tarik. Definitely better than the famous one at Lau Pa Sat!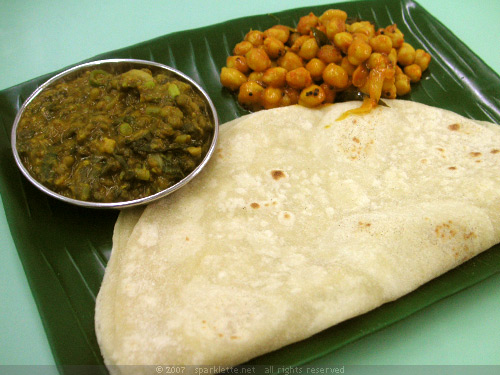 Chapati
S$2.40
Rating:





Like Ananda Bhavan Restaurant two weeks ago, Sri Vijaya is also a vegetarian restaurant. You can choose from a variety of vegetables to go with your chapati!
The chapati is served folded in half into a semicircle. I'm no expert but I thought it tasted a tad flaky and powdery for my liking. Or is that the way it's meant to be?
Anyhow, my main purpose in going to this place was to try out the thosai, which I've heard is the best around!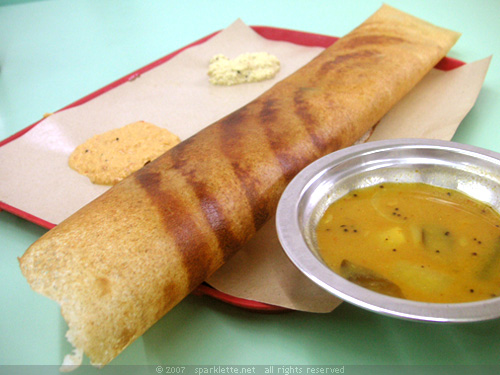 Paper Masala Thosai
S$2.50
Rating:





Two weeks ago at Ananda Bhavan Restaurant, I had exclaimed:
At the next table, we noticed people eating thosai that were 2-3 feet long! Boy, am I gonna have one the next time I drop by!
That's the paper thosai and this time round I got to have it! (so I didn't drop by the same place, but we should always be game to try out new places right?) my paper masala thosai was two feet long! Yay! It was big and long and boy, was I surprised at how crispy it turned out too!
I also loved the gravies that were served with the thosai. We could have as much of those gravies as we wanted! The staff would walk around with big metal buckets and scooped more gravy onto our plate whichever gravy ran out (authentic dining experience!).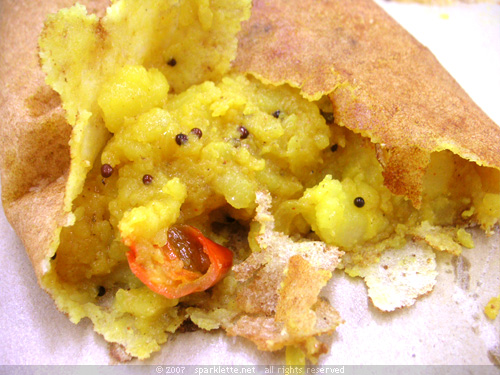 But herein lies the real deal – the potato masala! It was creamy (very yellow and fresh potatoes), spicy (all the yummy Indian spices and chilli), tangy, tasty and had a lot of oomph! ("Oomph" may just be my new pet word after "hawt"!)
By the way, what are those purple bits speckled among the yellow potato filling? Are those pepper?
Update: Oh, those are mustard seeds! Thanks, NTT!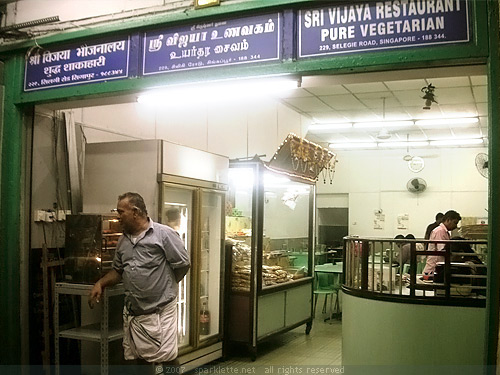 (Check out what the staff is wearing! How's that for authenticity? He looks ready to "pull" a teh tarik anytime!)
The restaurant lies on the fringe of Little India along a row of shophouses. After exiting from the Little India MRT station, we found ourselves walking back and forth along Selegie Road before finally realising we had already walked right past Sri Vijaya Restaurant without realising it! It's along the main road so keep a lookout for it!
Ah… I love Indian food!
Sri Vijaya Restaurant
229 Selegie Road
Singapore 188344
Tel: +65 6336 1748