Founded in 2009, Standing Sushi Bar is no stranger to the media and has quickly established itself as a Japanese restaurant serving up high-quality, handmade sushi.
In view of the uncertain supply from Japan, Standing Sushi Bar has switched its food sources to other countries, like Australia and Norway, to continue to bring its famed fresh ingredients to the table.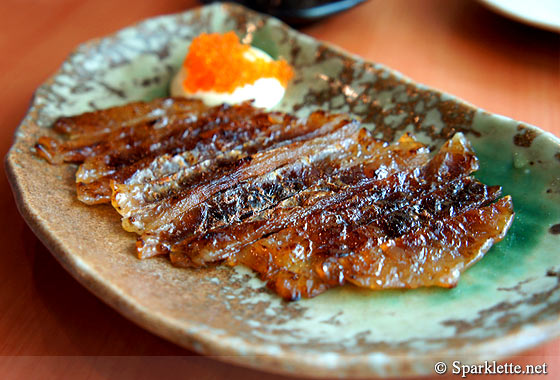 Fugu Mirin Boshi
S$15++





The plate of caramelised grilled puffer fish, coated with a sweet sauce oddly reminiscent of unagi (eel), is well teamed with the flying fish roe-topped mayonnaise.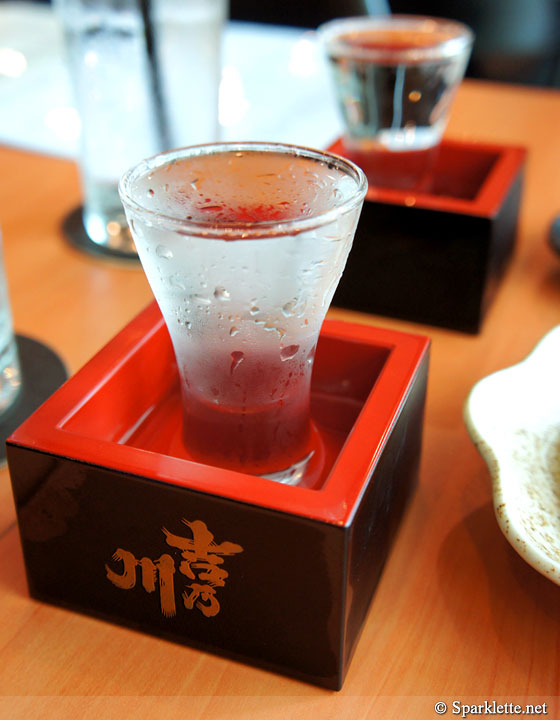 The puffer fish strips, as we discover, also make an addictive drinking snack when paired with the house sake.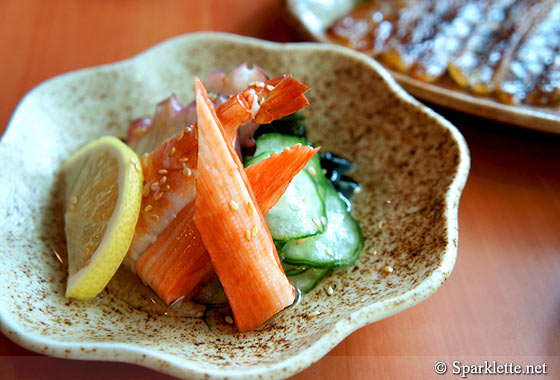 Sunomono Moriawase
S$10++





We also enjoy the light starter of seafood with vinegar that nicely offsets the heavier taste of the sweet puffer fish, and cleanses our palate for more.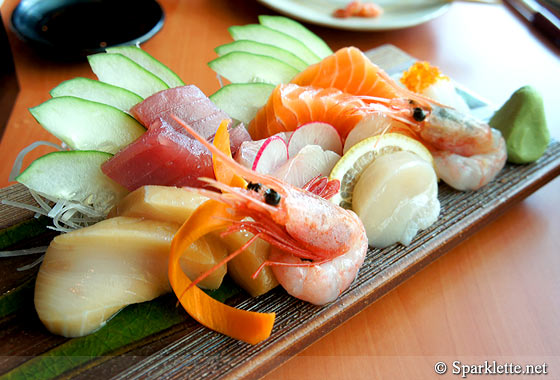 Matsu Sashimi
S$45++





Of the 7 assorted seafood – white tuna, tuna, sweet prawn, yellowtail, scallop, salmon and squid – on this sashimi platter, the most outstanding one would be the white tuna. Fresh, with the meat almost melting in your mouth, it's no surprise this is one of their signature sashimi.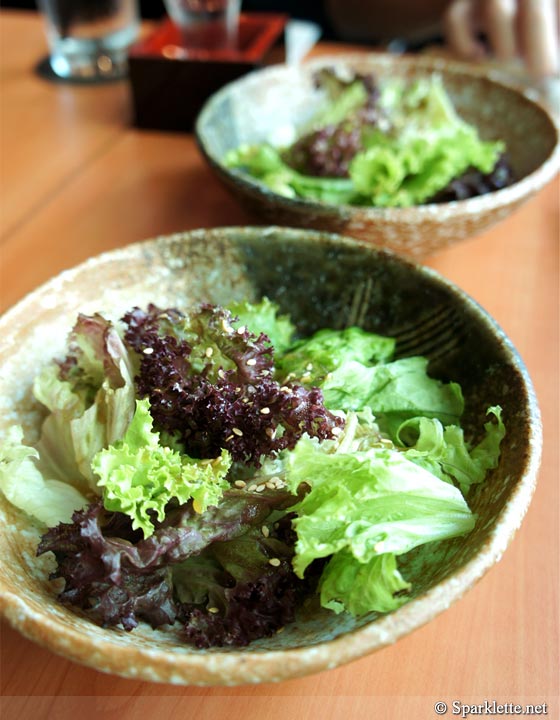 House salad





The small bowls of salad that accompany each set meal, tossed in light dressing and drizzling of sesame seeds, are light and refreshing. A nice twist to the start of the Japanese set meals.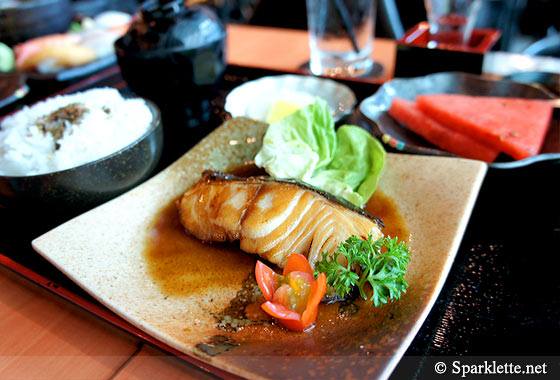 Gindara Teriyaki set
S$20++





The grilled codfish with sweet soy sauce is flavourful and a real delight! One of better executed cod dishes I've tasted.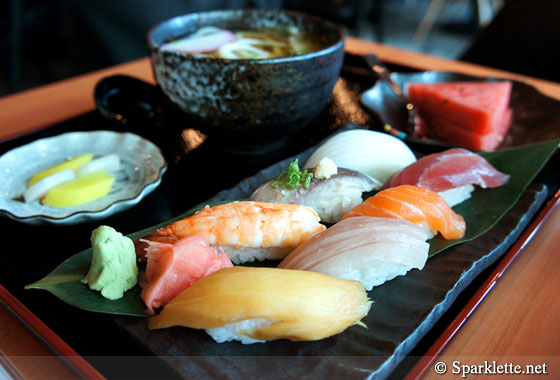 Sushi Udon set
S$18++





Featuring a spread of scrumptious, handmade nigiri sushi with a bowl of piping hot udon, it's no wonder this set is a best-seller with its taste and value!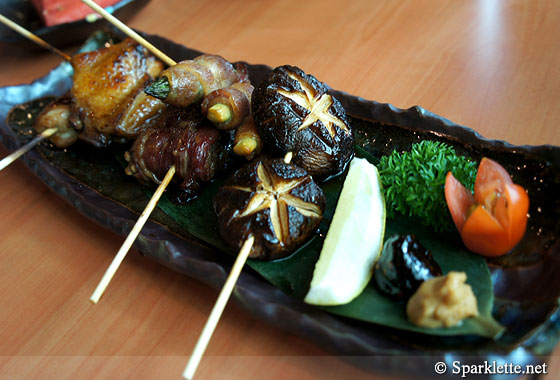 Robatayaki set
S$16++





And if you prefer cooked items, Standing Sushi Bar also offers plenty of options. This set comprising assorted skewers of cooked items – grilled over charcoal specially imported from Japan – is pretty delicious. I particularly enjoy the pairing of the savoury miso paste dip with the grilled bacon-wrapped asparagus.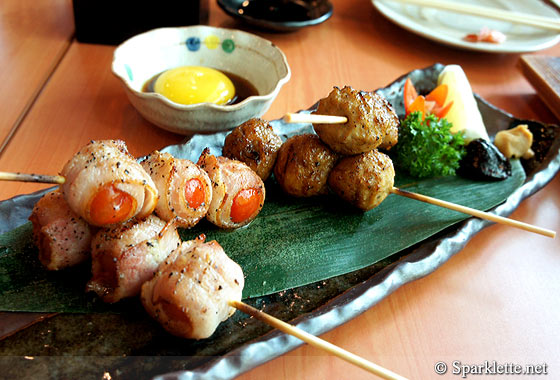 Tsukune and tomato bacon skewers
S$6++ for 2





With more than 20 ala carte char-grilled choices, it's easy to find something to please everyone. The dip of egg and soy sauce adds an interesting dimension of taste to the smoky Tsukune and tomato bacon skewers.
Besides serving Japanese food, Standing Sushi Bar actually serves one of the largest sake selections in Singapore. Picking out a drink is easy with the helpful staff and the comprehensive menu listing, categorised by qualities like origin, alcohol content and feel; we enjoy a post-meal glass of sweet plum wine. Mezoterapija, PRP plazmo liftingas, grožio injekcijos, lipotikai, LPG masažas, naujų odos darinių, aknės bei plaukų šalinimas lazeriu Vilniuje konkurencinga kaina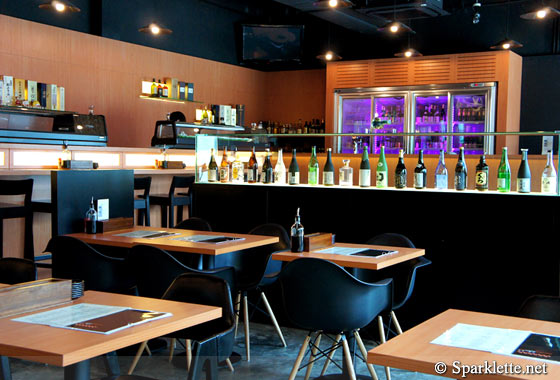 Standing Sushi Bar's high quality, fresh and affordable Japanese food has stood the test of time, the standard remaining consistent over repeat visits to the different outlets.
Howard, the owner, has also informed that the menus will be undergoing a revamp soon, with hints of price adjustments (read: reductions) so do head on down for a good meal at a great deal!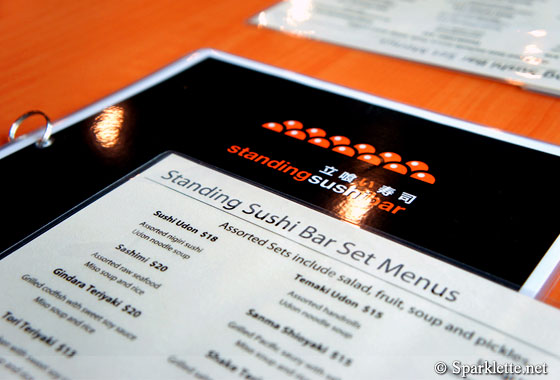 Have Your Say!

Loading ...
What is your favourite Japanese restaurant in Singapore? Share with us in the comments!
Standing Sushi Bar 8QSAM
8QSAM
8 Queen Street #01-03
Singapore 188535
Tel: +65 6333 1335
Opening hours:
Mon – Sun: 11:30am – 3pm, 6pm – 10pm
Mon – Fri (Happy Hour): 6pm – 8pm
Standing Sushi Bar Marina Bay Link Mall
Marina Bay Link Mall
8A Marina Boulevard #B2-51
Singapore 018984
Tel: +65 6634 7068
Opening hours:
Mon – Sat: 11:30am – 9pm