A little eatery that goes by the name Stevo's Salads n Such has opened along Upper Thomson Road. While this casual restaurant is small in size, the fine quality of its Australian fares would certainly put its more established Western counterparts to shame.
Hailing from Perth, Australia, owner Stephen Singh was the talented man behind the cooking at Charco's. After leaving Charco's, he started Stevo's, offering an even more extensive range of dishes here. Despite Stephen's humble attitude ("I'm really not a chef"), we sure are big fans of his excellent cooking.
Salads
The salad bar boasts 8 different kinds of colourful salads that include Greek salad, egg salad and fruit salad amongst others.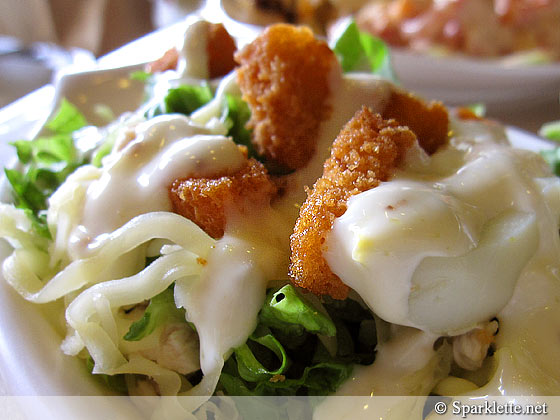 Caesar salad
Rating:





With its great-tasting dressing and the crispiest croutons, the ever-popular Caesar salad is easily our favourite.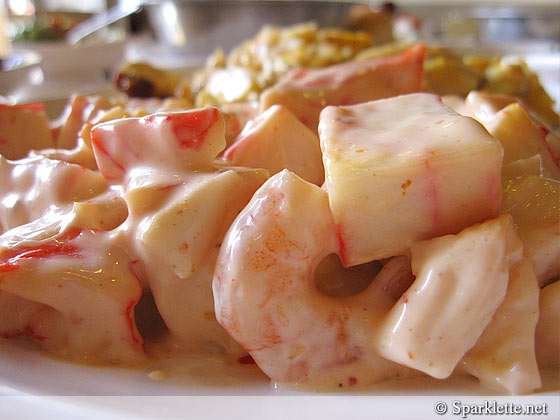 Seafood salad
Rating:





Seafood fans can indulge in the seafood salad, which comprises morsels of crab stick mixed with juicy prawns.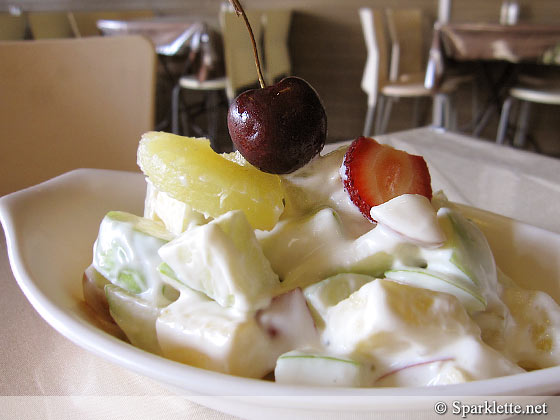 Fruit salad
Rating:





The fruit salad, a combination of apple and pineapple slices topped with cherry, is fitting as an after-meal palate cleanser.
Mains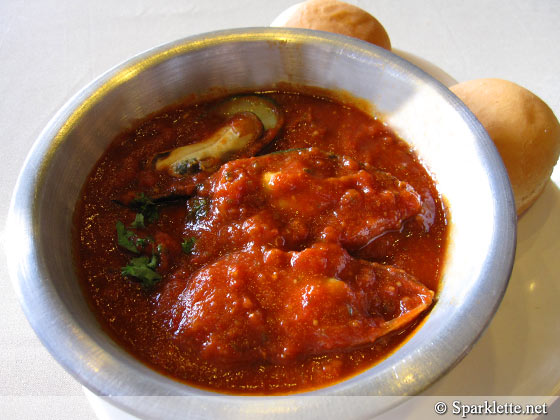 Chili mussels
Rating:





The chilli mussels certainly hit the spot.
If a bunch of plump mussels stewed in a chunky spicy tomato gravy and paired with bread buns sounds good, wait till you try it. We like this so much that not only do we lap up every last bit of the succulent sauce, we even order a second serving for takeout!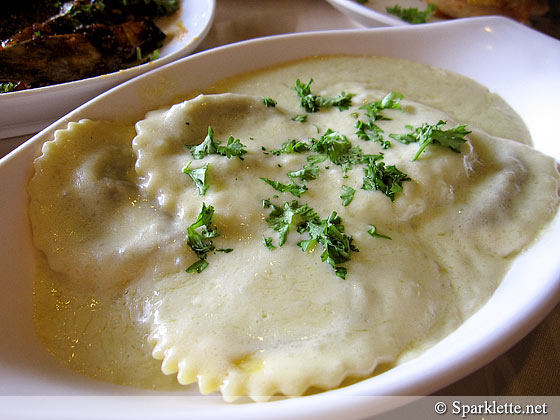 Wild mushroom ravioli
Rating:





For something milder, go for the wild mushroom ravioli. The pillows of pasta covered with thick, creamy sauce certainly serve as good comfort food. While the ravioli sheets are silky smooth, they would taste even better if they were thinner.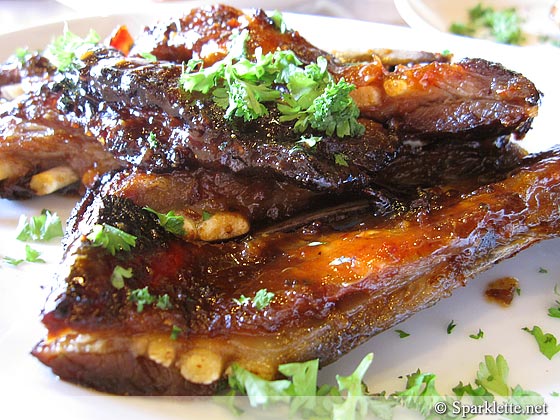 Lamb ribs
Rating:





To satisfy the carnivore in you, go for the lamb ribs. We first fell in love with these at Charco's, and are delighted to find them here, too! While these may not be the meatiest ribs around, the great-tasting honey glazed meat helps make up for it.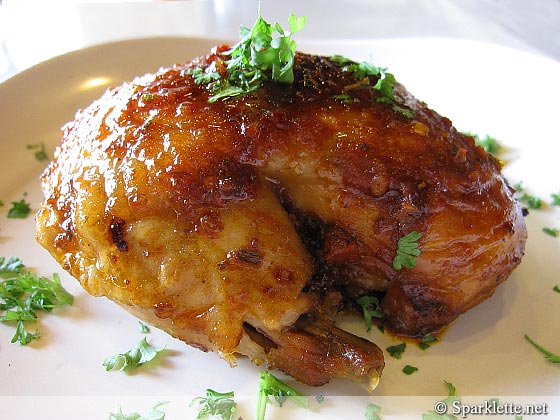 Spicy chicken
Rating:





The spicy chicken (you can also opt for the non-spicy roast chicken) comes in various portions, and are perfectly marinated with a sweet and spicy sauce.
For both the lamb ribs and the chicken, you can choose to complete the meal by having salads or fries to go along.
Heat Challenge
Think you've got the chops to eat spicy food? Take up the Heat Challenge! The buffalo wings come in 5 levels of spiciness, 1 being not spicy at all, 5 being crazy hot!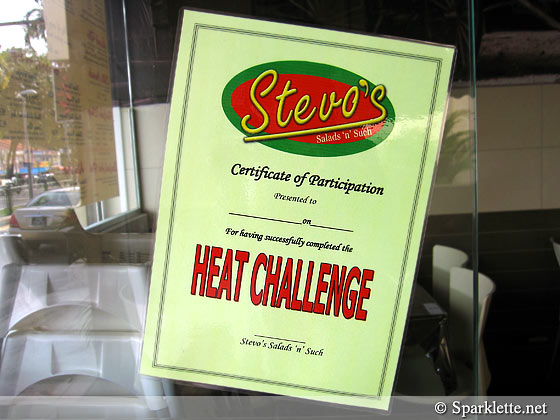 If you can finish half a dozen of the level 5 wings within 5 minutes, a certificate is yours and you get your photo taken and displayed proudly at the restaurant! Last we checked, a dozen or so customers have successfully completed this feat!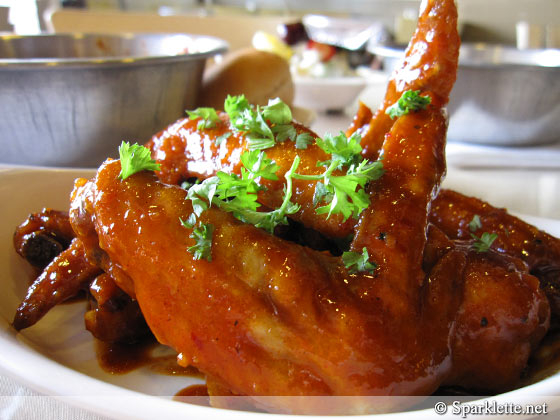 Buffalo wings
Rating:





One thing for sure: These wings are finger-licking good!
Not ready to numb our taste buds (yet), we venture into the level 3 wings. Even for the self-professed seasoned spicy food eaters that we are, we still find ourselves gulping down that spice-relieving Esprit drink! Be safe, go for level 2.
The Vibe
The restaurant takes up a corner unit along a row of shops and eateries. The atmosphere here is casual and laid-back, with many tables spilling out into the outdoor seating area. A blackboard hanging on the wall displays the good mix of dishes that also include burgers (with a vegetarian option) and kids' meals.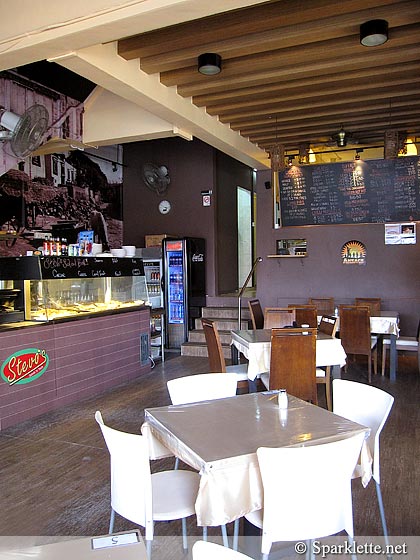 A large picture of the rustic outback covers the wall on one side.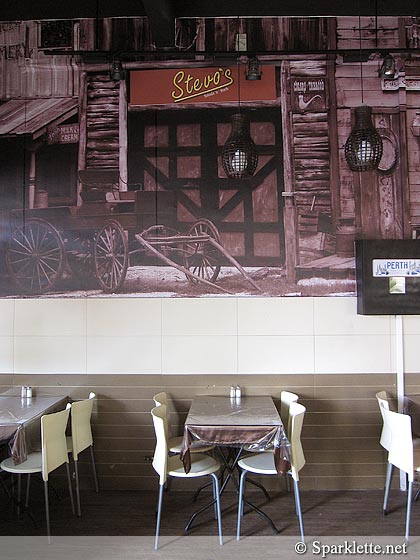 Even before leaving this humble restaurant, we are already planning our next trip!
Notes:
– The restaurant is very new and still reviewing menu prices. Please refer to their website for the up-to-date prices.
– There is no service charge or GST.
– No pork, lard or alcoholic beverages are served here. Halal certification would be applied for along the way.
Have Your Say!
Know of any more hidden gems and promising new restaurants? Let us know!
Stevo's Salads n Such
215R Upper Thomson Road
Singapore 574349
Tel: +65 6554 0636 |
Website
Bus services: 52, 132, 162, 162M, 163, 165, 166, 167, 410, 855, 980
Opening hours: 11am – 10pm (Closed on Mondays)