It seems that whenever a Westerner opens a Western food stall in the heartland, Singaporeans would throng the place. Maybe the food tastes more authentic. Or maybe the mental image of a sweaty ang moh preparing your steak makes it all the more appealing.
First it was the wildly popular Botak Jones that started the craze. Then there's Crazy Ang Mo. More recently, an Australian guy started Charco's.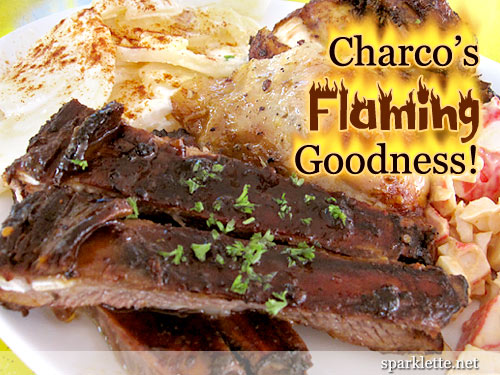 Thanks to readers Sheida and Ida who recommended Charco's to me. We head down one afternoon and found ourselves thoroughly enjoying the chicken and ribs! The food is halal too. Yay for all our Muslim friends!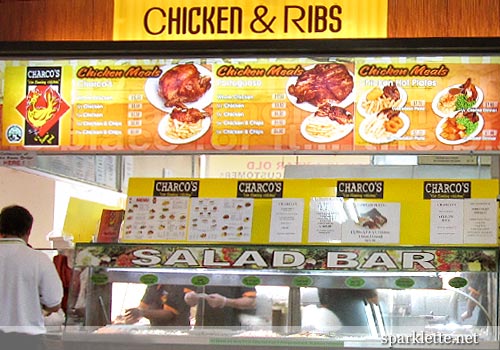 Coincidentally, Charco's is situated at the same premises in Ang Mo Kio Avenue 5 where a Botak Jones stall once occupied. The stall now occupies a much larger floorspace at the coffee shop, with ample seating available both indoor and outdoor.
Update on November 1, 2010: Charco's has relocated to 89 Marine Parade Central.
We queue up at the counter to place our orders and make payment. Then a big numbered tag is given to us and all we have to do is sit down and wait for our food!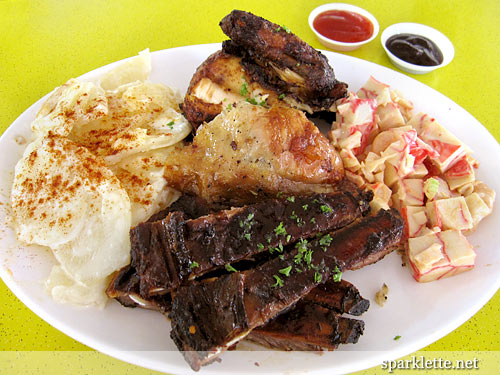 Sampler platter
S$13.90
To get a taste of everything, we order the sampler platter consisting of:
1/4 lamb ribs
1/8 Portuguese chicken
1/8 original chicken
creamed potatoes
one choice of salad
If you wish to get more taste into your food, help yourself to the ketchup, chilli and barbecue sauces at the sauce and cutlery station. The barbecue sauce is goooood.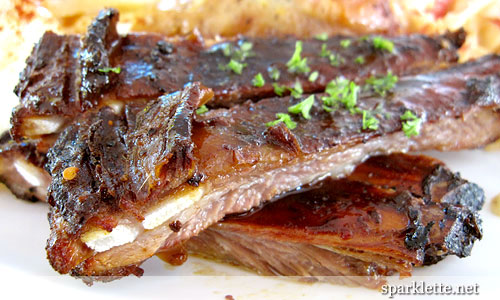 Lamb ribs
Rating:





Many Western steaks & grill restaurants like Tony Roma's and my personal favourite, Jerry's, serve pork ribs, automatically rendering them unsuitable for Muslims. But Muslims who wanna taste good ribs can go for Charco's lamb ribs!
The ribs are tender and tasty, with meat that falls off the bone easily. They are coated in a dark sweet sauce that brings out the smokey flavour very well. We actually prefer this to pork ribs as it is far less fattening.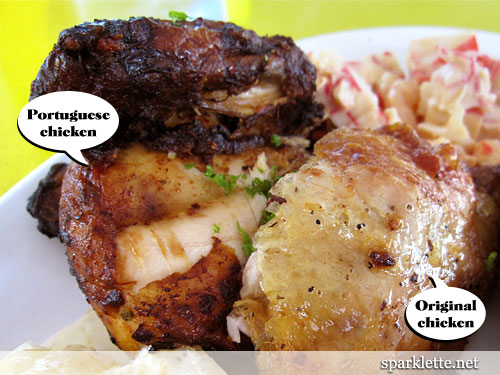 Portuguese & Original chicken
Rating:





When you have the Portuguese chicken and the original chicken side by side, it's easy to compare the two. The Portuguese is spiced and flavoured while the latter is plain and ordinary. We prefer the first. No surprises there.
Don't forget to pile on the barbecue sauce for the ordinary chicken as it can get quite bland on the inside.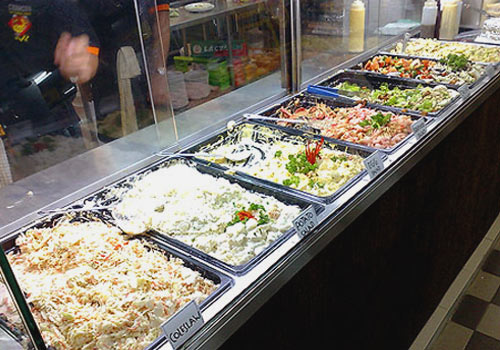 The salad bar by the counter displays an appealing array of colourful salads such as coleslaw, egg, seafood, Greek, Caesar, etc. The sampler platter comes with a choice of salad, so we go for the seafood salad.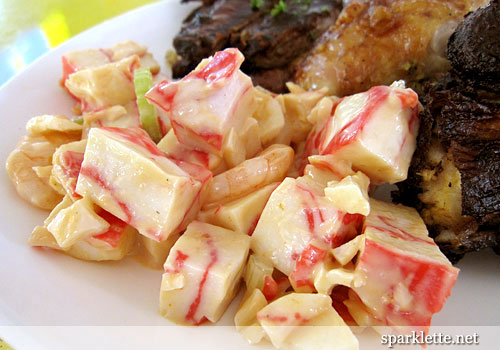 Seafood salad
Rating:





The salad portion is huge! It comprises of sliced crab sticks and a couple of plump shrimps. Nice, and totally my cup of tea. For those of you who are regulars, which other salad is worth trying, too?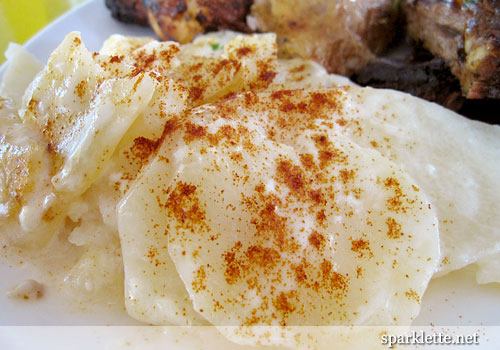 Creamed potatoes
Rating:





What we find rather unusual is the creamed potatoes. They have a milky quality and are dusted with red pepper for flavour. However due to the ample servings of meat, we can barely eat any! Given a choice, we would very much like fries or wedges instead.
Perhaps due to the obscure location, the coffee shop isn't exactly jam-packed during the afternoon chow hours. The food is served promptly too, even for the more complicated sampler platter.
Charco's
(

Halal certified
)
89 Marine Parade Central #01-750
Singapore 440089
Tel: +65 6455 3711
Opening hours: 11am – 10pm daily