On the third level of Wheelock Place lies a restaurant, named rather curiously, the Sun with Moon Japanese Dining & Café. We were there on a Friday evening and it wasn't easy to get seats since we did not have any prior reservation. We were put on a waiting list and thankfully, the waitress managed to get us a seat within half an hour.
Ambience-wise, this place is definitely top notch. It spans a spacious three units with seats that range from regular dining chairs and lounges, to counter seats and small café tables. We were seated at this table with an L-shaped bench and comfy cushions, separated from the next table by a translucent grainy curtain. Due to the odd bench, I wasn't facing my dinner partner throughout.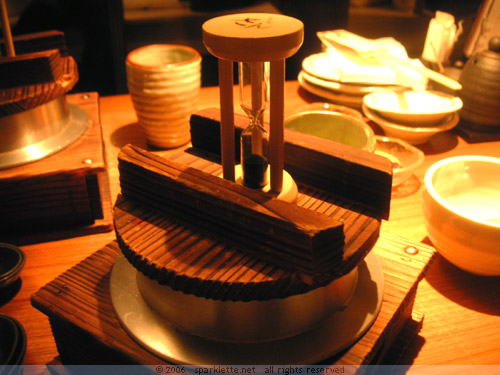 The signature dishes offered here include the kamameshi, which is traditional steamed seasoned rice pot. In the local context, this is rather similar to our claypot rice. It is served steamily hot. The little hourglass on top supposedly indicates when we may lift off the wooden lid to start our meal. Rather gimmicky in my opinion, but I did like the cute little widget.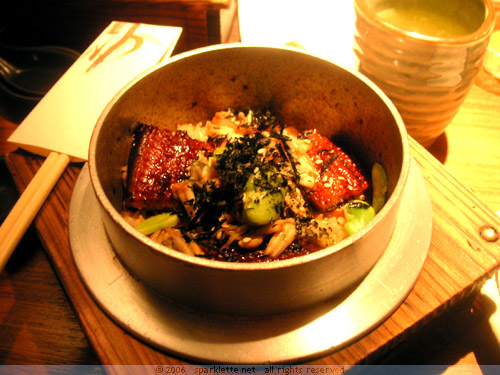 Unagi & Asagi Kamameshi (Grilled Eel & Clam)
S$16.50++
Rating:





The unagi was tender and soft, lightly drizzled in teriyaki sauce. While I did like the unagi, I wish they had been more generous with their serving. As I dug to the bottom of the aluminium pot using my chopsticks, I realised to my chagrin that most of the pot was filled up with rice! The clams also seemed slightly chewy and overcooked.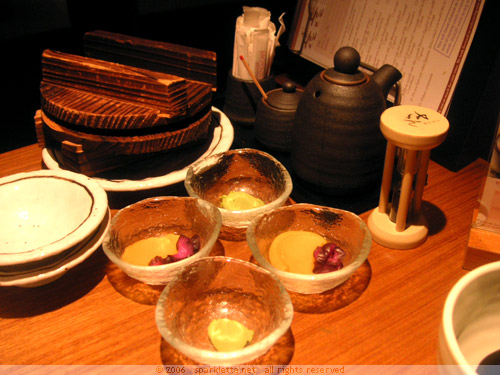 The star of the night has to be the dessert. Japanese put a lot of thought into aesthetic value. Hence it is no surprise the desserts look great! A must-have to give the meal a sweet finishing would be one of their colourful parfaits.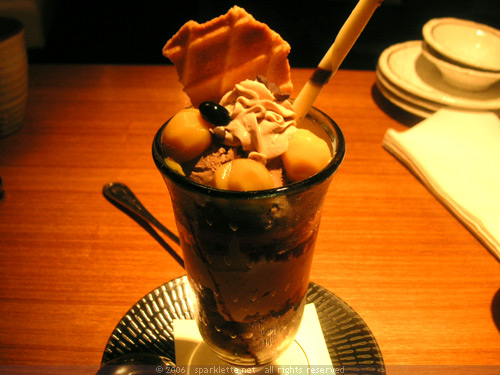 Marron Chocolate Parfait
S$9.80++
Rating:





The marron chocolate parfait makes one delightful dessert. It consists of many different layers that come in a tall glass tinged in blue. Topped with chocolate whipped cream and a yummy white chocolate candy stick, the parfait is made of sinful chocolate ice cream sprinkled with yellow Japanese chestnuts. What makes this dessert most unusual is its bottom layers of chocolate sponge cake and crunchy cornflakes. One of the best around!
Compared to its counterparts, the Sun with Moon Japanese Dining & Café charges slightly astronomical prices considering its food portions. Probably part of the costs goes into the presentation of the food. Despite our peculiar seating arrangement, the ambience and designer layout gave me a good feeling, with the delicious parfait ultimately sealing my overall great impression of this place.
Sun with Moon Japanese Dining & Café
Wheelock Place
501 Orchard Road #03-15/16/17
Singapore 238880
Tel: +65 6733 6636 |
Website