At Sunset Way, a serene neighbourhood in Clementi, a cluster of restaurants quietly opened recently. And already, the area has been compared to the likes of Holland Village. That alone got me curious enough to go check it out.
What sets Sunset Way apart from other dining enclaves such as Rochester Park and Dempsey Road is the fact that it is tucked within a residential area, surrounded by HDB flats! I don't think there is any other place quite like it in Singapore.
The restaurants are lined up along the ground level of a HDB block, each one having its own alfresco dining area like this: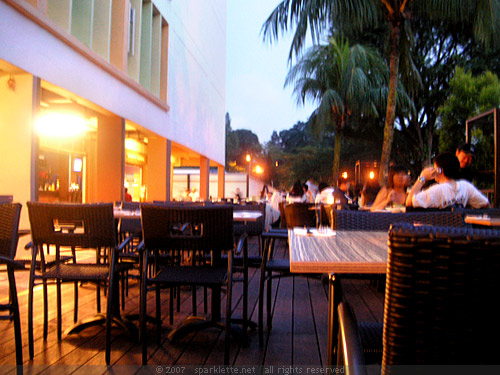 Very, very nice. Sort of like pseudo posh dining in a casual neighbourhood setting with lush greenery. In fact, we even spotted a couple who rode there and parked their bicycles by their table!
From the 9 restaurants at Sunset Way, we picked the steakhouse Grill-Out. It turned out to be a great choice – good food, awesome service.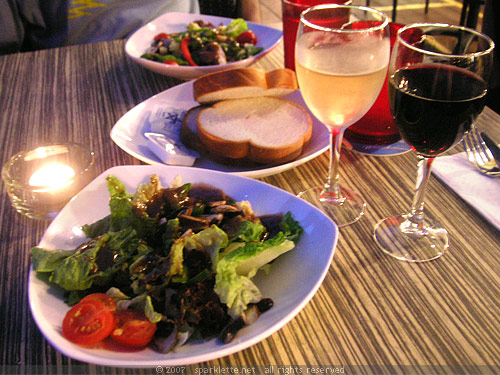 Of course, what's pseudo posh dining without some cheap wine to go along? By cheap, I mean S$6.80 per glass of house pour. Boy, that's even cheaper than their cheapest beer! Free salad was served too. Nice!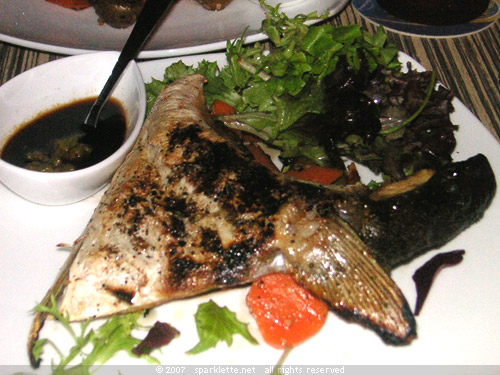 Yellowtail Cheek with Wasabi Sauce
S$18++
Rating:





For a non steak eater like myself, I went for the grilled yellowtail cheek with wasabi sauce. The fish was pretty good, but it was the wasabi sauce clinched the deal for me. Although at 18 bucks, I found it a tad pricey for the portion. If you order this dish, do be prepared to wait at least 15 minutes.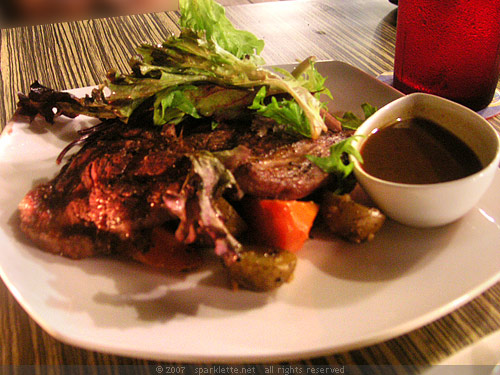 Angus Beef Ribeye Steak (rare)
S$30++
Rating:





My friend had the beef steak. Men just love beef, don't they? I'm not a red meat eater but on sampling of the steak (done rare. Does anyone here go for extra rare?), I found it to be nice and tender. They serve a mean steak here. Ironically, the restaurant has murals of happy cows on its walls.
Jon, our friendly waiter recommended the fried milk for dessert. What is that, you ask? We wondered the same thing too and got curious enough to order it. I thought it might resemble fried ice cream. But as it turns out, it wasn't quite the same thing.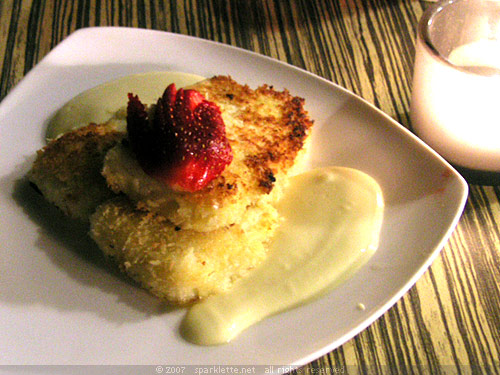 Fried Milk
S$6++
Rating:





The two slabs of dessert are fried on the outside, gooey on the inside, and served with vanilla syrup and a strawberry on top. Ingredients? Milk (obviously), cornflour and cumin. Kevin, another friendly waiter of ours helpfully brought us a cumin seed to let us get a whiff of it. It is a longish Indian seed with a smell that is strangely addictive. I sniffed it for the longest time!
Anyhow, the fried milk sure is one quirky dessert. It's good enough to get a taste, but I wouldn't recommend a second helping. The name is cool though. My rocker friend remarked that he might name his band "Fried Milk" in future.
Grill-Out!
Sunset Way
106 Clementi Street 12 #01-38E
Singapore 120106
Tel: +65 6774 1028
Service:





Closed on Mondays
This maiden dining experience at Sunset Way had been a very relaxing one, made only better by the excellent service at grill-out! Notice that I have given them a 5-star rating, a rarity in Singapore. The waitstaff were extremely attentive, dedicated and friendly throughout. For example, we had a two-seater table so my friend had to set his bag on the floor. Jon noted this and brought over an extra chair!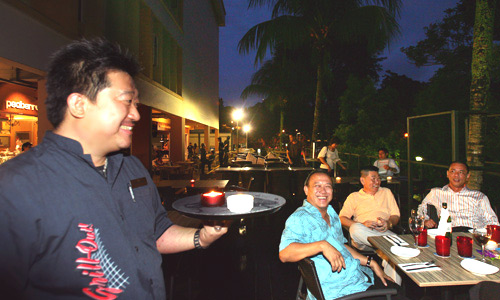 Even whilst paying our bill, the waitress took care to patiently read out each and every item on the bill to ensure we were paying for exactly what we had ordered. The only other time in recent memory that I had experienced such good service was in Japan. At that point I had wondered if service standards in Singapore could ever match. Now it looks like there is hope yet!
My only wish is that when business becomes brisk, the standards wouldn't drop. Often, that tends to be the case.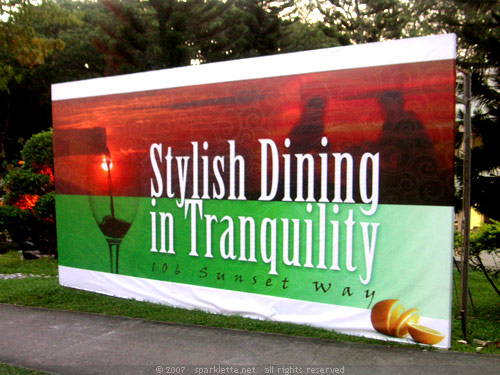 It would be wonderful if there were more Western restaurants at Sunset Way. The atmosphere here seems more suited for Western cuisine, yet 4 out of the 9 restaurants are Asian (2 Chinese, 1 Thai, 1 Japanese). There is also a nice pub here, which is likely to be my next stop when I return!
(The song, Sunset Grill, by Don Henley is the inspiration for the title of this blog post.)