A friend and I were at Plaza Singapura scouring for a dining spot. There were plenty of options. Within the shopping mall there's already The Manhattan Fish Market, ichiban sushi, indonesian BBQ at kopitiam and many more. And of course there's Giraffe Bar across the road at Istana Park.
I wanted to visit some place new and so we tried our luck at The Atrium, the extension wing of Plaza Singapura. That's when a restaurant with a tropical island theme caught our eye.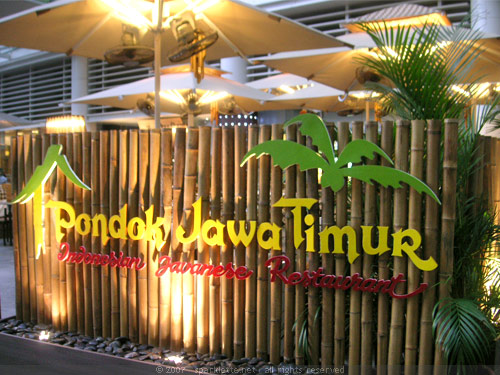 Pondok Jawa Timur the Indonesian Javanese restaurant is just my kind of thing! There were some Indonesian customers so we thought that the food must be really good.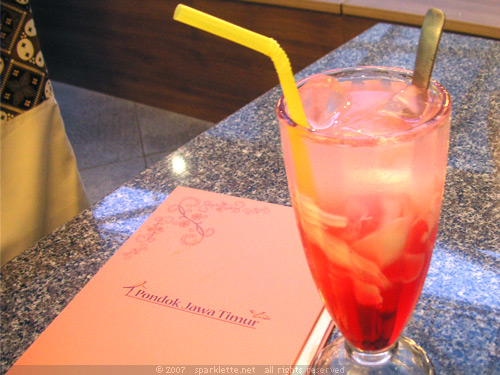 Es Kelapa Muda (Iced Young Coconut)
S$3.50++
Rating:





This cute-looking pink drink contains several slivers of coconut flesh. It's very rich and refreshing. Plus, it's pretty in pink! Oh yeah, the first time I had this drink was at Ayam Bakar Ojolali, another Indonesian eatery at Lucky Plaza. It was pink too. Is that just food colouring or what?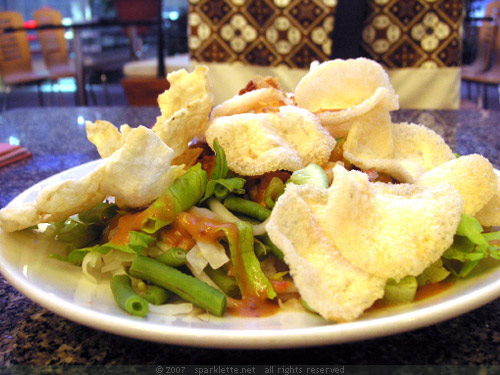 Gado Gado (Mixed Vegetables in Surabaya Peanut Sauce)
S$7++
Rating:





Gado gado, a traditional Indonesian dish that came with keropok, greens and egg. The peanut sauce dressing was actually pretty good, but there was simply too little of it for us to thoroughly enjoy the dish. Also, at $7, I found it to be a tad expensive.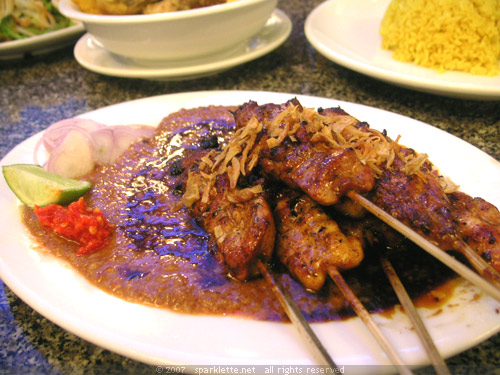 Sate Ayam Madura (Maduranese Chicken Satay)
S$8++
Rating:





Just a few days ago, I had blogged about Best Satay at Lau Pa Sat which has the local Muslim version of satay.
In this Indonesian version, the meat is chunkier and marinaded quite differently. The peanut gravy, while not as sweet, is certainly packed with flavour. If you ask me, this is one dish worth coming back for! But do be prepared to wait 15 to 20 minutes for it to be served.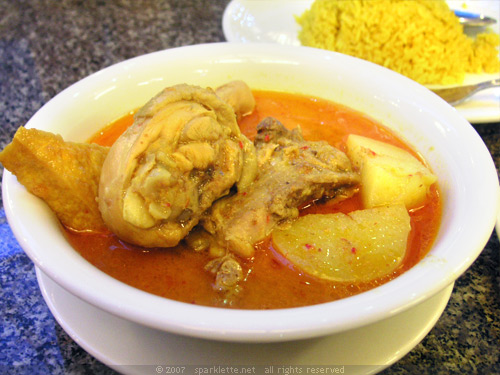 Ayam Kare (Chicken in Curry Sauce)
S$6.50++
Rating:





When we asked for recommendations out of the rather limited menu, the waiter had recommended the curry chicken. ayam kare, if you might. The curry gravy tasted quite good and would have been better if the spice factor had been upped a few notches. Perhaps it had been toned down to cater to foreigners.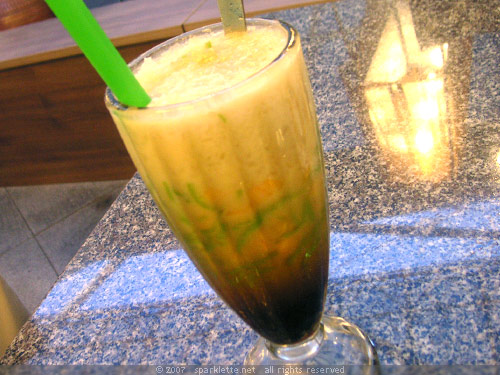 Es Cendol (Iced Cendol with Coconut Milk)
S$4++
Rating:





Finally, the colourful cendol makes a great dessert. Or drink, whichever. Aren't those green jelly wormy bits fun to eat? Yummy!
Overall, I found that I really enjoyed the satay and the drinks. But that's about it. I wouldn't be jumping up and down to pay another visit. The menu is rather limited and we were hard-pressed for options. They have another branch at far East plaza too.
Still, the satay is really something to die for. I think I would want to have it again!
Pondok Jawa Timur
(

Halal certified
)
The Atrium @ Orchard
60B Orchard Road
Tower 2 #01-16 Singapore 238891
Tel: +65 6884 5853 |
Website
Service: