There are several reasons why I love tcc. Being a coffee lover, I am very particular about coffee. Among the more common café chains here, I find that tcc serves the best coffee. They have the largest coffee menu that would cater to the most diverse taste buds, including brews, coolers, lattes, frappuccinos, affagattos, and liqueur coffee that is served flambé. The Blue Mountain brew is my most favourite.
Besides coffee, tcc also has a wide range of food items to tantalise your taste buds. My Mom and I got to try two of their desserts recently.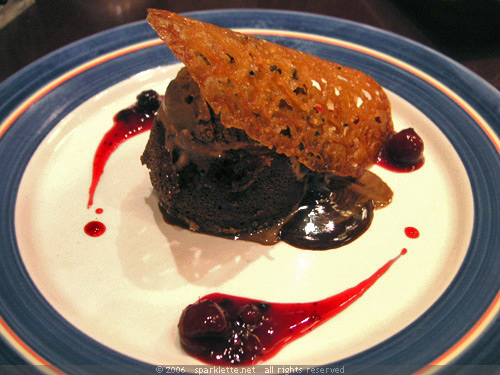 Dark Devotion
S$9.90++
Rating:





First off, the dark devotion was heavenly. Topped with chocolate ice cream, it was served warm on the outside and cold on the inside. When I pierced the chocolate cake with a fork, warm chocolate lava came oozing out! It was everything a good chocolate dessert should be – rich, heavy, and absolutely satisfying.
The tiny dollops of berry compote at the side helped ensure that the richness of the chocolate didn't get too cloying after a while. I left the sesame tuille alone though; it was too hard for my liking.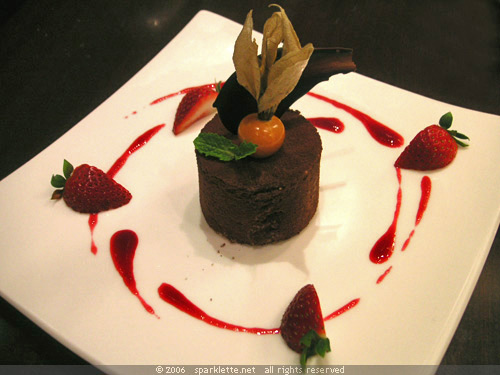 Chocolaty Meteor Delight
S$9.50++
Rating:





I have to admit I ordered the chocolatey meteor delight mostly due to its dreamy sounding name. Ever since I was a little girl, I have had this thing for stars and astronomy. Here, the strawberries and syrup streaks had been arranged prettily to resemble meteors. It was practically art on a plate!
Not only was the dessert pleasing to the eye, the milk chocolate mousse was smooth and creamy too. Thankfully it wasn't too sweet at the same time.
Overall we were charmed by both desserts. They gave new meaning to the phrase "delicious sin"! I shudder to think of the calorie count though. Oh they also have this bunch of little booklets on every table. I took one home with me, thought it would make a nice mini coffee table book.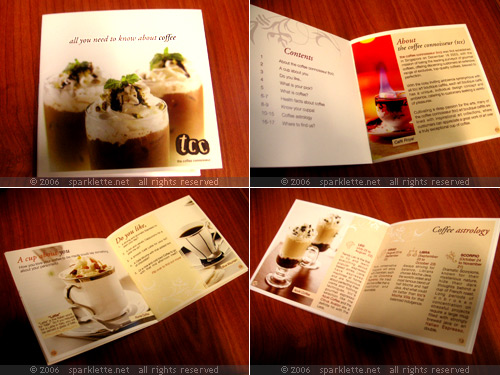 It is a tiny square booklet that looks rather fancy, with full colour pages along with photographs, coffee facts and personality profiles. There is even a coffee astrology section! Here's the profile of a leo coffee drinker:
Trendy Leo is the first to try and learn everything about popular espresso based drinks. Lions have espresso machines at home and are ferocious about perfecting their crema and frothing techniques. Tcc's gourmet espresso selection like the Azuki Coffee and the Citrus Avalon are a definite hit with the Leos.
Interesting eh?
Other than the great coffee and awesome desserts, the service at tcc is also consistently excellent, a rarity in Singapore. When I visit a café I want to be able to sit down and relax over a cuppa joe. Helpful and well-mannered waitstaff certainly help. Over here, they treat every guest with courtesy and respect whether you're spending 10 bucks or 100 bucks.
Every tcc café is also artfully designed and unique from one another, with nice ambience and soothing music. Personally I would prefer some place quiet like the branch at Great World City, where the crowd is smaller and makes for a more relaxed experience.
tcc
– ION Orchard
– PoMo
– Wisma Atria
– International Building
– Suntec City
– Anchorpoint
– Central
– Changi Airport T3 Arrival Hall
– Marina at Keppel Bay
– Changi Airport T3 Departure
– No. 4 Robinson Road
– Samsung Hub
– German Centre
– Novena Square
– Centrepoint
– Bugis Junction (Atrium)
– The Pier @ Robertson
– Funan DigitaLife Mall
– The Atrium @ Orchard
– Isetan Scotts
– Singapore Management University
– Citylink Mall
– Raffles Xchange
– Great World City
– Peranakan Place
– Bugis Junction (Main Boutique)
– NTUC Building @ One Marina Boulevard
– Nanyang Academy of Fine Arts (NAFA)
– Millenia Walk
– Clarke Quay
– Circular Road
– Beach Centre
Website