This recent trip to Crystal Jade La Mian Xiao Long Bao at Great World City marks my second visit to this particular outlet. my previous experience there left me with a long lasting good impression – great food coupled with excellent service. So naturally I was happy to pop by once again for more dim sum goodies.
In a bid to increase returning customers, the restaurant introduces new dishes to their menu from time to time. They now have a pan fried version of their popular Shanghai pork dumpling. It even comes on a hot plate.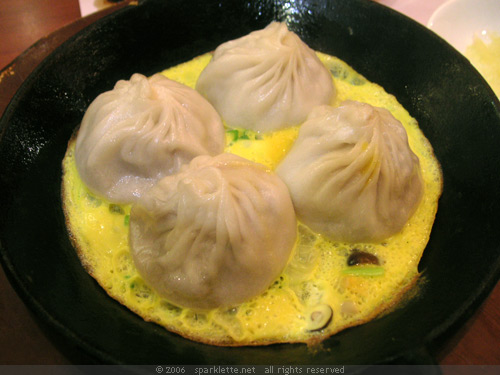 Pan Fried Shanghai Pork Dumpling in Hot Plate (铁板小笼包)
S$4.80++
Rating:





At $4.80 for four dumplings, it's also a fraction more expensive than the original Shanghai pork dumpling that costs $3.60 for four. Taste-wise I couldn't really pinpoint any difference between the two; they were both equally bland. It's just the usual xiao long bao sans the soup. Other than the fact that it came with egg on a hot plate, there wasn't any sign of this being a pan fried dish.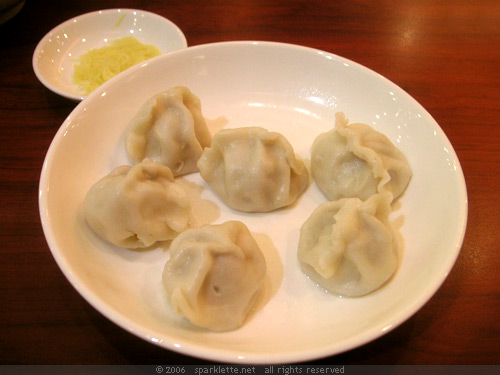 Beijing Pork Dumpling (北京水饺)
S$4.50++
Rating:





Obviously I'm not a huge fan of their Shanghai pork dumpling. As with previously, I very much prefer the Beijing pork dumpling. It had so much more flavour to its pork filling. It begs me to wonder whether the Crystal Jade chefs use any secret ingredient for their marinade. Oh those juicy dumplings. I love the way the yummy soup fills my mouth when I bite into one.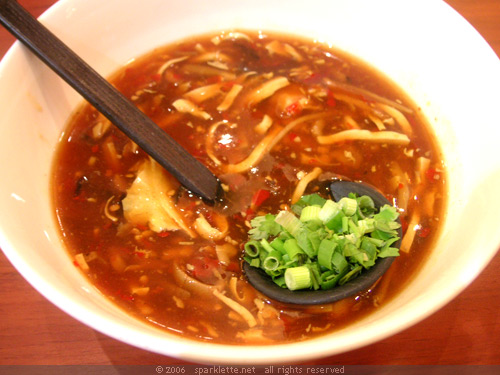 La Mian in Spicy & Sour Soup (酸辣汤拉面)
S$7.50++
Rating:





Ah… The best dish of the night had to be the la mian (hand-pulled noodles) – and I don't even like noodles! The noodles were nice and chewy but it was the spicy and sour sauce that made the dish. It was spicy with a touch of tang, yet not too hot at the same time. So people who don't take much chilli can eat this comfortably as well. The ample portion served ensured that we were kept full and satisfied.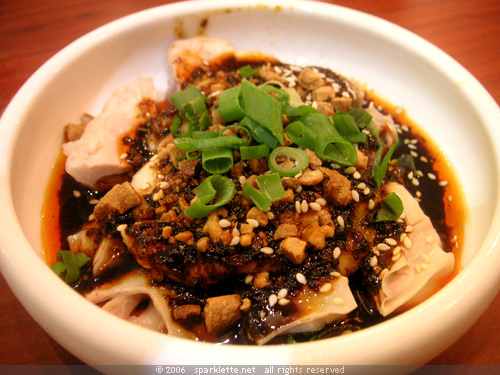 Steamed Chicken in Sichuan Style (四川口水鸡)
S$7++
Rating:





The Sichuan steamed chicken was served… Cold. I didn't notice this oddity until now. Did they steam it before cooling it? Or did they simply serve us the wrong dish? Come to think of it, the dish looked quite different from what was pictured on the menu. Nonetheless, I liked the tasty black sauce. It was very spicy and rich in flavour. But overall, this dish was hardly worth the seven bucks as the chicken portion was so small, with most of it being bone!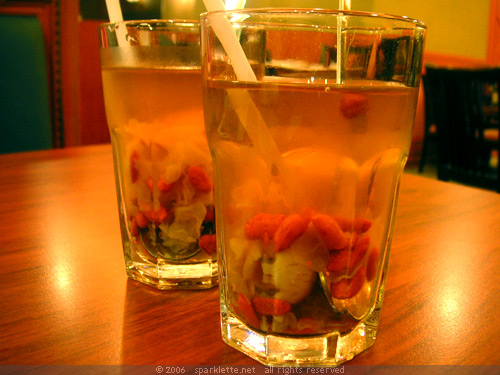 Longan Drink with White Fungi (龙眼雪耳糖水)
S$3++
Rating:





For drinks I highly recommend their home-made longan drink which is supremely refreshing and healthful. It also makes a good palate cleanser.
This marks yet another pleasant trip to Crystal Jade. One reason why I'll keep returning is that the food is consistently good (this does not include C-Jade Express, which sucks). The service is excellent. What I hate most about any dining establishment is having to wait a long time to be served. When I step into a Crystal Jade restaurant I am assured of a pleasant experience with ever willing waitstaff. And good food of course.
Crystal Jade La Mian Xiao Long Bao
(翡翠拉面小笼包)
– Ngee Ann City #04-27, Tel: 6238 1661
– Jurong Point #03-18, Tel: 6790 2212
– Great World City #02-43, Tel: 6738 5595
– Suntec City Mall #B1-028, Tel: 6337 6678
– 241/241A Holland Avenue, Tel: 6463 0968
– 470 Toa Payoh Lorong 6 #01-70, Tel: 6397 2383
– Bugis Junction #B1-04A, Tel: 6339 6902 Fax: 6339 6903
Website
Operating hours: 11am – 10pm daily