Back in my Junior College days when we didn't have much money, gatherings with friends were limited to meals at McDonald's. Only on special occasions, like when it's someone's birthday, would we enjoy the rare treat of dining at places like Fish & Co.
I remember there was once when a dozen of us crowded into the restaurant at Plaza Singapura. Shortly after sitting down to look at the menu, we had to make a rather embarrassing escape when we realised that we couldn't afford the food! Yes, back then a Fish & Co. meal seemed unattainable for us.
So, I think it's great news that they are making their food extremely affordable now! From Sundays to Thursdays between now and October 31, they are reeling in customers with the fabulous Autumn Seafood Sensation promotion. Four seafood dishes are now priced at just $9 each!
Their fish and chips is rumoured to be the best in town. With this attractive promotion, it's a great opportunity for everyone to put it to the test!
I did. So have they passed with flying colours?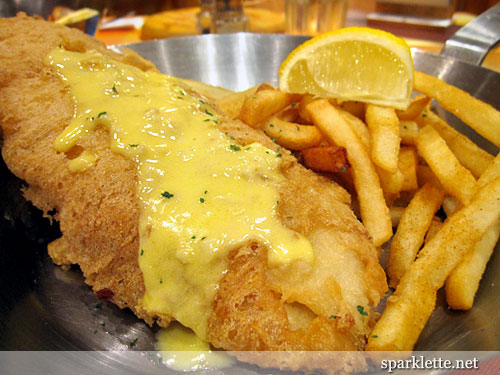 Swiss fish & chips
S$9++
Rating:





The restaurant chain is famous for their seafood-in-a pan concept, where the dishes are served in little pans (though I'm pretty sure they don't cook the food in them). Deep-fried to a lovely golden brown and topped with the signature garlic lemon butter sauce, the Swiss fish and chips certainly pass the initial looks test. The ample slab of dory fish helps a lot, too.
Still, none of that can prepare me for how awesome the batter is. It is one of the lightest, crispiest batter I have tasted, comparable to Japanese tempura! As for the flesh, it is tender, lightly salted and savoury throughout.
Look, it is even stuffed with Gruyere cheese!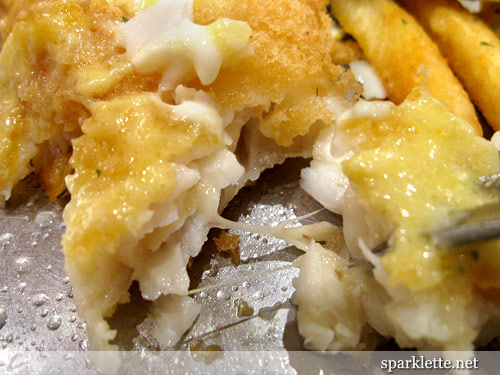 This is, without a doubt, one of the best fish and chips I've ever had. (Hmm… I find that I have been using that phrase a lot lately.)
Another place that claims to have the best fish and chips is The Manhattan Fish Market. I haven't had theirs before, but if it's similar to the deep-fried fish fillet that they serve in their Flaming seafood platter, then it pales in comparison to Fish & Co's.
Well, what do you think? Does Fish & Co have the best fish & chips?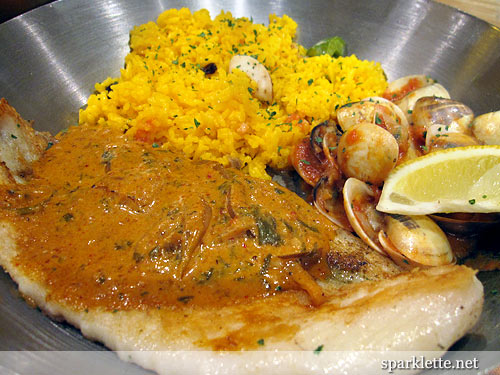 Thai's Deluxe Catch
S$9++
Rating:





One very flavourful dish included in the promotion is the Thai's Deluxe Catch. It comprises of grilled dory fish, served with paella rice and a pile of fresh clams cooked in succulent tomato sauce.
The thing that "Thais" it together is the red curry ladled over the fish. The curry sauce is thick and sour, a very different rendition from your typical sweet Thai curry. I guess this is the tom yam edition. It goes well with the rice, and every bite is bursting with flavour!
With the promotion, both dishes cost just $9++!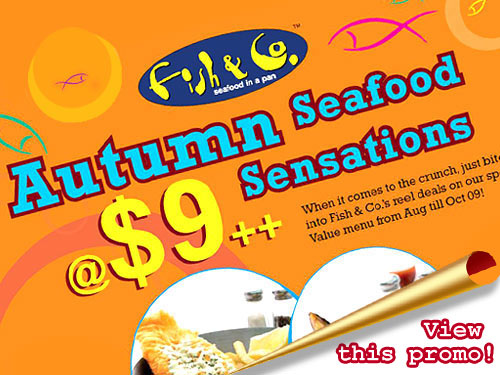 Click to enlarge
Terms & Conditions:
– Promotion is not valid at the Paragon and Ion Orchard outlets.
– Seafood baked rice is not available at the Jurong Point outlet.
– Promotion is valid from Sundays to Thursdays excluding eve and day of public holidays.
– Promotion is valid for all day dine-in only.
– Promotion is not valid in conjunction with any other promotions, discounts, privileges, vouchers, and/or offers.
I really like the fact that the promotion is valid on Sundays, too. For your next meal, take advantage of these $9 Autumn Seafood Sensations! You can pick from:
Swiss fish & chips
Seafood baked rice
Captain's Catch (barbecue sauce)
Thai's Deluxe Catch (red curry sauce)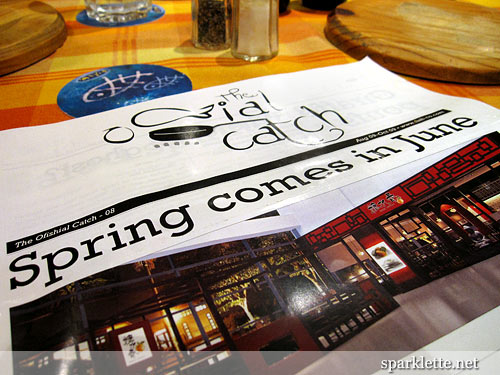 Aside from the food, I also notice that a copy of the restaurant's newsletter is placed on every table. The quarterly publication contains the latest happenings and promotions at all the restaurants operated by the same company (that includes Giraffe Bar, too). This way, customers have something to read whilst waiting for their food. That's a very cheap and clever marketing method! Another place that provides such light reads is tcc.
The newspaper-style design and the cute name really appeal to me. Can you catch what the name is?
Fish & Co
(

Halal certified
)
–
[email protected]
#B3-37/38, Tel: +65 6634 0478
– AMK Hub #02-03, Tel: +65 6555 6298
– Bugis Junction #01-90, Tel: +65 6338 2836
– Changi Airport Terminal 2 #03-058, Tel: +65 6546 4485
– Clementi Mall #04-33/34, Tel: +65 6659 0049
– Downtown East #01-40B, Tel: +65 6583 3039
– Glass House, The Park Mall #01-24, Tel: +65 6334 1858
– ION Orchard #B3-20, Tel: +65 6509 8259
– Jurong Point #03-34, Tel: +65 6898 4248
– NEX Mall #01-10/11, Tel: +65 6634 4230
– Novena Square #03-11, Tel: +65 6255 7001
– Paragon #B1-35/36, Tel: +65 6733 0938
– Sembawang Shopping Centre #01-01/02, Tel: +65 6481 9192
– Tampines One #04-11, Tel: +65 6260 0183
– VivoCity #02-116,Tel: +65 6224 3176
Website