I have never actually been to Science Park before until a recent job assignment gave me the opportunity. When my client suggested lunch, I was expecting a café or a canteen. I did a double take when I found ourselves at The BLooiE's Roadhouse Bar & Grill, tucked at the first level of the Aquarius in Science Park II.
The restaurant appears to cater primarily to the working crowd, as there was hardly any customer when we were there on Saturday afternoon. Sports games and world cup matches were shown on a number of television screens. Some of the staff were playing a few leisurely games of pool or chilling out at the bar counter. From the simple but tasteful design of the place, which includes a casual alfresco dining area, everything exudes a warm and upbeat atmosphere.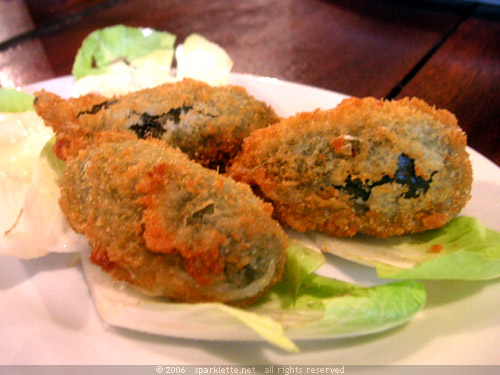 Stuffed Jalapeño Peppers
S$7+++
Rating:





For starters we had stuffed jalapeño peppers. The jalapeño was super hot and tangy and didn't taste too good. Obviously jalapeño is something that doesn't suit all tastebuds. That was my first time eating jalapeño and it would quite positively be my last; I didn't like it one bit!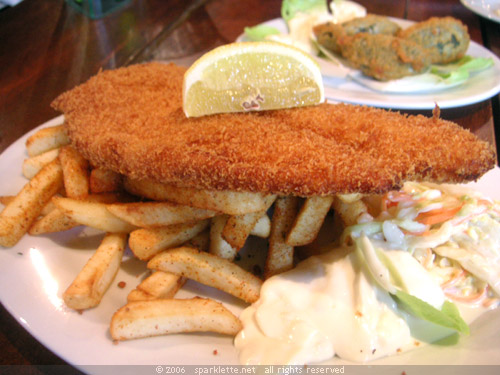 Fish & Chips
S$14.80+++
Rating:





Opting for a safer option for the main course, I ordered a fish & chips. It was a humongous serving of crusted fish fillet topped with lemon, served with an equally large portion of chips and a mound of salad and mayonnaise on the side. I couldn't finish the whole thing on my own! A pity the fish didn't taste as enticing as it looked; it was just all right for me. The chips had been cut pretty thick, and were less crunchy on the outside, fluffier on the inside. They were also less oily, and a healthier rendition of regular French fries. It's a good thing, although I would have liked them crispier.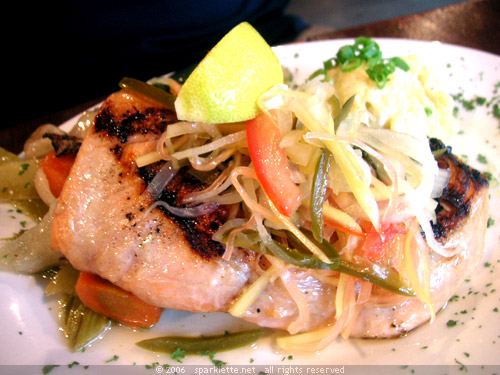 Crusted Salmon Fillet
S$20+++
Rating:





I must rave about the crusted salmon fillet. Once again it's another huge serving of fish that occupied the plate. Served with creamy mashed potato and greens, the fish was nicely seared on the outside, and pink in the centre. There was no evidence of any fishy smell and the salmon tasted so juicy and sweet! It was sublime, and certainly the best salmon I have ever eaten.
Oh yeah this is also the second place (I have noticed) that charges an additional 1% CESS.
Although the place is a little remote, The BLooiE's Roadhouse Bar & Grill would be a neat place to check out if you happen to be in the vicinity. There are three roadhouses spread across Singapore.
The BLooiE's Roadhouse Bar & Grill
Website
Science Park outlet
Science Park II
The Aquarius
21 Science Park Road #01-01
Singapore 117628
Tel: +65 6775 0446
Service:





Bus services: 10, 30, 51, 143, 183, 188, 200
Nearest MRT: Harbourfront
Opening hours:
11am – 12am (Mon-Fri)
11am – 1am (Sat, Sun & PH)
Siglap outlet
Siglap
49 Jalan Tua Kong
Singapore 457249
Tel: +65 6442 0030
Opening hours:
11:30am – 12am (Mon-Fri)
11:30am – 1am (Sat, Sun & PH)
Rail Mall outlet
Rail Mall
426/428 Upper Bukit Timah Road
Singapore 678053
Tel: +65 6766 1588
Opening hours:
11am – 12am (Mon-Fri)
11am – 1am (Sat, Sun & PH)