I recently took part in a mini contest by The Garden Slug… and won! Yes, even as we hold regular giveaways here on Sparklette, I occasionally join in a contest or two myself on other sites.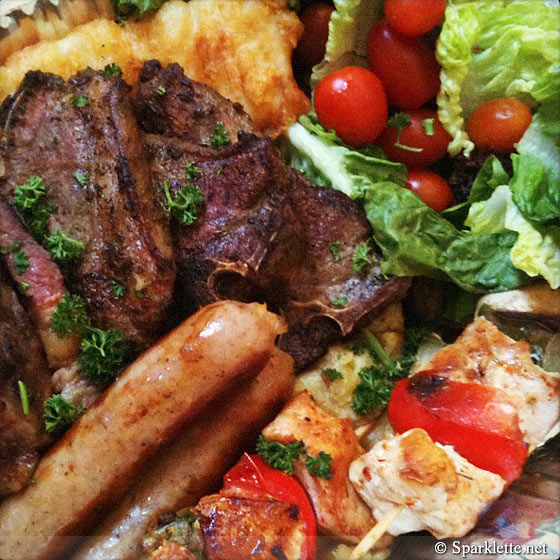 The prize is a fabulous barbecue platter for three. Some people were quite curious about it, so I thought it would be neat to feature it. The good news is that the platter is available on the restaurant's regular menu!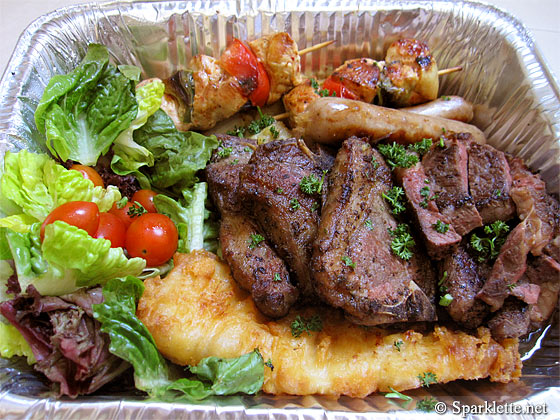 Ultimate Mixed Grill
S$55





The Ultimate Mixed Grill is best described as a treasure trove for the confirmed and committed carnivores. This platter includes:
Ribeye strips
Lamb loin (3 pieces)
Bratwurst (2 pieces)
Golden hake
Chicken kebab (2 pieces)
You can't see it in the photos, but the meats are set on a bed of mashed potatoes. Though it is meant for three (probably because there are 3 pieces of lamb loin), I find the portion ample enough for 4 carnivores.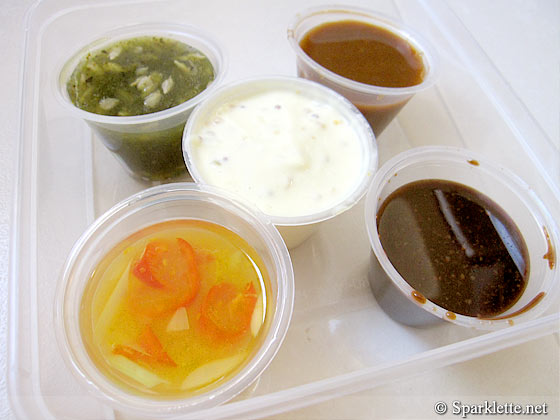 I love the fact that the slugs – that's what the staff at The Garden Slug are called – have included a total of 5 delicious dips and sauces to spruce up the meats (clockwise from top left):
Mint pesto with sunflower seeds (green chunky dip)
Light brown pepper sauce (peppery brown sauce)
Vinaigrette made with seeded mustard (black tangy sauce)
Zesty dressing (citrusy oil-based sauce with slivers of lime leaf, lemongrass and chilli)
Tartar sauce (white dip with bits of gherkin)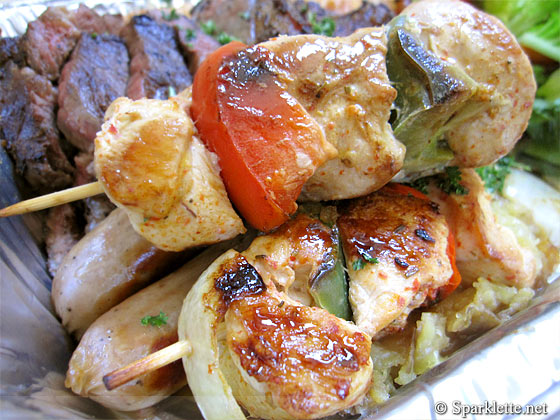 The chicken kebab features skewered chunks of succulent breast meat alternated with red and green peppers. The meat boasts a nice subtly smoky flavour.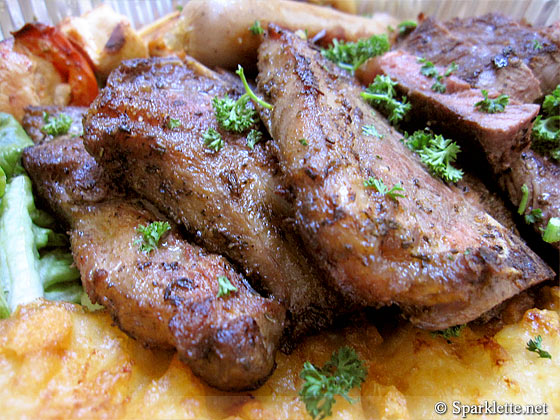 What dedicated carnivore can resist the considerable temptation of the grilled lamb loin and ribeye strips? The meats are a touch overdone though and hard to chew. I prefer the fish fillet, perfectly fried to a golden crisp and pairs well with the tartar sauce.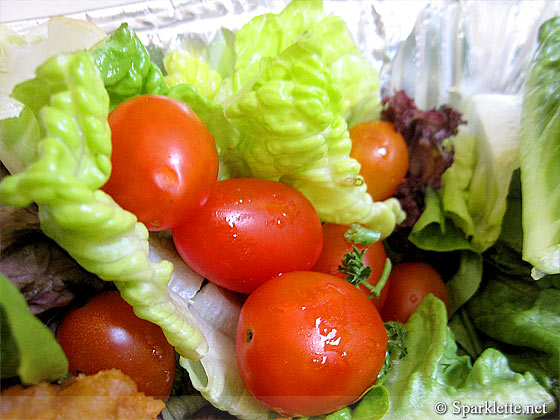 By the time we are done with the meats, it almost feels as though we have meat sweats! Luckily, there is also a side of crispy green salad with raw vegetables and sweet cherry tomatoes to counter the meats.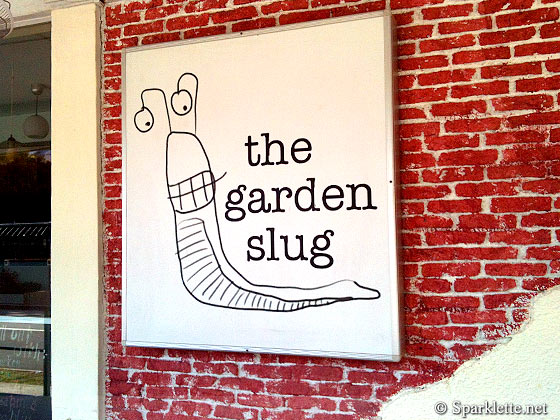 Ready to unleash your inner carnivore? Head down to The Garden Slug where you can dine in or order this as a take-away platter. It'd be a good idea to let the staff know 2 days in advance so that they can prepare the mega platter for you.
Have Your Say!
Where do you go to indulge your inner carnivore? Share all your thoughts via Facebook or Twitter or by leaving a comment!
The Garden Slug
Bright Centre
55 Lorong L Telok Kurau #01-59/61
Singapore 425500
Tel: +65 6346 0504 |
Website
Opening hours:
Mon & Tue: 6pm – 10pm
Wed & Thu: 10am – 10pm
Fri, Sun & PH: 9am – 10pm
All parents want to their kids to be safe and sound without intruding into their lives too much. Here at SpyPhoneMax we offer the reviews of the best mobile tracking applications. You will be able to compare and choose the most suitable app for your needs. Know Everything That Happens on A Computer or Smartphone, No Matter Where You Are. Check for TOP 10 Mobile spy apps right now!