We had dinner yesterday at The Manhattan Fish Market, over at Plaza Singapura. The queue seemed never-ending and we wouldn't have gotten in if not for our advanced reservation. Even whilst dining, we could see that the queue was growing outside with new people joining incessantly. Such was the draw of The Manhattan Fish Market!
I have been very curious about this place for some time. But as mentioned before, I have never dined there until now due to the fact that the queue is always so long! It was really great that I finally got the chance yesterday.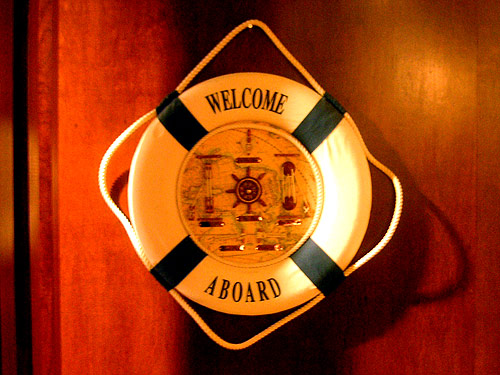 The origins of the restaurant seem quite peculiar to me. Over 180 years ago, the actual Manhattan Fish Market opened under the Brooklyn Bridge over at Manhattan. So eventually, restaurants were started, which I thought would be all over the United States. But surprise, surprise, the restaurants can be found only in Malaysia and Singapore. From the brisk business, I predict the Plaza Singapura outlet won't be alone here for long. (Update in 2010: 8 outlets in Singapore and growing!)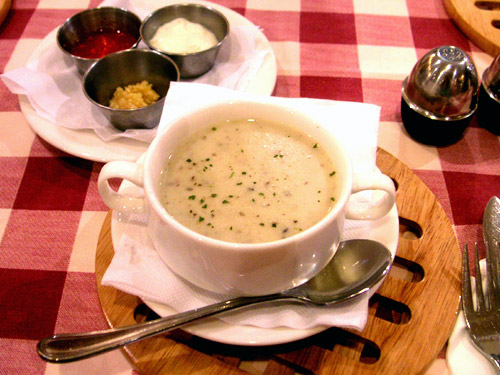 Soup of the day was cream of mushroom soup, which was rather bland.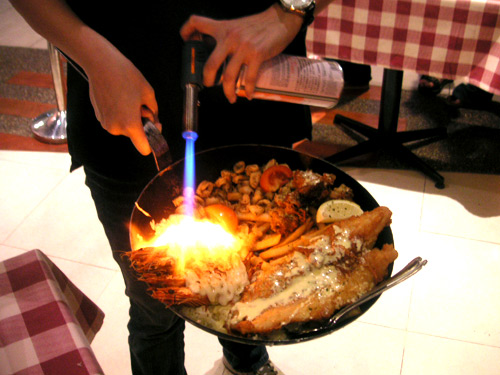 We ordered the Manhattan Flaming Platter for two, comprising deep fried fish fillet, calamari, oysters and prawns served with chips and garlic rice. It certainly did not disappoint. True to its name, it came in flames, literally, drawing curious stares from all those queuing outside.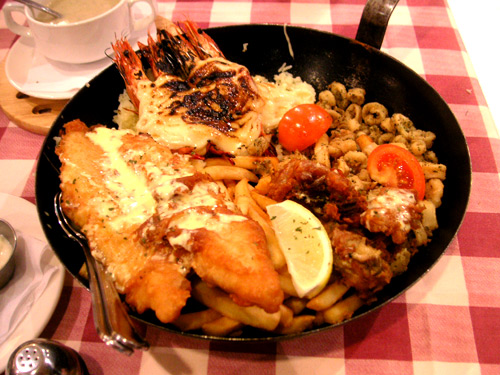 Flaming Platter for Two
S$29.90++
Rating:





The platter was a huge serving even for two people. Unfortunately, most of the food was fries and garlic rice. The rice was delicious though, owing much to the garlic cream. I loved the prawns too, which were obviously very fresh. The fish fillet was fresh and tender too, but could have done better with more taste to it. The calamari and oysters were so-so.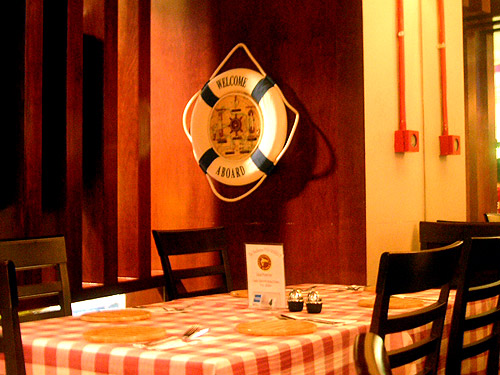 Service was very prompt and efficient. The people who served us showed no signs of irritation or impatience despite our frequent requests ("Could you bring us garlic cream?" "Could we have chilli sauce?") on a very busy evening. Our waitress in particular was super helpful and polite.
The decor of the place didn't seem much at first. But if you look closely, you would find that they paid much attention to their wall hangings. I find this knotical weather guide really adorable.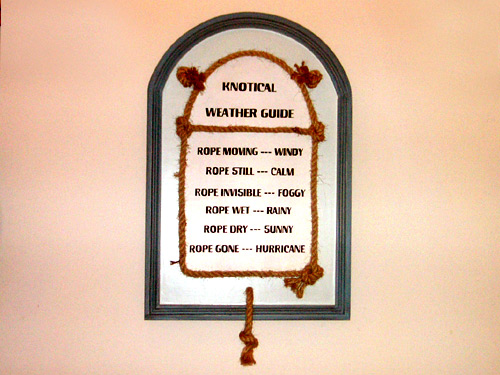 Overall, I enjoyed the food and the service, and would love to go back there again. And I would be sure to make reservations to avoid the long lines.
The Manhattan Fish Market
(

Halal certified
)
– Bedok Point
– The Central
– City Square Mall
– Iluma
– Junction 8
– Marina Square
– Northpoint
– Plaza Singapura
– White Sands
Website