So, I finally got a chance to dine at the Giraffe Restaurant and Bar over at Istana Park. It's not the food that draws me, but the chic look of the place. Housed in a double-storey glass building amidst water and greenery, diners are nicely isolated from the bustling weekend crowd in town.
You enter the restaurant on a raised glass platform with water flowing beneath your feet. Right away the first impression shouts modern chic. You would notice that the sleek decor encompasses a large use of glossy glass. There's both indoor as well as alfresco dining that overlooks a pool of water. On the second storey there are a couple of lounges and a small darkened balcony area. Perfect for couples.
The non-alcoholic drinks menu isn't an extensive one since it's more of a chill-out bar than restaurant. I simply ordered a coffee.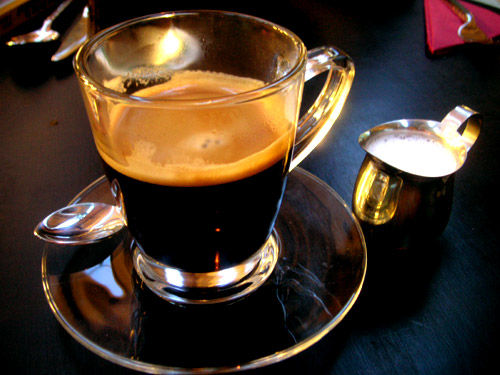 Coffee
S$5.90++
Rating:





As for the food, they had some chicken, meat, seafood and pastas. I had chicken schnitzel which is herb crusted chicken fillet served with preserved lemon, mushroom and mornay sauce. It's really just a more ostentatious form of the Western chicken cutlet.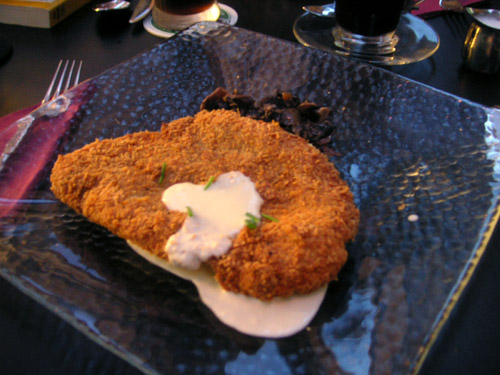 Chicken Schnitzel
S$18.90++



It took three waitstaff to serve each dish. They would bring the two plates of food along, set up this makeshift stand right beside our table, set the two dishes of food atop the stand, before finally bringing the food over from the stand to our table and dismantling the makeshift stand. I didn't mind waiting the extra thirty seconds, but I really didn't see the point of it.
After a belly full of chicken I almost left the place with my sweater left on my seat, if not for the alert staff. Giraffe definitely boasts a striking ambience with wonderful service to boot.
Giraffe Restaurant and Bar
Istana Park
Orchard Road
Singapore 238823
Tel: +65 6334 4653
Service:





News updates
February 3, 2007: My list of Best (& Worst) Restaurants in Singapore for 2006
– Winner of "Best Ambience"
– Runner-up for "Best Service"
– Nominated for "Best Design"