I have been contemplating whether to spend any time blogging on The Mushroom Pot. My dining experience at this restaurant was so excruciatingly bad I didn't really want to remember it, much less write about it. But then I decided – because it was so bad, all the more I have to warn my readers about this place! So here goes.
We were at the Singapore Indoor Stadium for the Coldplay concert. With time to kill before the concert started, we decided to have dinner at The Mushroom Pot. When it comes to dining at the stadium there isn't much of a choice. Among the few restaurants there we thought The Mushroom Pot looked the most interesting.
Little did we know that we were in for a great disappointment. I have only harsh words for this place.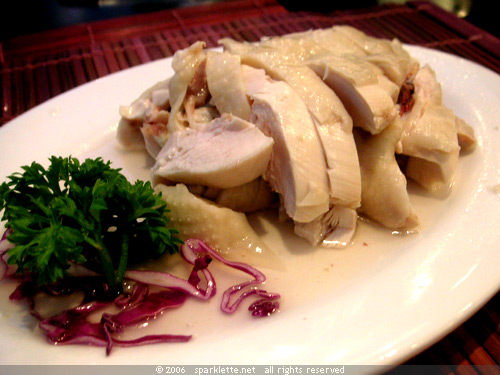 Drunken Chicken (醉鸡)
S$8++
Rating:





Take a dish like the drunken chicken. As its name suggests it is supposed to be chicken marinated in wine or some form of liquor. What was served was simply regular chicken with absolutely no hint of any liquor flavour. The chicken looked no different from what you get at hawker centre stalls! I don't know what's worse – the huge chunks of bone and fat that came with the chicken, or the absence of any liquor that it's supposed to be drenched in. It was a complete sham!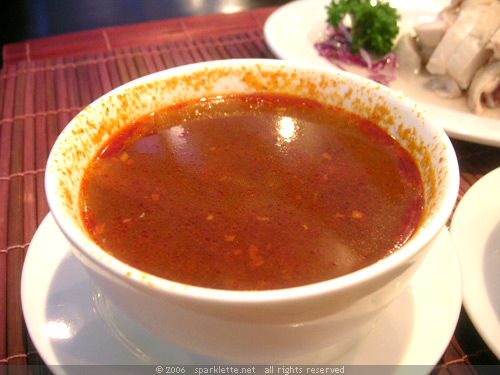 Wild Mushroom Tom Yum Soup (野生菌泰式酸辣汤)
S$8++
Rating:





For a restaurant that specialises in mushroom dishes, their mushroom soup is certainly nothing to shout about. The wild mushroom tom yum soup was served with some thin slices of mushroom in the mix. The soup itself was thin, and way too spicy and sour. It left a bad impression immediately.
The not-so-drunken chicken and over-the-top-sour tom yum soup were just the appetisers. Our main course of crispy squid with wasabi sauce was not served until at least half an hour after we were done with our appetisers! The long service time was disgraceful. To add to the damage they served us the wrong dish a couple of times. By the time they finally got it right, we were almost late for coldplay!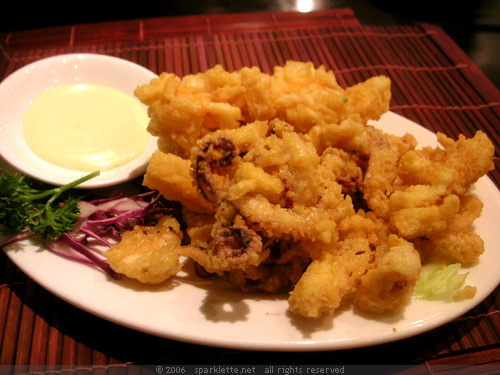 Crispy Squid with Wasabi Sauce (芥末花枝)
S$12++
Rating:





The only good word I can put in for this horrible restaurant is that I actually liked the crispy squid. The pieces of calamari were coated with a light, tasty batter deep-fried to a crisp. The accompanying wasabi sauce provided a fun twist and gave much zest to the dish. Unfortunately we simply didn't have much time to savour the calamari.
Even when it came to payment, the people handling the cash register didn't seem too familiar with it. Here we were, already ten minutes past 8 and late for the concert. I don't know how difficult it is to work the machine but somehow the cashier had to take at least five minutes to process each payment.
There were many angry faces in the queue as virtually everyone was there for Coldplay. We were all late because of the slow service! Why on earth were there so few waitstaff on a night like this? With a huge act like Coldplay performing that night (something the restaurant would have known a couple of months in advance), they should have been fully prepared to handle the large influx of customers.
I was not surprised when I saw several lines of additional charges in my receipt. $1.50 for the house appetiser that we didn't get. $0.60 for the serviettes. $3 for the hot Chinese tea. And $2 for the plain white rice. Another 10 percent for the absolutely lousy non-service. I'm never ever setting my foot in that place again.
Stadium outlet
Singapore Indoor Stadium
Singapore Indoor Stadium
2 Stadium Walk #01-02
Singapore 397691
Tel: +65 6342 3320
Service:





Orchard Point outlet
Orchard Point
OG level 4
160 Orchard Road
Singapore 238842
Tel: +6733 9910
News updates
February 3, 2007: My list of Best (& Worst) Restaurants in Singapore for 2006
– Winner of "Worst Restaurant of the Year"