I have been missing Niqqi's the Cheese Prata Shop ever since graduating from NUS. All NUS staff and undergraduates, especially the hostel residents, would no doubt be very familiar with the eatery. As it is open 24/7, this is a popular place to grab late night supper. When I paid a visit to NUS recently, I made use of the opportunity to pop by here for my favourite roti john.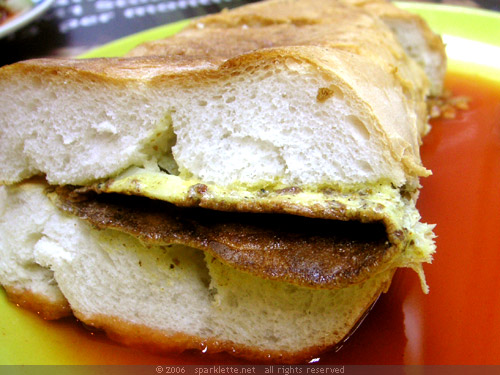 Roti John
S$2.50
Rating:





French bread is typically used in roti john. It is pan-fried in beaten egg mixture and onion so that it gets crispy on the outside. The cheese prata shop serves an ample portion of the bread along with a generous serving of sweet chilli sauce. Very savoury and satisfying! One serving is already enough to make a full meal!
For those of you who love the simple yet delightful roti john, here's a bit of the history behind it.
The origins of roti john can be traced back to 1976. A man named Shukor ran a stall in Taman Serasi Hawker Centre, opposite the Singapore Botanical Gardens. At that time, his Caucasian expatriate customers (always addressed as "John! John!" regardless of their actual names) frequently ordered onion omelettes along with French bread. It got so popular that Shukor decided to fuse the two together.
And that is how roti john came to be, affectionately named after Shukor's foreign clientele.
Locals grew to love this humble dish as well, which has clearly stood the test of time. It was named one of the 15 Singapore hawker legends by Makansutra in 2005.
I have yet to try out Shukor's legendary roti john. Today, the stall is run by his daughter at Serangoon Garden Market and I would love to pay a visit one day! Despite being an ubiquitous dish, a good roti john is hard to come by. Most hawkers can't get it right; either the French bread isn't properly prepared, or the wrong kind of chilli sauce is used.
Sometimes chicken or tuna is also added but I still prefer roti john the way it's meant to be – plain and at the same time oozing with rich egg fragrance and onion flavour. Oh and the chilli sauce has to be sweet and served in a large quantity for this dish to be properly enjoyed.
So what goes well with roti john? A piping hot glass of teh tarik ("pulled" tea) of course!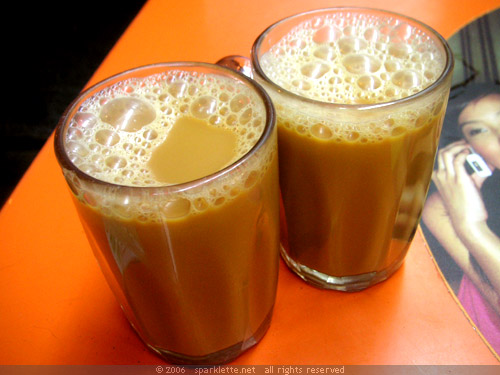 Teh Tarik ("Pulled" Tea)
S$0.80
Rating:





It is a shame that the drinks here are really mediocre. Teh tarik is supposed to have a frothy top from repeated "pulling". But the guy who pulled the tea must have gotten tired of doing it. There was little froth on our teh tarik.
Even the Milo Dinosaur isn't made the right way. It should be a saturated Milo drink topped with a generous heap of Milo powder. Instead, noticeably little Milo powder is used, resulting in a very watered down Milo that is nothing like what Milo Dinosaur should be like.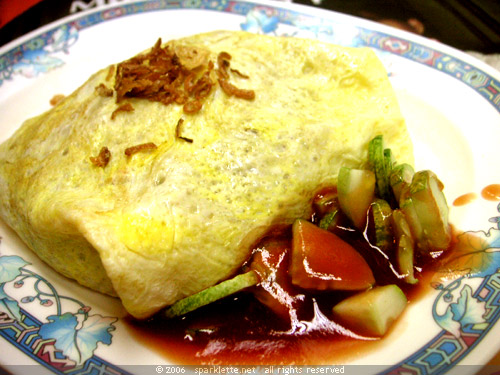 Maggi Goreng Pattaya
S$4.00
Rating:





An interesting dish worth mentioning is the Maggi goreng pattaya. We often come across nasi goreng pattaya. This Maggi version, however, has Maggi Mee substituted for the rice. I didn't really fancy it though.
No matter how much I love their roti john, I have a major complaint about the service over here. At any one time they have a dozen staff on duty, yet service is always slow! We were there on a weekday evening when they didn't have many customers. Most of the staff were standing around and chatting with one another. Each time we asked for someone for help, he would say "wait" and point to another guy. This went on for about 15 minutes before we finally had our orders taken! Such tardiness can get real frustrating when you are hungry or in a hurry.
They should have a warning sign somewhere that reads: Niqqi's the Cheese Prata Shop – not for people on the move!
Niqqi's the Cheese Prata Shop (

Halal certified)
16/18 Clementi Road
Singapore 129747
Tel: +65 6872 1030
Open 24 hours
News updates
February 3, 2007: My list of Best (& Worst) Restaurants in Singapore for 2006
– Nominated for "Best Hawker Stall"