I have reviewed many restaurants in the past year, and it took me one full month into 2007 before it finally hit me that I should have a "Best of" list! Rather than let the good restaurants go forgotten, I have awarded little doughnut trophies to the best ones around, complete with various different awards!
When I started this, my intention was to have just a few basic categories such as Best Food, Best Service, Best Ambience, etc.

But soon I got carried away and came up with more categories such as Best Hawker Stall and Best Hidden Gem! They even have nominees a la Oscars!
Rules: All winners are determined by me, obviously. The judge's (my) decision is final. All disputes would be ignored. Each winner gets a little doughnut trophy that I have made with love (I meshed a frosted doughnut with a world cup trophy), and a chance to thank me by offering me a free meal!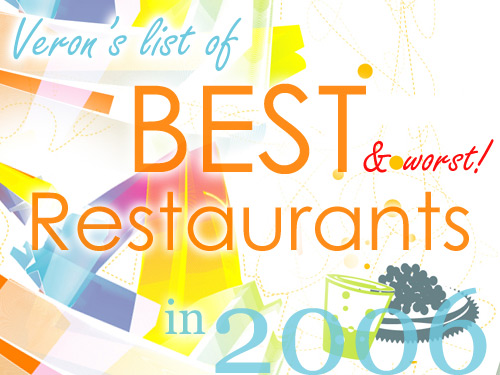 Disclaimer: I know there are many other good and perhaps even better eating establishments out there that I have not included. But the only eligible ones are those that I have actually visited in 2006. So please don't come asking me why I didn't include this particular restaurant and that particular restaurant.
All restaurant descriptions would be brief since I have already written full reviews previously. All included links lead to my past reviews that you can read as you go down the list!
Check it out!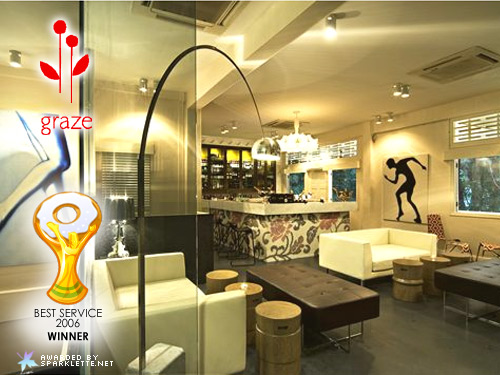 graze wins the best service award for having a team of very professional waiters and waitresses that actually know their stuff. Have you ever visited a restaurant where you asked for recommendations, the waiter(ess) simply pointed to the food items on the menu that are highlighted with the little chef's icon (as if you didn't already know)? Or worse still, recommended something that was hideous!
Well, not at graze. The staff here are well-versed in the food menu. More props to them for being highly attentive and dedicated to the diners.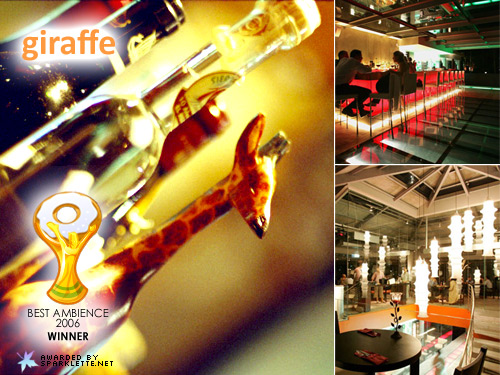 For me, the ambience of a restaurant is very important especially if I was going to spend a couple of hours in there. Giraffe trumps all the other restaurants in this area. Built mostly out of glass, this place oozes chic and style! It gets cozy at night with candle lights, lounges, and even a private garden!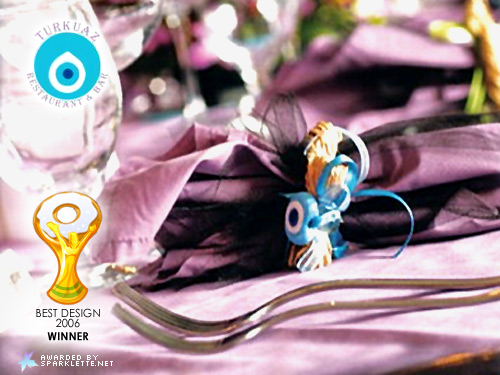 Being a designer, I am a stickler for beauty and all things pretty. There are a number of stylish-looking and beautiful restaurants, so it's difficult to pick one that looks the best. Beauty is so subjective!
I chose Turkuaz in the end. Not only is the restaurant very uniquely and beautifully decorated, its lady owner has such an eye for detail that even the smallest thing, such as a napkin holder can look so pretty!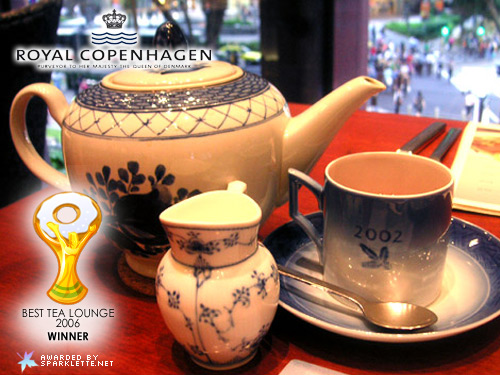 As most of you already know, I am so not a tea person. Yet I can't deny that there are enough quaint tea boutiques out there that they really do deserve a category of their own! I happen to like all four nominees. But since I have to pick one, I'll go for Royal Copenhagen. They serve not just good tea, but good tea served in expensive tableware.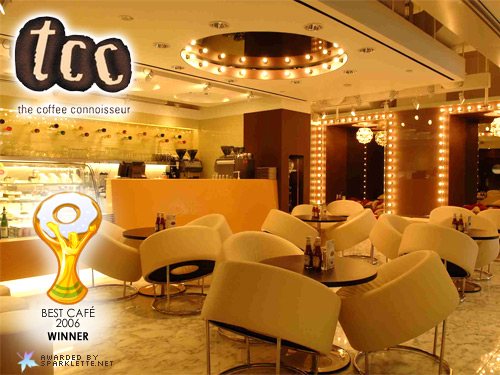 I have been a faithful customer ever since the tcc chain started four years ago. Being a coffee lover, I am drawn to their huge selections of the various types of coffee. My favourites include the Blue Mountain coffee and Java Arabica. Besides the wide coffee range, tcc also serves yummy food and desserts. The service is almost always worthy of a five-star rating that puts the other coffee chains to shame.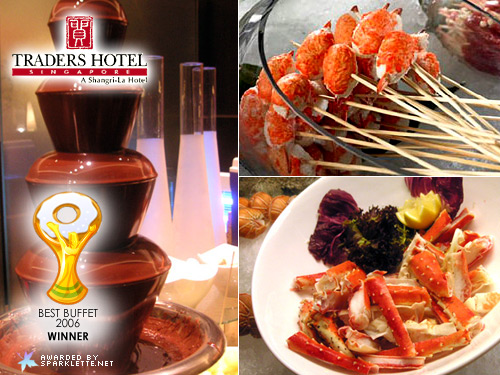 A good buffet comprises of 1) a huge spread of food, 2) quality on top of quantity, 3) regular replenishments of food 4) prompt clearing of plates and good service 5) a chocolate fountain! Cafébiz at Traders Hotel has all five and more – actual lobsters and crabs. Yum!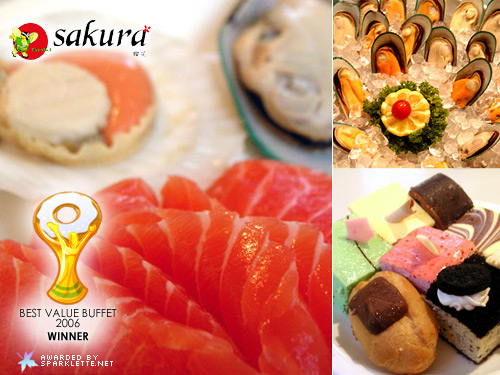 While most good buffets tend to be rather expensive, there are some that offer much value for money; you get decent food without having to burn a hole in your pocket! Sakura offers a delectable buffet spread with a range that probably surpasses any hotel buffet! The best part? It doesn't even cost more than 30 bucks per person for a weekend dinner buffet in town!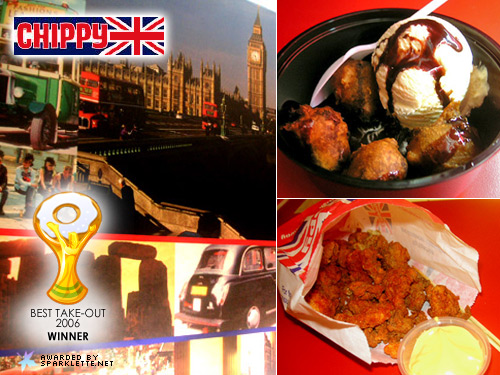 Take-out food outlets are ubiquitous. They ensure that those of us who are in a hurry need not hurry about on an empty stomach. Having to choose between Chippy British Take Away and Pret a Manger for the best take-out award was a tough call. Both coincidentally originate from Britain. In the end I picked chippy because their cheesy curry chicken is really something to die for. Plus, extra brownie points to them for having fried Mars Bars!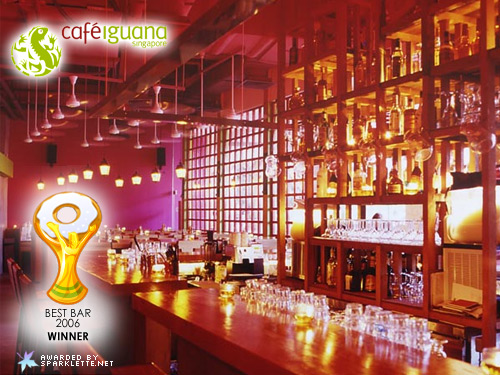 I frequented quite a number of pubs last year. The Balcony Bar looked promising when it was newly opened. Sadly, the place now looks like it badly needs a scrub, especially around its once comfie sofa-beds. My vote for the Best Bar of 2006 goes to Café Iguana for having the most vibrant atmosphere, a very diverse collection of liquors, and for generously giving me free drinks all the time.
Okay, so what if I'm biased?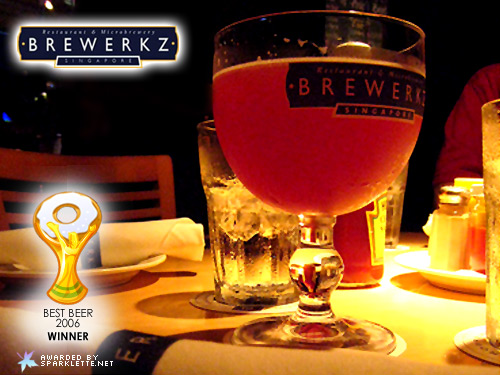 My perpetual beer-binging spirit these days has led me to hang out at Brewerkz quite a bit. I haven't tasted a single beer from here that I didn't like! I heard there's this beer place at Millenia Walk too. Until I check out that place, Brewerkz holds my doughnut trophy for serving the best beer.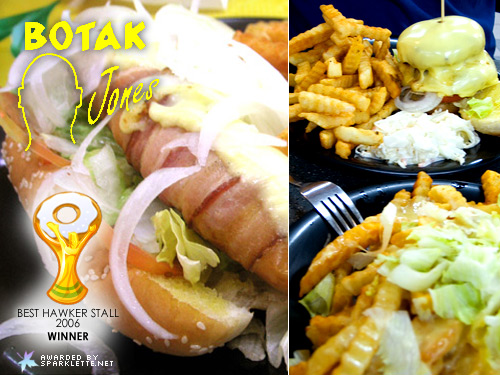 I'm a firm believer that the best and most authentic Singapore food is found in hawker centres. 4 out of the 5 nominees are stalls I have frequented for a few years, so they are all very good and very consistent.
Botak Jones is a place I discovered just last year and has wowed me to no end. Their American-sized portions of burgers, steaks and hot dogs are a huge draw with the crowds, with people willing to wait an hour for their food!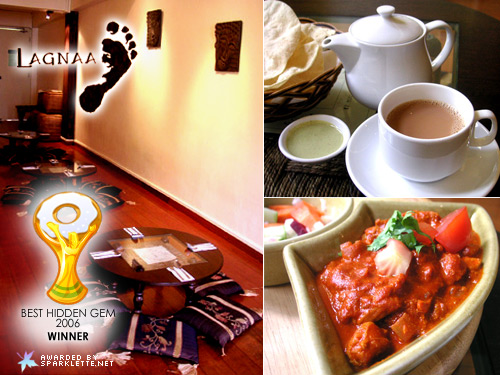 Hidden gems are the good restaurants that most people do not know about, mainly due to a poor location and lack of publicity, which is why I'm here to help! I fell in love with Lagnaa and its unique bare foot dining concept some months back. Ever since then, I have religiously recommended this North Indian restaurant to many of my friends. It's a pity that some people can't bring themselves to stomach North Indian cuisine, which in my opinion has the most colourful and vibrant tastes among all foods.
Eclectic Attic is another hidden gem. Although it is smack right in the middle of Plaza Singapura, undoubtedly one of the busiest and most crowded malls in Singapore, most people haven't realised that it has a cozy café within that is excellent for high tea.
And now, finally, I bring you the best restaurants of the year 2006!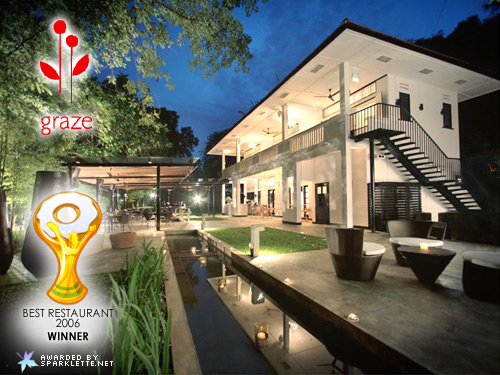 graze has been mentioned and raved about a number of times in my blog, and yet it's only been a short one month since I first knew of the place! Everything about graze is awesome, be it the food, ambience or service. I have no complaints! graze is the only eating establishment to grab two of my precious doughnut trophies – Best Service and Best Restaurant of the Year.
Congratulations, Aussie head chef Matthew Lawdorn. You have done an excellent job!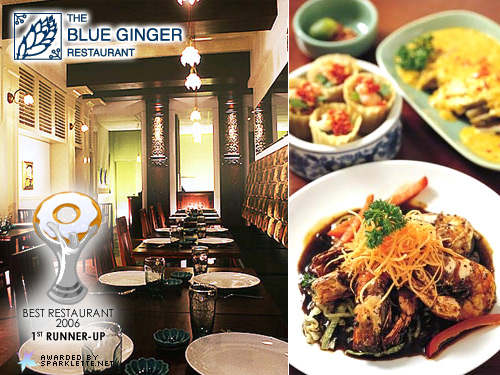 The runner-up for Best Restaurant of the Year is Blue Ginger, a Peranakan place. It's been months since I dined there, yet the taste remains vivid. It's not very often when you go to a restaurant for the first time not knowing exactly what to order, and end up liking every single thing you ordered. But that's exactly what happened with me at Blue Ginger!
After the slew of outstanding restaurants, who's game to enter the hall of shame? I bring you, the scum of the pack, also known as the Worst Restaurants of the Year!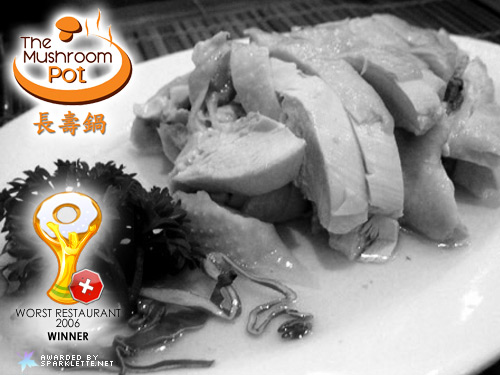 Damn! It's been more than half a year since I went to the Mushroom Pot at the national stadium. I wouldn't have been there if not for the coldplay concert (which was awesome, by the way). My blood still boils at the extremely bad service and mediocre food, and I wouldn't even bother wasting more time and breath describing my horrid experience.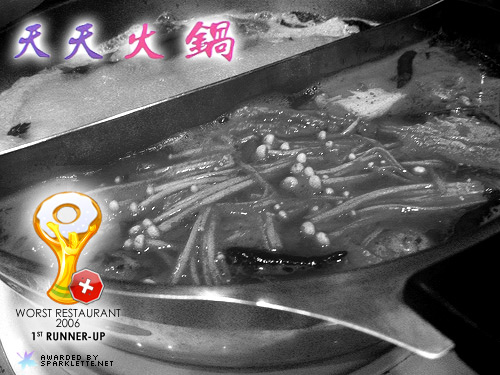 With Chinese New Year just around the corner, many families would be looking for a nice steamboat restaurant to dine at. Tian Tian Huo Guo a.k.a. Happy Pay Steamboat (I cringe as I type that) has been advertising aggressively on television in recent days, which is why I must warn everyone that dining there is a really bad idea. What kind of steamboat restaurant charges for soup? It's like buying a book and being made to pay additional for the pages inside!
Interestingly none of the winners are Chinese establishments, while both the Worst Restaurants of the Year are. Coincidence? This has been a rather lengthy post for what is meant to be just a summing up of things. I hope you guys find this useful!
Update: Singeo has done up a nice map with the geographical representation of all winners and nominees.