umisushi, known for its Japanese quick service foods in Singapore, is presenting a range of Chinese New Year dishes with a little touch of Japanese this festive occasion.
The great news is that you can conveniently place your order online and have these goodies delivered right to your doorstep over the holidays. We tried out the home delivery service on a Friday evening. Our order arrived on the dot, fresh and all ready to be served!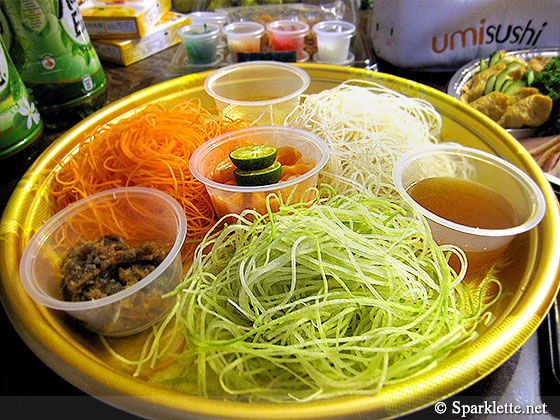 umi Yusheng
S$38.80 for regular (8 slices of salmon) / S$52.80 for large (16 slices of salmon)





The umi Yusheng is a Chinese New Year must-have. Included within the set are chilled salmon slices, colourful vegetables, plum sauce and the special ingredient of crispy fried salmon skin, which adds a unique Japanese twist to this Chinese dish.
Note: We have an ongoing Chinese New Year giveaway for 3 sets of umi yusheng.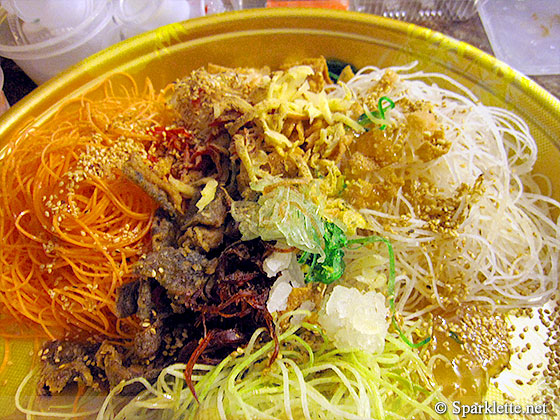 To help you clean up easily after the tossing fun, umisushi has provided a free giant placemat with each yusheng. The colourful placement also doubles up as the old school "snakes and ladders" game board to usher in the Year of the Snake!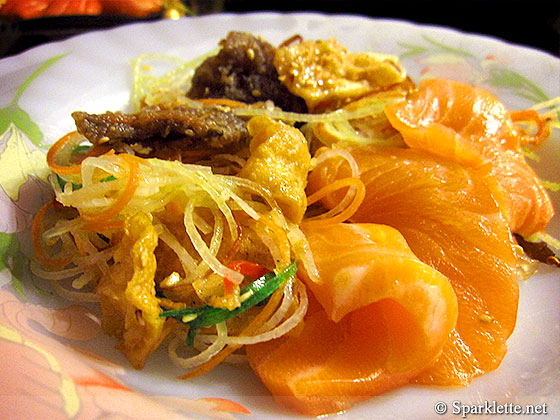 And here's the aftermath of our lo hei. The salmon slices are fresh and delicious! Our only gripe is that there is not enough sauce or golden pillows, which would have made the yusheng even more enjoyable.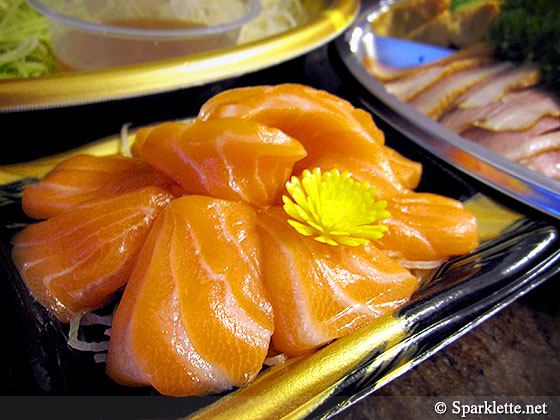 Salmon sashimi
S$12 / S$18 for delivery on 10-12 February 2013





If you require more salmon, you can order an additional serving of salmon sashimi.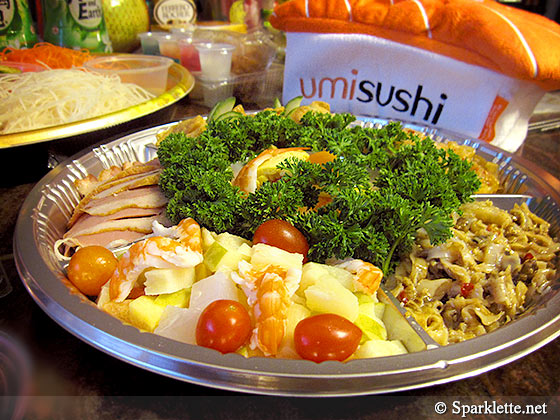 Treasure Platter
S$48.80 / S$58.80 for delivery on 10-12 February 2013





An absolute personal favourite is the Treasure Platter, which tantalise the palates with six different cold dishes: smoked duck slices, ebi cocktail salad, chilled marinated scallop wings, chilled marinated jellyfish, inari (sweet beancurd), and tamago ebi slices.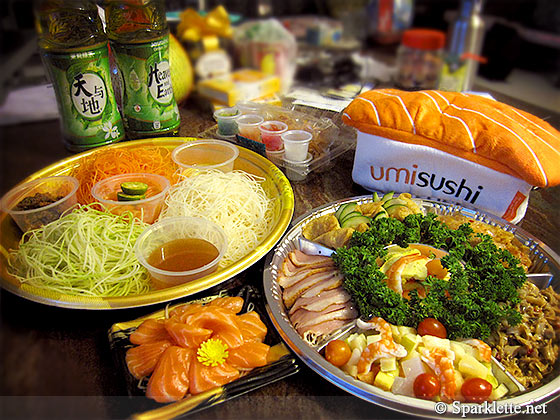 Prosperity Combo
S$62.80 / S$78.80 for delivery on 10-12 February 2013
All the aforementioned dishes are available in the Prosperity Combo, which offers more savings as compared to ordering each dish separately. Plus, it comes with two bottles of Heaven & Earth green tea and a limited edition plush umichan tissue box cover.
Have Your Say!

Loading ...
What is your favourite dish at Chinese New Year? Share all your thoughts via Facebook or Twitter or by leaving a comment!
umisushi
Delivery: +65 6265 5545 |
Website