Persimmon at Link Hotel is a unique restaurant with a menu peppered with creative concoctions. The cuisine is East meets West, or rather, European meets Singaporean. Think dishes like ribeye with chai tau kueh (fried carrot cake) and laksa linguine. Are you intrigued yet? I thought so.
Fusion food like these either work or they don't. I was so bowled over by what I had, I just had to tell all my dear readers about it. But besides blogging my usual review, I decided to do one better.
Together with restaurant co-owner Helena, I have created an exclusive Sparklette set dinner for you! I even managed to convince Helena to let me cram 4 courses into 1 meal at a heavily discounted price. Because you're privileged Sparklette readers, simply mention "Sparklette" at Persimmon to enjoy:
Sparklette set dinner – 4 courses for $35 (includes drink too!)
15% off ala carte menu (all day)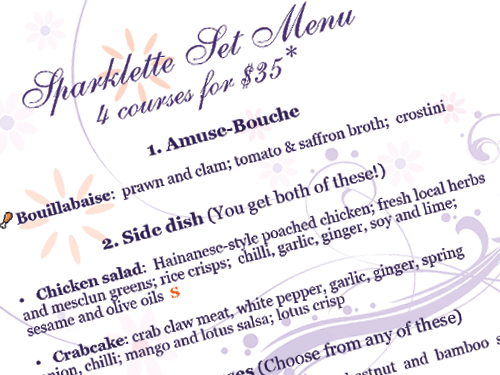 Download and print the Sparklette Set Menu
Print out the menu. Stick it to your fridge. Bring your date there!
For now, here's my review of the goodies you would get to feast on!
---
The first course of any meal should be something that titillates your tastebuds and really opens up your appetite for the rest of the meal. I have picked the flavoursome bouillabaisse to start off the Sparklette dinner.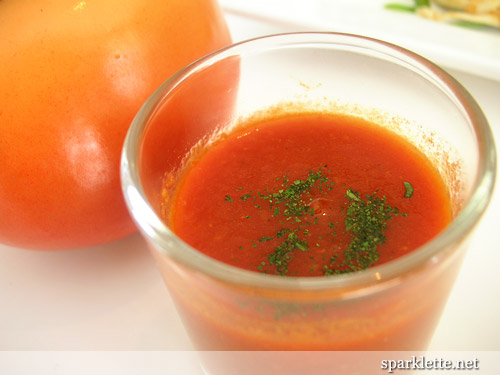 Bouillabaisse
Part of $35 Sparklette Set Menu
Usual price: $22
Rating:





As a fan of seafood, I like this one very much. The bouillabaisse is a robust tomato and saffron broth infused with the seafood tastes of prawn and clam. The result is a delightful mix of sweet and sour flavours. When I had this for the first time I felt like I had been transported to the French seaside!
---
Our second course is a specially-created platter that consists of two of Persimmon's signature dishes in smaller servings. I really want you to be able to try these out without having to fork out too much $$$ to order the regular portions.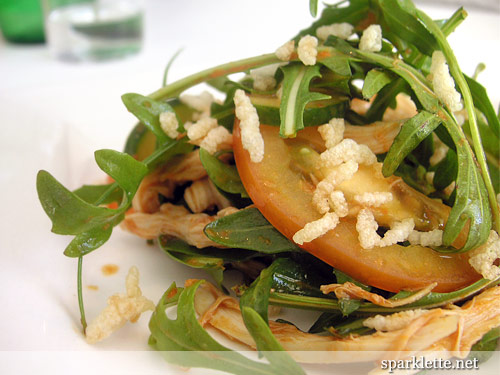 Chicken Salad
Part of $35 Sparklette Set Menu
Usual price: $12.50
Rating:





A favourite local dish of mine is Hainanese chicken rice which, as we all know, is extremely calorific, no thanks to the chicken oil that is used to cook the rice. Persimmon has created a healthier version with all the original flavours, minus the oil and the fat. Sounds too good to be true? I assure you it's not :)
The twist is that this is now a chicken salad. The shreds of tender chicken flesh still retain the fragrance of Hainanese chicken rice with flavours of chilli, garlic, soy sauce, lime, sesame and olive oils. Notice the little rice crisps? They are baked rice! This salad has all the yumminess factors of the Hainanese chicken rice, and still manages to keep itself original.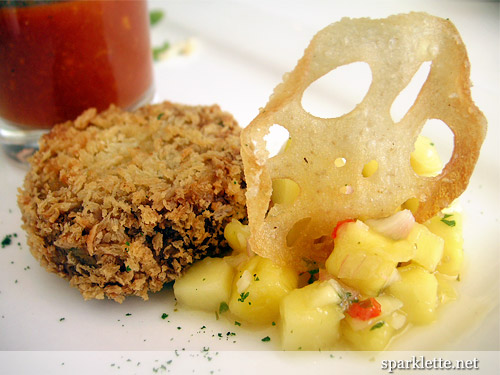 Crabcake
Part of $35 Sparklette Set Menu
Usual price: $16
Rating:





Part two of the platter is the restaurant's popular crabcake. The plating is pretty, with diced mango salsa served alongside the crabcake, topped with a lotus crisp. Normally I am quite wary when such fruit forms part of the dish. In this case, I was surprised to find myself liking the combination; the tang from the mango and different shades of sweetness from both fruit and crabmeat complement each other very well.
---
For the main course, you have 7 to pick from, including fish, steak and pasta. So there's something for everybody!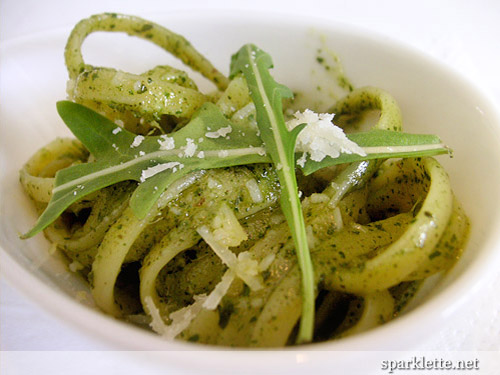 Linguine Laksa-leaf Pesto (sampling size above)
Part of $35 Sparklette Set Menu
Usual price: $28
Rating:





A big hit here is the linguine laksa-leaf pesto. Shown above is a small tasting portion but rest assured the main course would come with a generous serving of pasta, plus prawn and clam.
The linguine is cooked al dente in cream and white wine, with laksa leaves tossed in. I find the dish to be more pesto than laksa, with a rich creamy quality. So don't expect to find the oily laksa gravy in it.
Check out the other full courses on the Sparklette set menu.
---
Because all of us have different preferences when it comes to desserts, I have made the entire desserts menu available for your selection. Listed below are those that I have tried and loved.
8-Treasure Ice Kacang Sundae
Part of $35 Sparklette Set Menu
Usual price: $10
Rating:





Top on my list is the 8-treasure ice kacang sundae. I highly recommend you have this as your dessert. Not only is it yummy yummy, it's extremely value-for-money!
The "8 treasures" are red bean, attap chee, sweet corn, white cloud's ear, wolfberry, gula melaka jelly, dried persimmon strips and gingko nut, although I swear there are more than 8 in there. The ice cream is chock-full of ingredients. It's like going on a treasure hunt and finding something different in every spoonful! Boy did I enjoy this one!
For me, the best part is that instead of a heap of shaved ice, you get a heap of creamalicious young coconut ice cream instead. Don't worry, the colourful syrup is still there.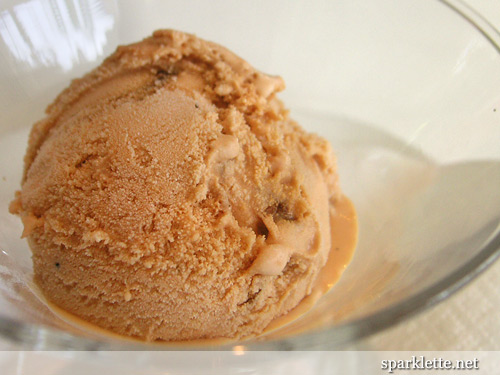 Teh Tarik Fredo Ice Cream
Part of $35 Sparklette Set Menu
Usual price: $5
Rating:





I love, love, love teh tarik and was ecstatic to find it here in the form of ice cream! Wow! It tastes exactly like the drink itself. Teh tarik drinkers would absolutely love this. Non teh tarik drinkers can choose from an assortment of ice cream flavours that include banana, sour sop sherbet and vanilla bean.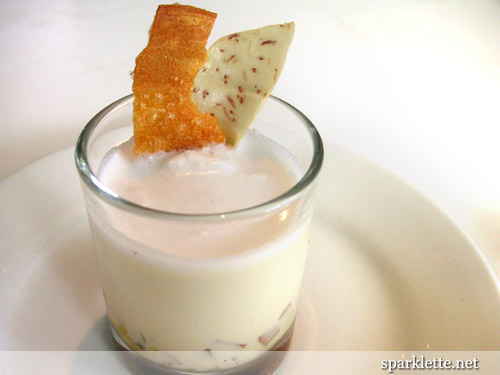 Panna Cotta
Part of $35 Sparklette Set Menu
Usual price: $8
Rating:





With its smooth texture, the panna cotta certainly matches that of many high-class Italian restaurants. As you should know by now, things are always extra special at persimmon. The restaurant puts an interesting spin to its panna cotta with ingredients like coconut cream, gula melaka and sago pearls.
---
End your meal with a coffee or tea, while you and your dinner partner(s) enjoy it over a light conversation. Doesn't that sound marvellous?
---
And that's that! This 4-course dinner should leave you feeling placated but not stuffed, and still with plenty of cash in the wallet. Of course, you can opt not to have this set meal and go ala carte instead. Just remember to mention "Sparklette" to enjoy a 15% discount! One ala carte dish to look out for is the prawn thermidor.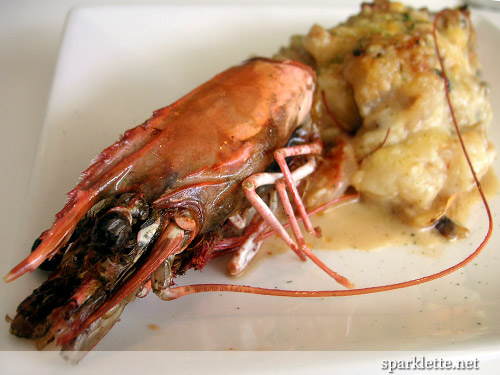 Prawn Chinchalok Thermidor
S$28
Rating:





This is a monster-sized prawn you're getting. Helena explained that for the purpose of nicer plating, only the shell of one prawn is displayed on the plate. But in actual fact you are really getting much more flesh than just one single prawn!
The pairing of chinchalok and parmesan cream sauce is an unusual one but a winning combination. The robust taste really stimulates the tastebuds and awakens the senses. For me, the only fault I could find was that it was a trifle salty.
---
I have been raving so much about the food that I neglected to highlight the restaurant's unique location in Tiong Bahru. As mentioned earlier, Persimmon is housed in Link Hotel, a quaint boutique hotel that occupies a refurbished pre-war era flat. So if you are looking for a one-of-a-kind dining ambience with modern cuisine, amidst old world charm, this is one place you should definitely check out.
* Terms and conditions:
– Standard 10% service charge and 7% GST apply.
– Mention "Sparklette" to enjoy the promotions.
Persimmon
The Link Hotel
50 Tiong Bahru Road #01-07
Singapore 168733
Tel: +65 6227 2271
Bus services: 5, 16, 33, 63, 123, 195, 851
Nearest MRT: Tiong Bahru
Opening hours: 11am – 11pm daily