With the amount of good food available and abundant seating since the 2006 revamp, ABC Market has remained one of the more popular hawker centres in Singapore. Just hop into a cab and tell the driver "ABC Market". Any cab driver worth his salt would immediately know where to take you.
There are a few stalls that I highly recommend, such as the Wow Wow West western food and Gu Zao Ren Taiwan Porridge.
From the Muslim section, one stall that I frequent is Nasi Ayam Geylang Serai. Ever since my favourite ayam penyet stall closed/moved, this is where I get my fix of smashed fried chicken when a craving strikes.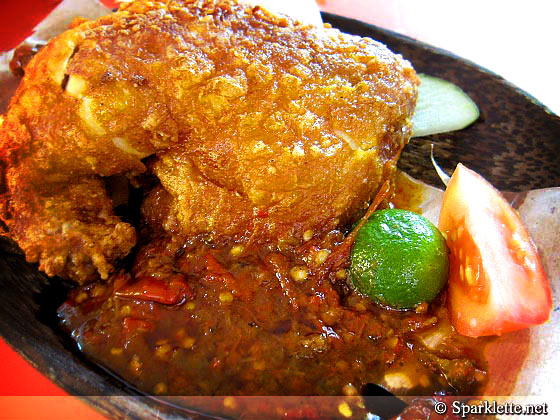 Ayam penyet
(smashed fried chicken)
S$4
Rating:





Ayam penyet has gained popularity here in the past few years, thanks in part to the Indonesian stalls at Lucky Plaza. With the fried chicken deliberately smashed, the flesh comes off the bone easily. It is served with lime, tomato and an enticing pool of hot chilli sauce that possesses just enough pizzazz to intensify your palatable pleasure without sending it into a tailspin. The crispy skin, though undeniably sinful, is no doubt the best part of this dish.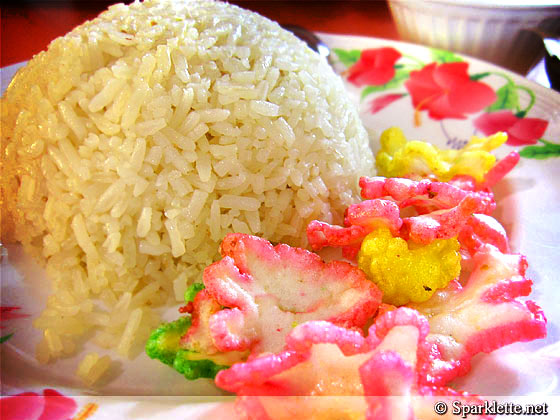 Served alongside is the obligatory plate of rice, paired with a colourful array of keropok (fried crackers). They say the first bite is taken with the eye. The multitude of colours, along with the plate that is fringed with red hibiscus flowers certainly brighten up one's day! I have had ayam penyet many times before, but it's the first time that I've seen the accompanying rice presented in such a colourful way.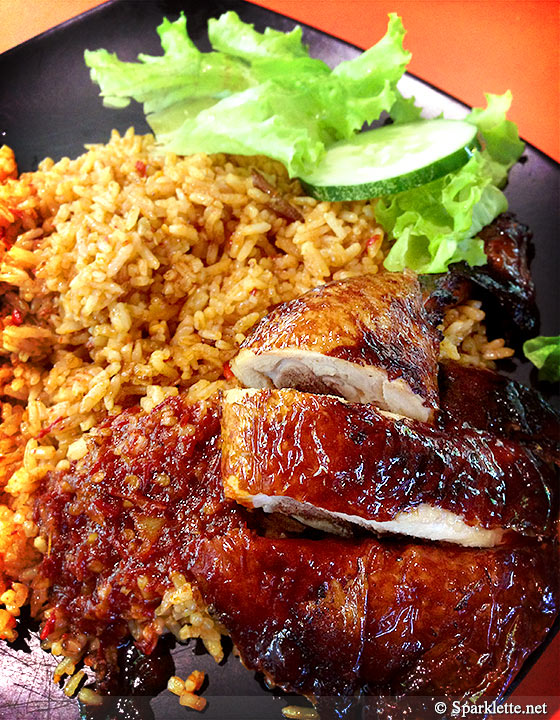 Nasi ayam goreng
(chicken fried rice)
S$4
Rating:





Another favourite chicken dish of mine at this stall is the nasi ayam goreng (chicken fried rice). The roast chicken is served with sambal chilli and fried rice, which is also spicy and bursts with flavour in every mouthful. I rarely finish the rice on my plate, but with this delicious fried rice, it's hard not to want to wipe out every last grain!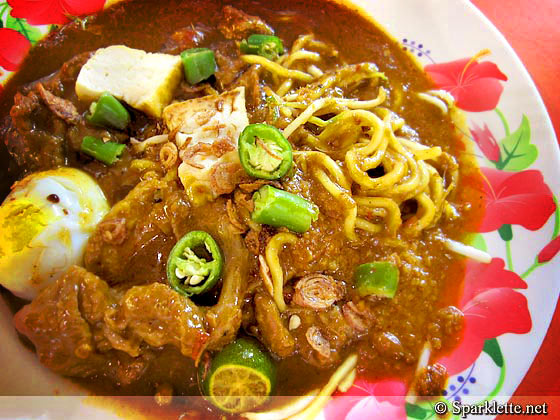 Mee rebus
(boiled noodles in sweet potato gravy)
S$2.50
Rating:





The same stall also sells a range of other Malay dishes such as mee rebus, a satisfying noodle dish comprising of piping hot sweet potato gravy with fried bean curd, bean sprouts, green chilli and egg. It comes with pieces of beef for some added wholesomeness.
If you frequent ABC Market, do let me know if any other stall here catches your fancy!
Have Your Say!
Which hawker centres do you frequent in Singapore? What are your favourite hawker food? Share with us in the comments!
Nasi Ayam Geylang Serai
(

Halal certified
)
ABC Brickworks Market & Food Centre
6 Jalan Bukit Merah #01-07
Singapore 150006
Bus services: 123, 14, 147, 153, 196, 197, 198, 855, 961
Nearest MRT: Redhill