Despite its humble location at a quiet neighbourhood, Zi Yean Restaurant certainly does not have humble beginnings. It is run by Hong Kong-born chef Fok Wing Tin who made his name in the 1990s at Empress Room in Raffles Hotel and later Xin Cuisine Chinese restaurant at the Holiday Inn Atrium hotel.
Occupying the entire ground floor of a HDB block in Lengkok Bahru, this brightly lit restaurant will not easily escape the attention of anyone passing by. It is divided into two parts: an open area dedicated to zi char (home-cooked fare) and an air-conditioned area for more upmarket stuff like bird's nest and abalone.
As we were there for zi char, we sat in the cool open area which was brightly lit, very clean and very tidy. Wonderful! When it comes to meals at neighbourhood kopitiam (coffee shops), places where you can dine under sanitary conditions is very much a rarity!
After 5pm, Zi Yean has a dinner special where 35 dishes go for $5.60 each. We took advantage of this and had a rather good mix of four dishes.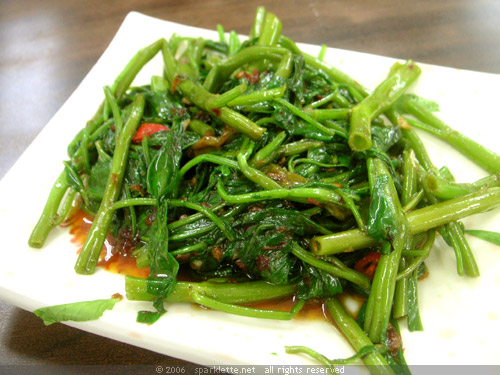 Sambal Kang Kong (Chinese Kale) (马来风光)
S$5.60
Rating:





To our disappointment, the first dish that was served was not well done at all. The sambal kang kong was bland and tasteless. There was no hint of sambal or belachan (fermented ground shrimp)! The chef could really afford to be bolder in his flavouring. I have had several renditions of this popular vegetable dish at various places, and this was definitely the worst.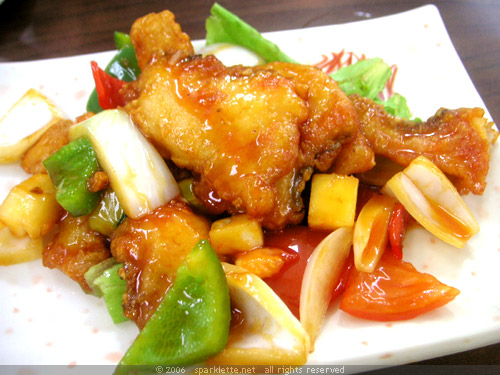 Sweet and Sour Fish (咕噜鱼片)
S$5.60
Rating:





Not really having any high hopes for the following dishes, I sampled the sweet and sour fish next and got a pleasant surprise! Coated in a paper-thin crispy skin, the moist white flesh of the fish was extremely fresh. The fishy stench had been skilfully masked by the tasty sweet and sour sauce. It was eye candy as well as the dish had been garnished beautifully with tomato, onion, pineapple, etc. An instant favourite!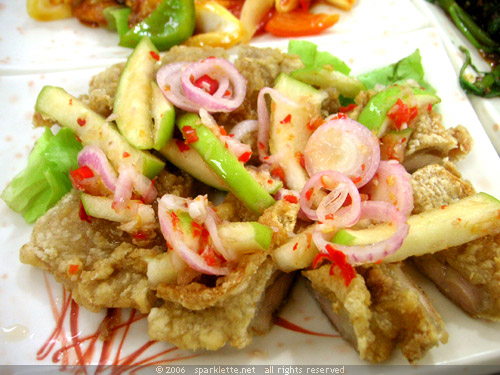 Fried Chicken in Thai Style (泰式酱酥鸡)
S$5.60
Rating:





Even better was the chicken, fried Thai style. The meat remained tender and juicy after frying, and was covered in a golden coat of crispy batter. Sweet Thai chilli sauce drenched the chicken, making it extremely savoury and delightful. Best of all, the chicken didn't seem too oily. I loved it! The accompanying green apple shavings were somewhat unusual additions to the dish, but made perfect sidekicks anyhow. Yet another instant fave!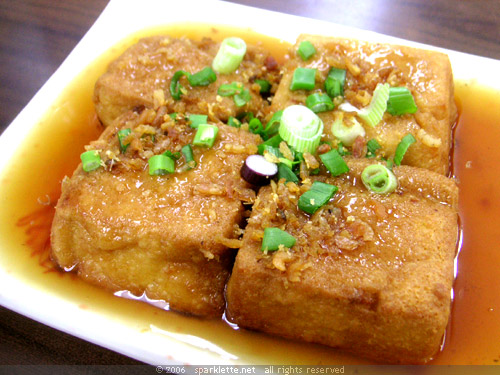 Deep Fried Home-made Special Beancurd (自制炸豆腐)
S$5.60
Rating:





The most memorable dish of the night was the deep fried home-made special beancurd (tofu). For someone who's not particularly fond of tofu, I am somewhat wary when it comes to tofu dishes. Well except for tau huay (beancurd custard with syrup) of course. But for something as bland as tofu, how good can the dish get?
As it turns out, Zi Yean's home-made special beancurd is every bit as special as they claim. Egg had been used to make the tofu, so when I bit into one I could taste the rich egg flavour. The tofu had been deep fried until it had a golden brown, crispy surface which was very flavourful. Even more commendable is the texture of the tofu; it's almost as soft as tau huay! The tasty brown sauce that had been poured over the tofu is worth mentioning as well. Instead of the bland dish I thought it would be, zi yean's beancurd was bursting with flavours!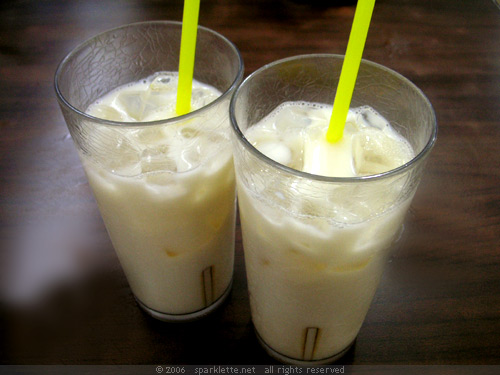 Soybean Drink (豆花水)
S$1.20
Rating:





More beany goodness follows with a tall glass of soybean drink to wash down all the food. Once again it is home-made and nutritious.
So that marks the end of a very colourful and sumptuous meal. Zi yean serves dim sum as well. One of these days I'm gonna head over there for a nice dim sum breakfast. I'm so glad this popular eatery is now in the neighbourhood!
Zi Yean Restaurant (自然海鲜粥面夜市)
56 Lengkok Bahru
#01-443 Singapore 150056
Tel: +65 6474 0911