Ask any Singaporean where you would find the best tau huay (beancurd custard with syrup) in town, chances are you would hear Selegie Road. After all, the famous Rochor Original Beancurd there has churned out years of silky smooth home-made tau huay. Such is their popularity that Selegie tau huay has become a synonymous household name.
Now it looks as though they have found their match in their next door neighbour, Beancurd City. There is an obvious feud going on between the two. The interesting twist is that these two rival stalls are actually run by two brothers!
I had the chance to taste the tau huay from both stalls recently. Pitted against each other, how would Rochor Original Beancurd (run by elder brother, William) and Beancurd City (run by younger brother, David) fare?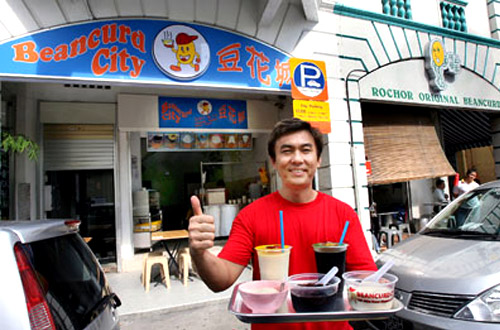 In the past, Rochor Original Beancurd was the runaway winner in the tau huay business. People were buying the dessert in droves while Beancurd City had practically no business. After the Sunday Times ran a feature on the stalls, the situation reversed! According to my brother who was there after the article came out, Rochor had NO business while Beancurd City had long queues! What a twist of fate! From his conversation with David, it seems that the two brothers have not been on speaking terms with each other for years!
Well when I tried Rochor's tau huay two days ago, I found it extremely silky and smooth. So smooth was the beancurd it seemed almost liquid! After all it is THE famous Selegie tau huay!
As for Beancurd City, I had some of their tau huay today. Despite being the youngest brother in the family, David is the one who churned out the original Selegie tau huay before a feud resulted in him leaving the family business to set up his own stall. So is his tau huay any good?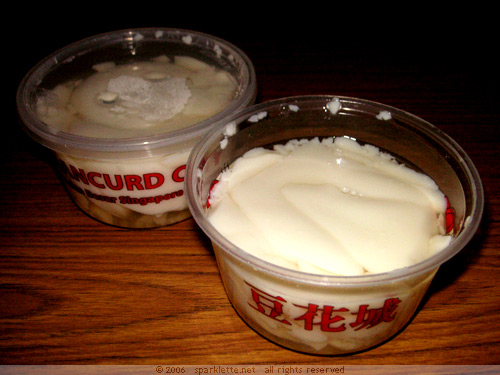 Tau Huay (Beancurd Custard with Syrup)
S$0.60 for dining in; $1 for takeaway
Rating:





Hell yeah! Just when you think that tau huay can't get any smoother than Rochor's, Beancurd City surprises with an even smoother and silkier rendition of the dessert. best online slots canada Plus points for just the right amount of sweet syrup added. I slurped down my tau huay in a matter of minutes. It had actually been left overnight and I brought it in to work only this morning. Yet there hadn't been any degradation in quality. This is good stuff!
If you have been getting your tau huay fix from Rochor, do give Beancurd City a try. It would be more accurate to say that the Selegie tau huay originated from the latter, since David was the one who came up with it more than 20 years ago before it grew famous under Rochor's name.
Beancurd City
– 4 Short Street Singapore 188212
– 133 Jalan Besar Singapore 208851
For those of you who would prefer to stay out of the sibling rivalry at Selegie Road, head over to Rochor Beancurd House in Geylang and Tanjong Katong instead. And get this: it is run by Koon Meng, the eldest brother of William and David! According to the Sunday Times, this is the best tau huay among the three brothers. I have yet to sample it for myself though.
One thing for sure is that the local tau huay scene is about to get very interesting.
News updates
February 3, 2007: My list of Best (& Worst) Restaurants in Singapore for 2006
– Nominated for "Best Take-out"