20 WORST Drinks in the World
Not too long ago people were freaking out over 1,000 calorie mooncakes. Bet they didn't know about the 2,000-calorie ice cream shake!
Men's Health Magazine recently published a list of 20 worst drinks in terms of calories, fats and sugars. Not surprisingly, many of these beverages come from well-known fast food chains and coffee houses. Some are just downright scary.
To find out more about each of these individual drinks and the more healthful alternatives, check out the original article. Meanwhile, here's a quick overview of the 20 worst drinks in the world.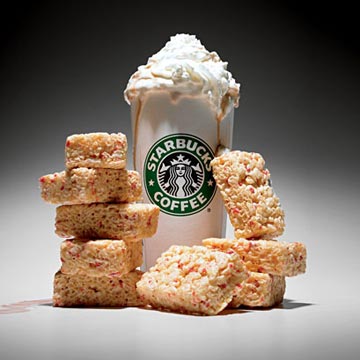 20. Worst Water: Snapple Agave Melon Antioxidant Water (1 bottle, 20 fl oz)
– 150 calories, 0 g fat, 33 g sugars
19. Worst Bottled Tea: SoBe Green Tea (1 bottle, 20 fl oz)
– 240 calories, 0 g fat, 61 g sugars
18. Worst Energy Drink: Rockstar Energy Drink (1 can, 16 fl oz)
– 280 calories, 0 g fat, 62 g sugars
17. Worst Bottled Coffee: Starbucks Vanilla Frappuccino (1 bottle, 13.7 fl oz)
– 290 calories, 4.5 g fat (2.5 g saturated), 45 g sugars
16. Worst Soda: Sunkist (1 bottle, 20 fl oz)
– 320 calories, 0 g fat, 84 g sugars
15. Worst Beer: Sierra Nevada Bigfoot (1 bottle, 12 fl oz)
– 330 calories, 0 g fat, 32.1 g carbohydrates, 9.6% alcohol
14. Worst Kids' Drink: Tropicana Tropical Fruit Fury Twister (1 bottle, 20 fl oz)
– 340 calories, 0 g fat, 60 g sugars
13. Worst Functional Beverage: Arizona Rx Energy (1 can, 23 fl oz)
– 345 calories, 0 g fat, 83 g sugars
12. Worst Juice Impostor: Arizona Kiwi Strawberry (1 can, 23 fl oz)
– 345 calories, 0 g fat, 81 g sugars
11. Worst Espresso Drink: Starbucks Peppermint White Chocolate Mocha with Whipped Cream (venti, 20 fl oz)
– 660 calories, 22 g fat (15 g saturated), 95 g sugars
10. Worst Lemonade: Auntie Anne's Wild Cherry Lemonade Mixer (32 fl oz)
– 470 calories, 0 g fat, 110 g sugars
9. Worst Hot Chocolate: Starbucks White Hot Chocolate with Whipped Cream (venti, 20 fl oz)
– 520 calories, 16 g fat (11 g saturated), 75 g sugars
8. Worst Frozen Coffee Drink: Dairy Queen Caramel MooLatte (24 fl oz)
– 870 calories, 24 g fat (19 g saturated, 1 g trans), 112 g sugars
7. Worst Margarita: Traditional Red Lobster Lobsterita (24 fl oz)
– 890 calories, 0 g fat, 183 g carbohydrates
6. Worst Float: Baskin-Robbins Ice Cream Soda (vanilla ice cream and cola) (large, 28.6 fl oz)
– 960 calories, 40 g fat (25 g saturated, 1.5 g trans), 136 g sugars
5. Worst Frozen Fruit Drink: Krispy Kreme Lemon Sherbet Chiller (20 fl oz)
– 980 calories, 40 g fat (36 g saturated), 115 g sugars
4. Worst Frozen Mocha: Così Double Oh! Arctic Mocha (gigante, 23 fl oz)
– 1,210 calories, 19 g fat (10 g saturated), 240 g sugars
3. Worst Drive-Thru Shake: McDonald's Triple Thick Chocolate Shake (large, 32 fl oz)
– 1,160 calories, 27 g fat (16 g saturated, 2 g trans), 168 g sugars
2. Worst Smoothie: Smoothie King Peanut Power Plus Grape (large, 40 fl oz)
– 1,498 calories, 44 g fat (8 g saturated), 214 g sugars
1. Worst Beverage in America: Cold Stone PB&C (Gotta Have It size, 24 fl oz)
– 2,010 calories, 131 g fat (68 g saturated), 153 g sugars