Singapore Philatelic Museum: A Rat's Tale
As a child I was an avid stamp collector. It was my Dad that helped me start it off by letting me take over his stamp collection, comprising of local stamps from several decades ago. Eventually our collection grew bigger and more comprehensive with new stamps being added, including those from all around the world.
These days, my stamp collecting has taken a backseat due to work commitment. Still, once in a while I do love to make a trip to the Singapore Philatelic Museum. A visit there is like a journey back in history. Every stamp tells a story. Through these stamps, we learn delicious nuggets of information of Singapore's heritage and culture over the years.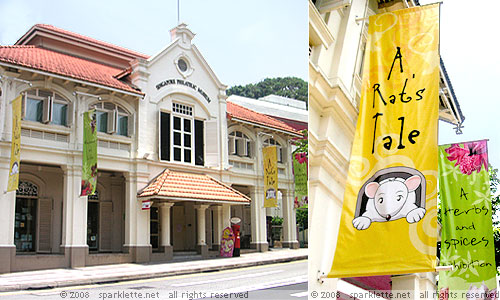 In addition to its permanent exhibitions, the museum holds temporary thematic exhibitions to keep things fresh and exciting. This being the year of the rat, they have a thematic exhibition going on called "a rat's tale", showcasing rat-themed stamps. My, that's not a very appealing theme, is it? But being a stamp lover who is also born in the year of the rat, I feel compelled to pay a visit!
For such a specific theme, the stamps featured are surprisingly vast, comprising of zodiac rats, literature rats and – my favourite – adorable cartoon rats! Ratatouille, anyone?
A rat's tale is a rather small-scale exhibition, occupying just a second level room in this colonial building. To guide visitors, the route to this room is marked with little details. Look carefully and you would see pictures of cute mice scurrying past walls, peeking out from their holes, or peering over a step on the staircase. I find it a very nice touch!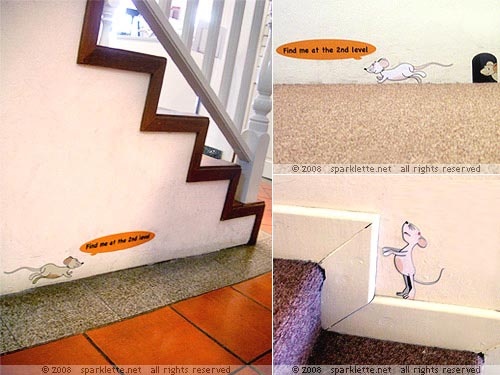 The exhibition room is decked out in bright, vivid colours that would appeal to children. One part of it even has a cheese theme!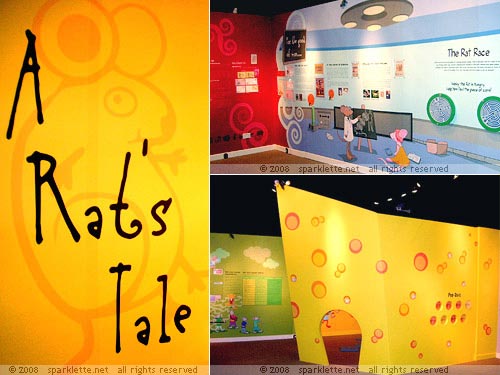 As promised, assorted rat-themed stamps from all around the world are showcased, along with interesting bits of information about them.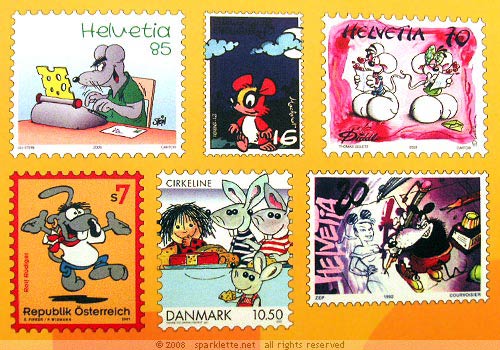 For kawaii and colourful stamps, we can always look to the Japanese! These stamps even have serial numbers. I wonder what function they serve. Anyone?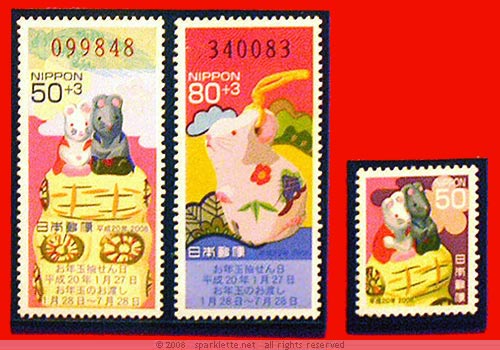 Not to be outdone, Korea has also released some very adorable stamps! One of my favourites is this stamp issued during the Christmas and new year period. It features a happy rat and a smiling snowman! Sweet!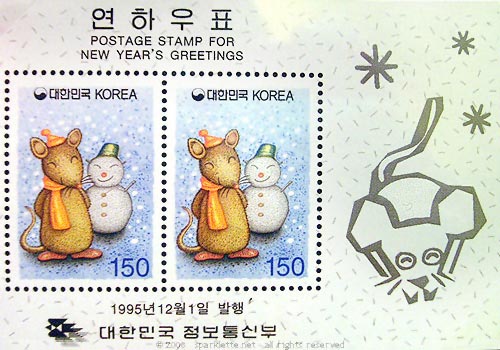 Another of my favourites from Korea – a soft-coloured stamp depicting a cat and a rat.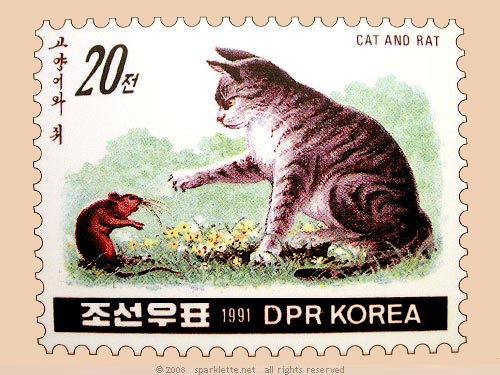 Doesn't this triangular stamp look unusual? Issued by cuba in 1996, it is the first odd-shaped stamp in the world to feature the Chinese zodiac. That's sure to be a minority!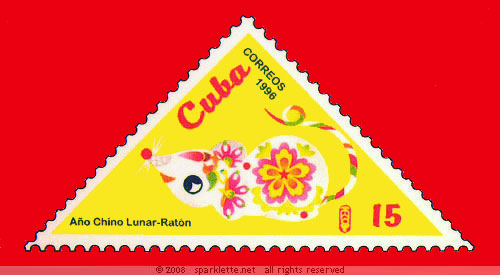 This set of stamps from venezuela features several different animals. I especially like the middle one in the second row, which has a bee and a mouse sitting underneath the stars.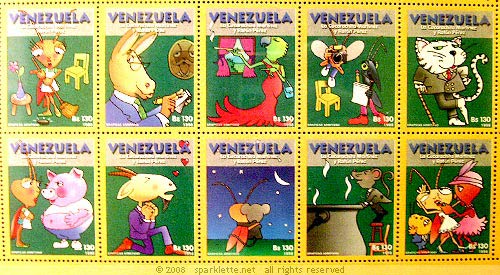 There are even literature mice, such as these from the tales of beatrix potter. (gotta admit the only tale I have heard of is that of peter rabbit.) I absolutely love the soft pastel colours. Does anyone know where I can get hold of this to add to my collection? Any help would be greatly appreciated!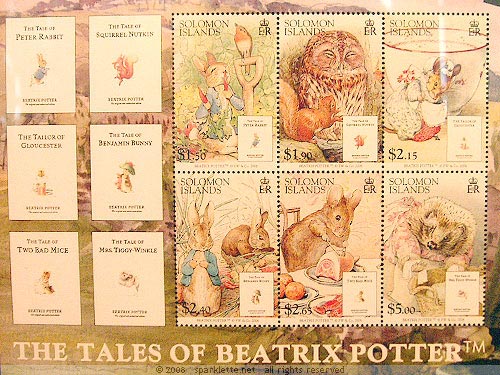 Oh by the way, don't be alarmed if you noticed little pairs of eyes peeking at you during the exhibition. They are just stuffed mice! Again, a really nice, nifty touch of detail.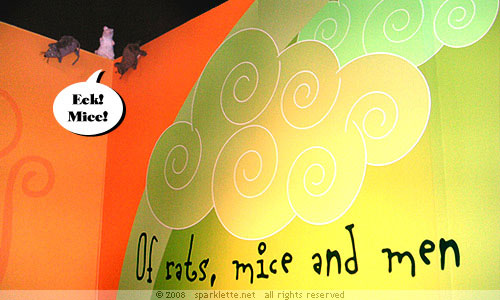 Moving on to cartoon rats and mice! The most famous of them all have got to be…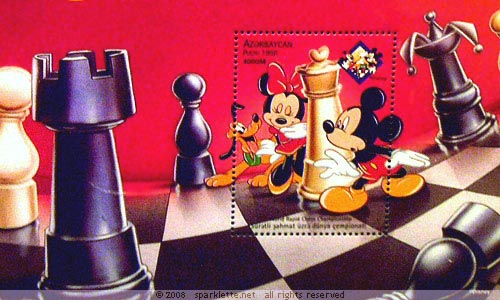 …mickey and Minnie!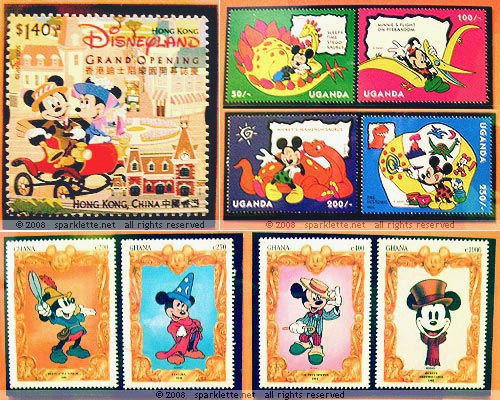 Speaking of Disney-themed stamps, I have dozens of these in my own stamp collection too. I used to be so crazy about them! Besides these, there are also stamps depicting antique Disney toys. Now, that's a rather unique theme.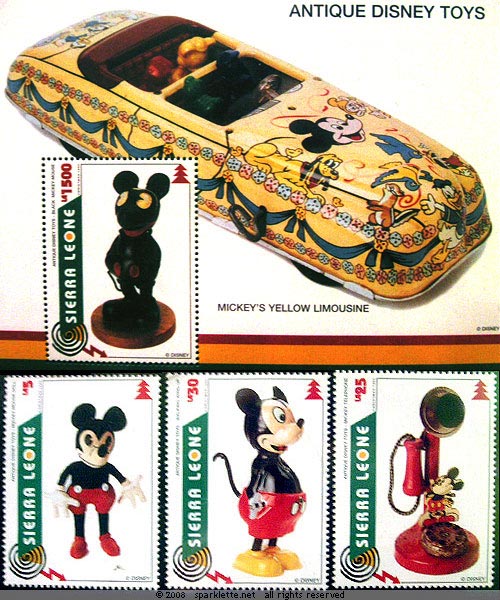 Here's another world-famous mouse, Jerry, as in tom and Jerry. It's amazing how a tiny little stamp can say so much about the personality of these two famous cartoon characters.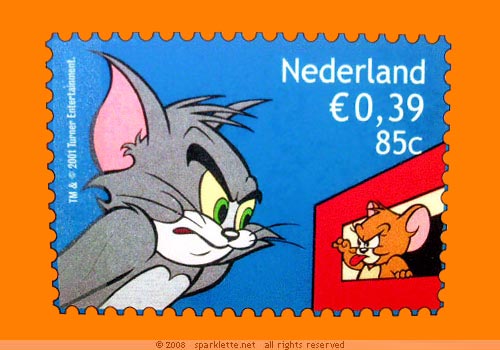 Bright and colourful!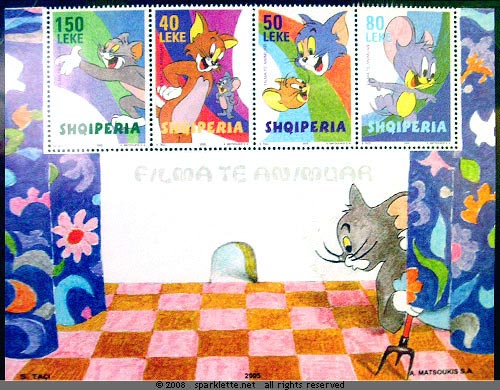 Well, that's it for the showcase of my favourite stamps from the exhibition, as well as those that I find unusual. Whether or not you are fond of rats, I think you would find something interesting and new in this exhibition!
Event:
A Rat's Tale
Venue: Singapore Philatelic Museum
23B Coleman Street Singapore 179807
Tel: +65 6337 3888
Date: January to September 2008
Opening hours: 1 – 7pm (Mon), 9am – 7pm (Tue to Sun)
Museum admission fees apply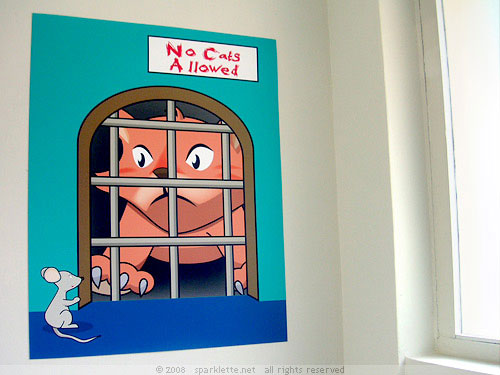 Just remember: no cats are allowed! Meow!