Singapore Food Festival – Back to the 60s at Lau Pa Sat
The annual Singapore food festival is on! From 4 to 27 July, foodie events would be happening at various locations across the island. Even unconventional foodie places like Sentosa and the night safari have whipped up a few events of their own!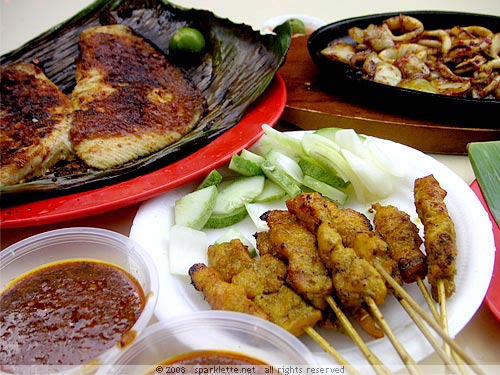 During the opening weekend, I celebrated with a hearty meal at Lau Pa Sat, which now sports a 60s theme. Grilled sambal stingray and calamari are my weakness, topped only by satay (meat skewers). Food galore!
(to be perfectly honest, I have yet to come across a decent grilled seafood stall at Lau Pa Sat. The two prominent ones there, ming yen and boon tat street BBQ, simply do not make the cut. The satay from the best satay stall was perfection though.)
It being Sunday during the hours between lunch and dinner, the place wasn't exactly brimming with hungry customers. Many of the outdoor stalls had just started setting up for the day.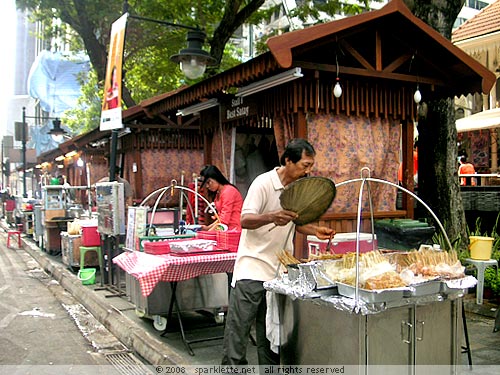 All the satay stalls have been given a brand new look. Gone are the bright red coca-cola tents. In their place are wooden pushcart stalls reminiscent of the Singapore street hawker scene in the 1950s and 60s.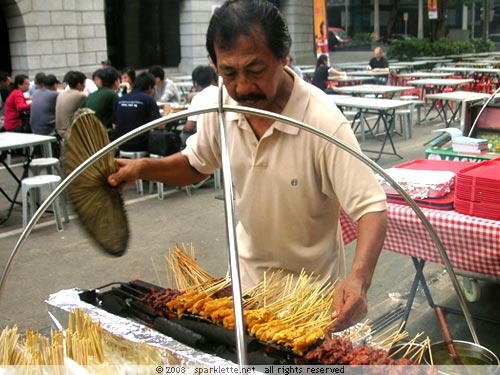 And there's the satay seller grilling up a storm!
Regular patrons of Lau Pa Sat would notice that some of the walls have been newly affixed with black and white photos. These are scenes from the trades of yesteryears, in keeping with the 60s theme.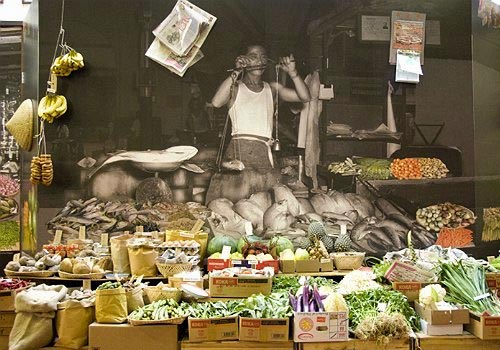 Photo by Singapore Food Festival
Just for the opening weekend, old black and white movies played on outdoor giant screens while people dined under the stars. So that isn't exactly what people did in the 60s, but it's a nice touch. If they would keep this thing going even after the food festival, it would certainly be a much more fun dining experience.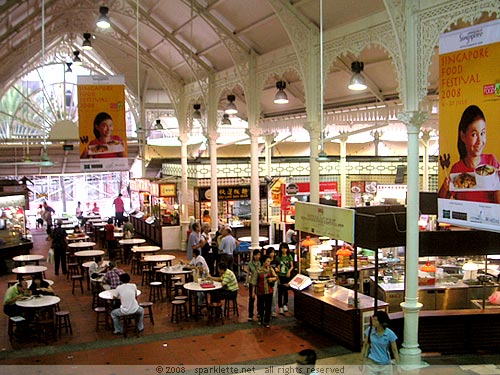 Other programs lined up include culinary classes, where eager participants can learn to cook dishes like chicken rice and Indian fish head curry from experts. The classes are conducted on a newly-built raised podium, where I could get the above view of the dining area.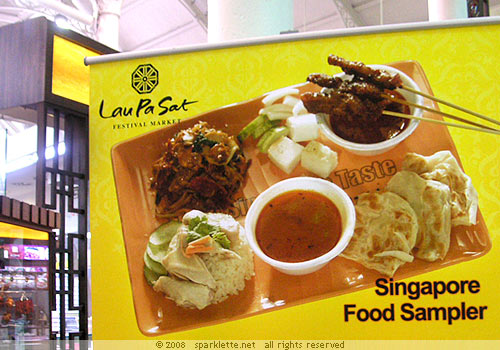 For the first time, the Singapore food sampler is being sold here for 10 dollars. It can be used to redeem for four "petite-sized" local fares from designated stalls and a cup of tea or coffee. It's targeted at tourists, allowing them to sample various food items such as laksa, black pepper crab, bak kuh teh and rojak, just to name a few. It's a very good idea actually, though not necessarily an economical one for locals.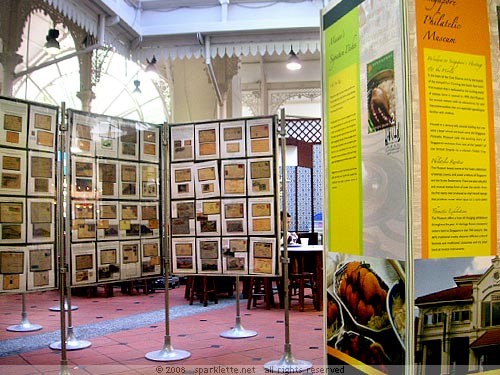 Perhaps most surprising (and a little out of place) is the stamp exhibition smack in the middle of the busy food area. Not quite what I was expecting! Here, stamps depicting the theme of food are on display.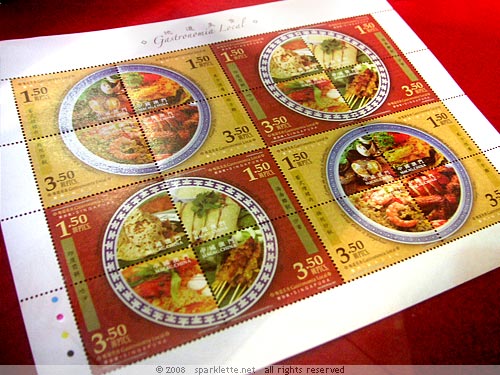 This set of stamps was launched on the first day of the food festival. It is a joint issue between Singapore and Macau, featuring the best-known signature dishes of the two places. What's unique about the stamps is that they are available in both Singapore and Macanese currencies.
And that's it for Lau Pa Sat! To be frank I was expecting a whole lot more from this dining enclave. Fortunately, there is a whole slew of other events held in many places to look forward to.
Lau Pa Sat
18 Raffles Quay
Singapore 048582
From a quick glance at the events calendar, the seafood weekend at robertson walk and ethnic food trails in Chinatown, kampong glam and Little India sound most intriguing to me. There is also a facebook group that you can join to keep track of upcoming events.